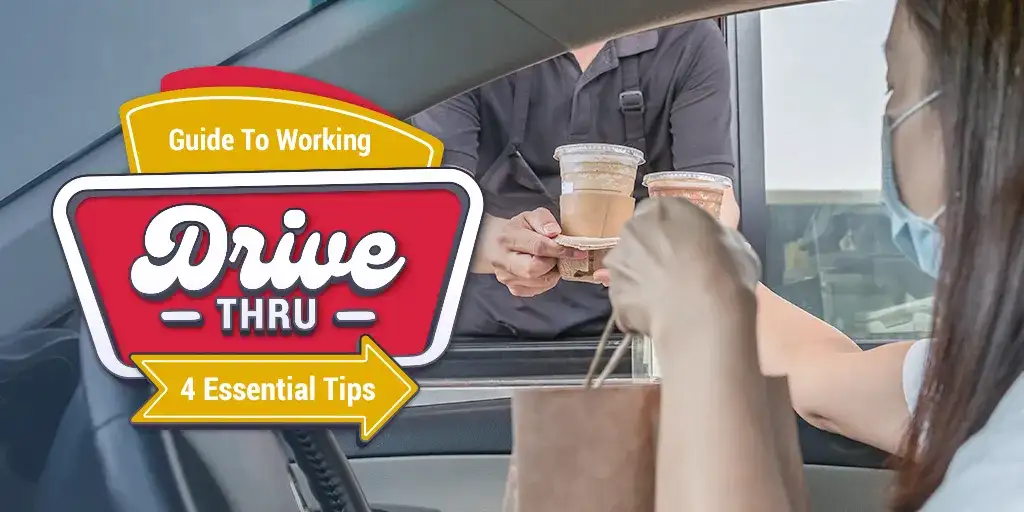 Guide To Working Drive Thru: 4 Essential Tips
Drive-thru service has become a more reliable and profitable channel for many restaurants as customer behavior continues to shift as a result of the COVID-19 pandemic. In this blog post, we outline tips for working drive thru and the best ways to set up yours and make it viable for your business.
But first, it is important to answer a question in many customers' minds: Is drive thru safe?
The fact that people stopped dining out and started going to drive-thrus suggests that they saw it as a less risky way to get food than dining in. Drive-thrus allowed customers to limit interaction and still get to enjoy a restaurant-quality meal with their family and friends at a place where they feel comfortable and less likely to get infected. Still, people want to be assured of their safety. Operators should be clear about the steps they are taking to mitigate the spread of the virus. As much as possible, let people know about your safety protocols so they know their health is top of mind.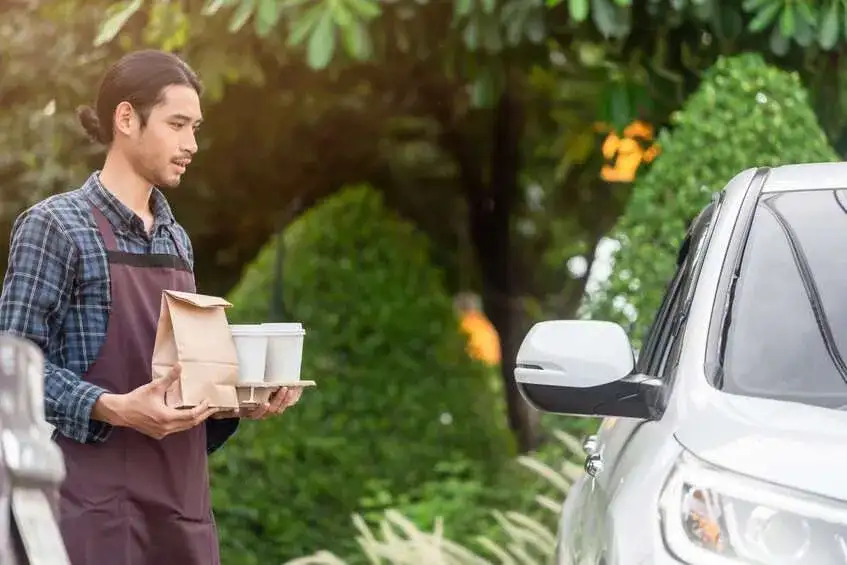 How does a drive thru work in the coronavirus era?
Drive-thrus quickly picked up the slack when on-premise dining spaces were shut down. This is why operators that offered drive-thru service before the pandemic were able to rise to the challenge and adapt to the new normal without delay.
Despite having the workings that made sense for a coronavirus-struck landscape, drive-thrus weren't immune to the effects of the changing world. The way it usually goes is that people will choose their orders from a menu board set up at the side of the lane. They speak to a staff member through the mic to place the order. They can wait for their food at the comfort of their cars. A lot of the time, operators designate a runner to bring the order to the car. They don't have to wade through crowds or stand in line inside the establishment.
Drive thrus have evolved in the time of the pandemic because of the big delivery boom. People found it safer to order and pay online and have their food delivered at home contact-free. They loved the peace of mind and convenience that came with ordering with just a few taps on their smartphones and driving up to the location to pick up their freshly cooked meals. They are in and out within minutes at best and without unnecessary interaction.
This setup also helps with the productivity of your operation. Before, customers will physically wait for their orders to be prepared. Their payments will be processed on site. This added to the service time and put greater pressure on your employees. Now that people are able to order in advance, your kitchen staff can prepare the food ahead of time. They don't have to worry about angry customers losing their patience and watching them put together their orders. Customers can just arrive at your restaurant and pick up their orders. The line of cars moves along much faster and you are able to serve more customers as a result. The drive-thru concept has also been migrated to food delivery in that courier people are the ones who pick up the order to deliver to the customer.
With new expectations for drive-thru, operators are going back to the drawing board to reorient their service altogether. Here are the ways they are answering to the new demand:
1. Multi-lane drive-thru service become the new norm
More and more people prefer to order food delivery or pickup due to the convenience and perceived safety. One drive-thru lane might not cut it anymore, so you might have to add one or more to accommodate this demand, which is not expected to go away soon even after the coronavirus does.
Many operators are creating separate lanes for mobile orders, so customers who ordered in advance via your website or app and delivery drivers who are picking up food to bring to customer homes have a designated place for pickup. They can get orders quickly without having to interact with dining customers or interfere with on-site workflow. This lets you serve customers much faster and in turn improve the quality of your service.
If you go this route, make sure that customers can easily find their designated lane. There should be prominent and easy to read and follow signages that will guide people exactly where to go. You don't want them circling the place multiple times or waiting in the wrong lane.
Of course, adding another drive-thru lane to an existing location will require a good amount of physical footprint and tons of reworking. In addition to a new lane, you likely would want to have a separate kitchen and prep area depending on the number of pick-up orders you receive. Upon realizing this, many operators are going back to the drawing board and reimagining their existing spaces. You can take inspiration from prototypes by Wendy's and KFC, who are going all in on the drive-thru.
However, it is expected to be a worthy investment considering customers might prefer doing it this way from now on.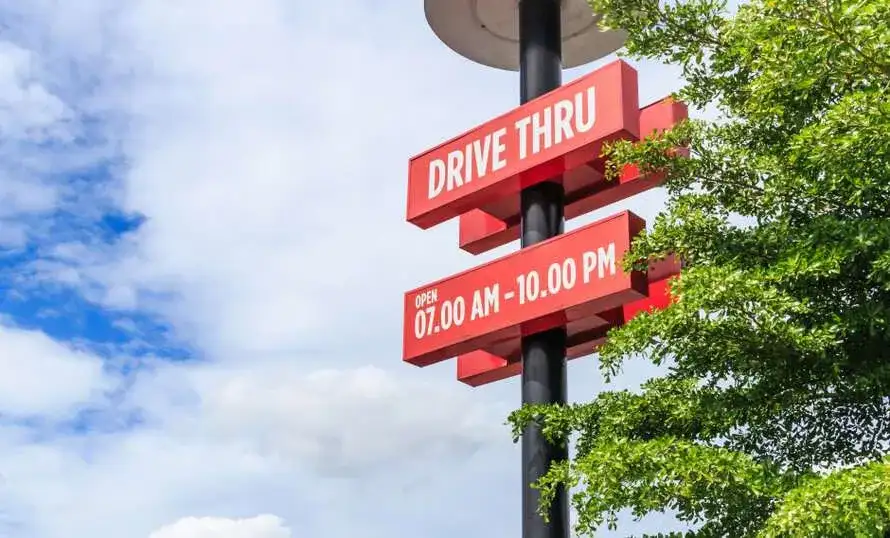 2. No on-premise dining, only outdoor patios
One of the ways you can add a drive-thru lane is shrinking your dining room. With more people ordering online, fewer are choosing to sit down and enjoy their meal at the restaurant. The precious dining space that goes unused as a result can then be transformed into a drive thru lane. Alternatively, you can set up outdoor patios, where it is more open and could be more comfortable for customers who do want to eat the food upon receipt. To learn more about how to generate more profits outside the dining room, make sure to check out this blog post.
3. Digital boards do the talking
One of the best tips for working drive-thru is making smart use of digital boards. These menu boards are a more dynamic way to showcase your offerings. You can make edits on the fly and change the display based on the time of day. So there's no need to physically print and change signs from time to time and it requires less space than using separate displays for daypart menus. From there, you can also promote new products and get your customers to impulse-buy. You have a lot of options in terms of the design, so you can add some animation or effects to spruce it up.
Many digital boards incorporate artificial intelligence or AI to speed up the ordering process and upsell products. The technology determines the items to upsell based on a person's order history on the mobile app or digital menu board. Some are also programmed to make suggestions based on the weather. Although there is little to no interaction with a human, this method keeps it thoughtful and not just a blatant, in-your-face way to sell more products. Unlike in the past, AI can now be incorporated into your network without bogging down the system, so it can be operated on site without lag. This opened up many opportunities for operators to get in on the trend.
4. Robust Wi-Fi setup and data security keep you running
With the many digital changes implemented in a drive thru service, having a good Wi-Fi connection becomes more crucial than ever. Before, much of the communication happened offline and face-to-face, so it didn't matter all that much if your Wi-Fi wasn't the best or most reliable. This is slowly changing with the prevalence of online ordering.
If you take orders via tablet on site, a website, or an app, you will need to be online at all times. The more connected and complex your system is, the greater the importance of a stable Wi-Fi connection. If you use kitchen display systems that receive orders on-site and online, even the kitchen should be connected to the Internet. An ideal setup for any drive-thru is having a primary connection as well as a backup connection that puts you back online just in case the primary connection acts up.
As important as internet connectivity is data security. Information about your business and data of customers such as mobile wallets and credit card data should be protected from hacking. It is better to be prepared for a cyberattack by building a strong foundation as opposed to recovering from the damage done. Implementing a solid data strategy protects you from a costly data breach that can cost you tens of thousands of dollars on top of any sanctions and lawsuits by angry customers.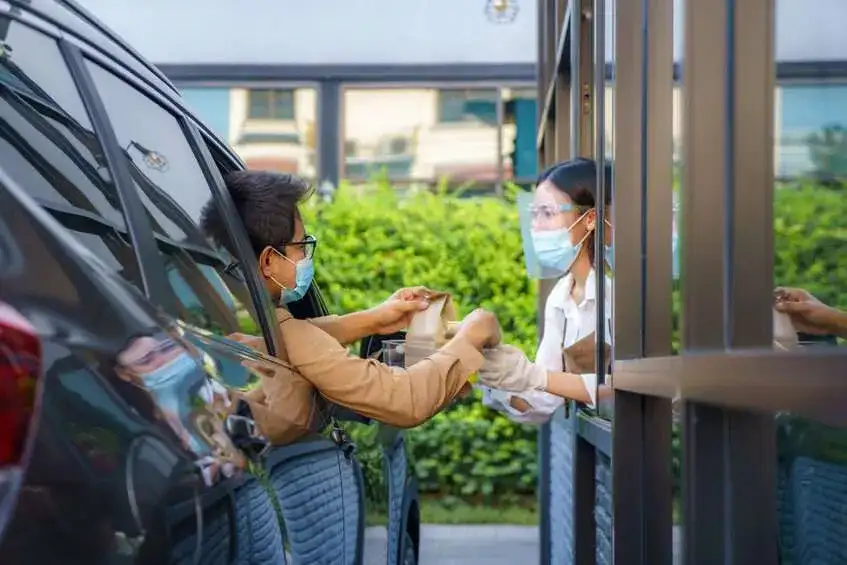 Important tips for working drive thru securely:
Make sure you are following regulations and keep your finger on the pulse for any malicious attacks being reported by other operators or restaurants.

Take the time to caution your customers to make sure they don't fall for any scam or phishing mail that falsely associates you or uses your name.

Keep your operating system up to date. Older systems do not get regular security updates and therefore are more vulnerable. Download the necessary software updates.

Emails you use for reservations or any type of communication with your customers should be used with caution. Remind your employees to be wary of any suspicious emails they receive. Clicking or downloading items from a phishing email could open them up to a malware infection and make your restaurant vulnerable to attacks. Train them to use POS systems and other related devices for business purposes only.

Install a malware detection software and antivirus system. These programs will scan your devices regularly for any suspicious files lurking in the system and will immediately take action upon detection so no viruses are activated or penetrate the deeper parts of your system.

If you offer Wi-Fi connection to customers, create a separate network system for them and keep the network mainly used by your business separate. Also pay close attention to the types of devices that do connect to the networks.

Set up unique identifiers for each server within your POS system. This makes it easy to track and detect potential suspicious activity in the event of breach.
The tips for working driving thru make it all about the customers
The foundation of a good drive-thru service is a clear understanding of how your customers want to interact with you. It is essential to give them the options, making the whole process easier for you and for them.