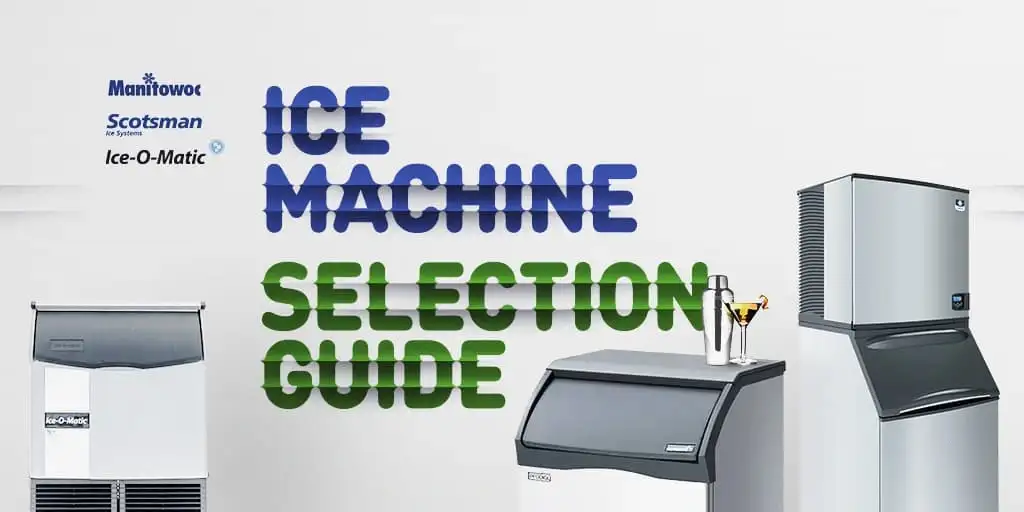 Flake Ice Machine Selection Guide: Manitowoc, Scotsman, and Ice-o-Matic
NOTE: Water-cooled commercial ice makers can consume upwards of 200 gallons of water a day. This type of commercial ice maker is generally recommended for facilities located in an environment that is too hot for an air-cooled machine. Hot environments can also benefit from a remote system where the compressor and condenser are placed in another room or outside although this will require the services of a refrigeration technician.
Recommendation: The production level of the commercial ice maker depends a lot on water temperature. If water is very warm,there is going to be a difference in how much ice it can produce. You need to have cold water and normal ambient temperature to ensure maximum output. A heat exchanger like the System IV ChillTech is a great way to do just that. You can expect a 20% increase in the amount of ice you make for lower energy consumption.
Undercounter Flake Ice Machines

UFF0200A

Dimensions: 19.69"W x 25.98"D x 37.50"H

Bin Storage Capacity: 50 lbs.

AIR-COOLED
Model
Brand
Ice Type
Max Production

(Energy Star)

Flake
257 lbs. 24/HR

UFK0200AZ

Dimensions: 19.69"W x 25.98"D x 37.5"H

Voltage: 230v/50/1-ph

AIR-COOLED

Model

Brand

Ice Type
Max Production

UFK0200AZ

(Energy Star)

Flake
257 lbs. 24/HR

UFF0350A

Dimensions: 29.06"W x 25.98"D x 39.52"H

Bin Storage Capacity: 90 lbs.

AIR-COOLED
Model
Brand
Ice Type
Max Production

(Energy Star)

Flake
350 lbs. 24/HR

UFK0350AZ

Dimensions: 29.06"W x 27.17"D x 39.52"H

Voltage: 230v/50/1-ph

AIR-COOLED

Model

Brand

Ice Type
Max Production

(Energy Star)

Flake
398 lbs. 24/HR

UF424

Dimensions: 24"W x 28.5"D x 39"H

Storage Bin Capacity: 80 lbs.

AIR-COOLED
Model
Brand
Ice Type
Max Production

230/50/1

Flake
370 lbs. 24/HR

115/60/1

Flake
440 lbs. 24/HR
WATER-COOLED
Model
Brand
Ice Type
Max Production

115/60/1

Flake
440 lbs. 24/HR
Modular Flake Ice Machines

RFF0320

Dimensions: 22"W x 23.63"D x 26"H

Recommended Bin: D-420

Voltage: 115v/60/1-ph

AIR-COOLED
Model
Brand
Ice Type
Max Production

Flake
370 lbs. 24/HR

RFK0320AZ

Dimensions: 22"W x 23.63"D x 26"H

Recommended Bin: D-420

Voltage: 230v/50/1-ph

AIR-COOLED

Model

Brand

Ice Type
Max Production

Flake
370 lbs. 24/HR

F0522AC

Dimensions: 22.9"W x 24"D x 23"H

Recommended Bin/s:

AIR-COOLED
Model
Brand
Ice Type
Max Production

115/60/1

Flake
450 lbs. 24/HR

F0522WC

Dimensions: 22.9"W x 24"D x 23"H

Recommended Bin/s:

WATER-COOLED
Model
Brand
Ice Type
Max Production

115/60/1

Flake
530 lbs. 24/HR

MFI0500

Dimensions: 21"W x 24"D x 27"H

AIR-COOLED
Model
Brand
Ice Type
Max Production

(Energy Star)

Flake
540 lbs. 24/HR
WATER-COOLED
Model
Brand
Ice Type
Max Production
Flake
541 lbs. 24/HR

RFF0620

Dimensions: 22"W x 23.63"D x 26"H

Recommended Bin: D-420

Voltage: 115v/60/1-ph

WATER-COOLED
Model
Brand
Ice Type
Max Production

Flake
730 lbs. 24/HR

RFK0620

Dimensions: 22"W x 23.63"D x 26"H

Recommended Bin: D-420

Voltage: 230v/50/1-ph

AIR-COOLED

Model

Brand

Ice Type
Max Production

Flake
730 lbs. 24/HR
WATER-COOLED

Model

Brand

Ice Type
Max Production

Flake
740 lbs. 24/HR

MFI0800/0805

Dimensions: 21"W x 24"D x 27"H

AIR-COOLED
Model
Brand
Ice Type
Max Production
Flake
735 lbs. 24/HR
WATER-COOLED
Model
Brand
Ice Type
Max Production
Flake
737 lbs. 24/HR

RFF0620

Dimensions: 22"W x 23.63"D x 26"H

Recommended Bin: D-420

Height with bin: 76"

Depth with bin: 34"

AIR-COOLED
Model
Brand
Ice Type
Max Production

Flake
760 lbs. 24/HR

F0822WCRC

Dimensions: 22.9"W x 24"D x 23"H

Recommended Bin/s:

REMOTE-COOLED

(Use with ERC111-1 Condenser)

Model
Brand
Ice Type
Max Production

115/60/1

Flake
760 lbs. 24/HR
WATER-COOLED
Model
Brand
Ice Type
Max Production

115/60/1

Flake
775 lbs. 24/HR

208-230/60/1

Flake
775 lbs. 24/HR

MFI0800/0805

Dimensions: 21"W x 24"D x 27"H

AIR-COOLED
Model
Brand
Ice Type
Max Production

(Energy Star)

Flake
900 lbs. 24/HR

REMOTE-COOLED

(Use with GRC 1001 Remote Condenser)

Model
Brand
Ice Type
Max Production

(Energy Star)

Flake
925 lbs. 24/HR
WATER-COOLED
Model
Brand
Ice Type
Max Production
Flake
940 lbs. 24/HR
High-Volume Flake Ice Machines

MFI1256/1255

Dimensions: 21"W x 24"D x 27"H

REMOTE-COOLED

(Use with RGA-1061-HM Condenser)

Model
Brand
Ice Type
Max Production

(Energy Star)

Flake
1,054 lbs. 24/HR

F1222AC

Dimensions: 22.9"W x 24"D x 27"H

Recommended Bin/s:

AIR-COOLED
Model
Brand
Ice Type
Max Production

230/50/1

Flake
1,100 lbs. 24/HR

(Energy Star)

208-230/60/1

Flake
1,100 lbs. 24/HR

(Energy Star)

208-230/60/3

Flake
1,100 lbs. 24/HR

MFI1256/1255

Dimensions: 21"W x 24"D x 27"H

WATER-COOLED
Model
Brand
Ice Type
Max Production
Flake
1,137 lbs. 24/HR
Flake
1,230 lbs. 24/HR

REMOTE-COOLED

(Use with RGA-1061-HM Condenser)

Model
Brand
Ice Type
Max Production

(Energy Star)

Flake
1,149 lbs. 24/HR

QUIETQUBE RFF1220C

Dimensions: 22"W x 23.63"D x 26"H

Recommended Bin: D-570

REMOTE-COOLED

Model

Brand
Ice Type
Max Production

(Energy Star)

Flake
1,152 lbs. 24/HR

F1222WCRC

Dimensions: 22.9"W x 24"D x 27"H

Recommended Bin/s:

WATER-COOLED
Model
Brand
Ice Type
Max Production

208-230/60/1

Flake
1,240 lbs. 24/HR

REMOTE-COOLED

Model
Brand
Ice Type
Max Production

(Energy Star)

208-230/60/1

Flake
1,250 lbs. 24/HR

(Energy Star)

208-230/60/3

Flake
1,250 lbs. 24/HR

MFI1256/1255

Dimensions: 21"W x 24"D x 27"H

AIR-COOLED
Model
Brand
Ice Type
Max Production
Flake
1,260 lbs. 24/HR

RFK1300AZ

Dimensions: 30"W x 23.63"D x 267.40"H

Recommended Bin: D-570

Voltage: 230v/50/1-ph

AIR-COOLED

Model

Brand
Ice Type
Max Production
Flake
1,264 lbs. 24/HR

RFF1300

Dimensions: 22"W x 23.63"D x 27.40"H

Recommended Bin: D-570

Height with bin: 77.40"

Depth with bin: 34"

AIR-COOLED
Model
Brand
Ice Type
Max Production

Flake
1,287 lbs. 24/HR
WATER-COOLED
Model
Brand
Ice Type
Max Production

Flake
1,339 lbs. 24/HR

RFK1300

Dimensions: 30"W x 23.63"D x 267.40"H

Recommended Bin: D-570

Voltage: 230v/50/1-ph

WATER-COOLED

Model

Brand

Ice Type
Max Production

Flake
1,365 lbs. 24/HR

MFI1506

Dimensions: 21"W x 24"D x 27"H

REMOTE-COOLED

(Use with RGA-1061-HM Condenser)

Model
Brand
Ice Type
Max Production

(Energy Star)

Flake
1,390 lbs. 24/HR

F1522L

Dimensions: 22.9"W x 24"D x 27"H

Recommended Bin/s:

REMOTE-COOLED LOW SIDE

Model
Brand
Ice Type
Max Production

115/60/1

Flake
1,445 lbs. 24/HR

MFI1506

Dimensions: 21"W x 24"D x 27"H

AIR-COOLED
Model
Brand
Ice Type
Max Production

(Energy Star)

Flake
1,450 lbs. 24/HR

F1522

Dimensions: 22.9"W x 24"D x 27"H

Recommended Bin/s:

AIR-COOLED
Model
Brand
Ice Type
Max Production

(Energy Star)

208-230/60/1

Flake
1,612 lbs. 24/HR

RFF2200

Dimensions: 30"W x 23.63"D x 27.40"H

REMOTE-COOLED

(Use with RCUF-2200 Condensing Unit)

Model
Brand
Ice Type
Max Production

Flake
2,169 lbs. 24/HR

Dimensions: 30"W x 24"D x 27"H

*Bin sold separately

REMOTE-COOLED

Model

Brand

Ice Type
Max Production

Flake
2,250 lbs. 24/HR

FME2404RLS

Dimensions: 42"W x 24"D x 27"H

Recommended Bin/s:

B842S/B948S/BH1100BB/BH1100SS/

REMOTE-COOLED LOW SIDE

Model
Brand
Ice Type
Max Production

208-230/60/1

Flake
2,365 lbs. 24/HR

FME2404

Dimensions: 42"W x 24"D x 27"H

Recommended Bin/s:

AIR-COOLED
Model
Brand
Ice Type
Max Production

(Energy Star)

208-230/60/1

Flake
2,455 lbs. 24/HR