Buying Guide: How to Choose Catering Equipment for Your Foodservice Establishment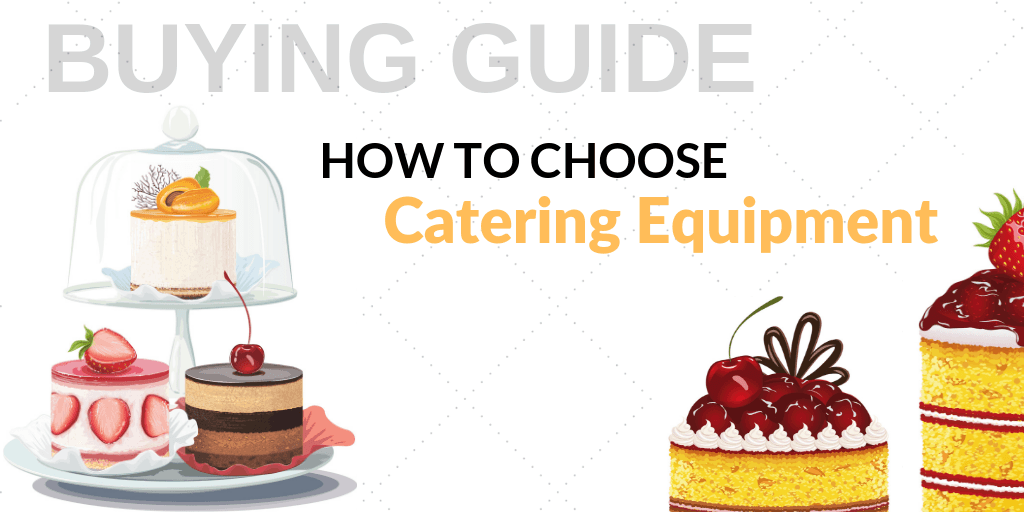 Like any specialty service, offering catering to your guests requires an extra investment in time and effort in order to ensure that you're ready to handle the equipment needs and extra business that comes with catering. Catering equipment needs to be versatile, robust, and able to handle your catering menu. Here's a quick guide to purchasing the right equipment for your catering needs.
Catering Style
First, you'll need to ask yourself what type of catering services you're planning to provide, as different catering offerings require different equipment. Are you working with seated dinners or buffet-style dinners?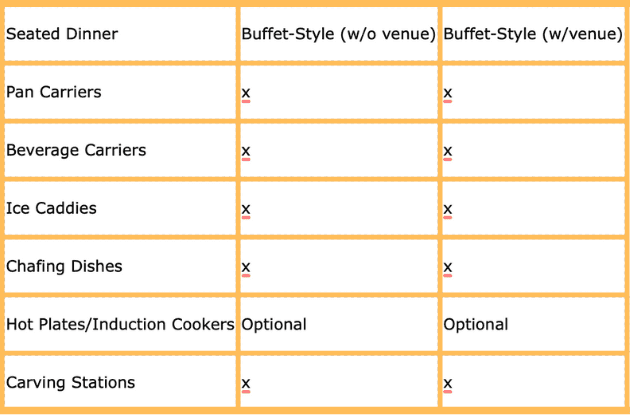 Food Storage and Transport
Food storage and transport equipment ensure that your prepared items stay at food safe temperatures and can also help you reduce waste from improperly stored/transported items.
Storage Containers and Lids
Your storage containers are not intended for guests to be able to see but are essential for getting foods and items from your restaurant to the location in a safe and sanitary manner. Invest in a variety of sizes and lids.
Condiment Dispensers/Station
Condiment stations tend to be reserved for more casual catering events, as they're more functional than beautiful. Opt for full table setups for sit-down meals and utilize condiment dispensers and stations for your buffet-style catering needs.
Hot and Cold Food Pan Carriers
Your steam table can ensure that items are kept at food safe temperatures once on site, but you'll also need to invest in hot and cold food pan carriers to get menu items from your restaurant and to the venue. Be sure to reserve one carrier with Capacity for (4) 2.5-inch steam table pans per every 25 guests.
Front Load: these carriers are best used for transporting food pans in bulk, and once on location, the food pans are then loaded into a chafing dish for service.
Top Load: for more casual events, these carriers have a removable lid and fits easily into catering vehicles.
Service Carts
These are available in a variety of styles to cater to any type of catering event from casual to formal (but are typically reserved for buffet-style service). Service carts help to create a focal point for your coffee station or other areas, improving the flow of traffic for buffet-style or self-serve areas.
Ice Caddies and Totes
Rather than toting a full ice machine, you can simply use an insulated ice caddy or tote to bring ice to the location of your catering event. For every 25 guests, expect a 100 lb capacity caddy for your needs. Ice caddies can range in capacities from 20 to 200lb, and many come on casters for easier mobility.
Food Service Equipment
Beverage Dispensers and Carriers
If you're catering to a sit-down meal, then be sure to invest in beverage carriers that hold 800 ounces of cold beverages and 300 ounces of coffee per every 25 guests. Beverage dispensers are also essential, but keep in mind that large plastic beverage carriers do not work well in a formal display.
Chafing Dishes
Chafing dishes are essential to buffet-style catered events, and you'll need enough to hold (4) 2.5-inch Steam Table Pans, for 2 main dishes and 2 side dishes, per every 25 guests. Chafing dishes come in rectangular and round shapes and soup chafing dishes are also available as a more elegant option for catering than soup kettles.
Serving Trays and Utensils
This category is vast and versatile, with many shapes and sizes of trays and utensils available for virtually any type of food item. Be sure to bring at least one or two serving utensils for every type of food on a buffet line plus many extras. Similarly, bring trays for each server and each type of food for sit-down meals as well. More in better is this category, as you typically won't have dishwashing equipment available at any catering event.
Portable Bar
If a catering event chooses to have alcohol and the venue permits the serving of alcohol, then you can get your liquor license and have a licensed bartender available at your portable bar to cater to guests during the event. Customers can either opt to pay for a bulk amount of alcohol beforehand, or they can have their guests pay for each drink on-demand. Either way, be sure that you're licensed and ready to go for the event!
Coffee Urn
These can brew, hold, and serve coffee all from one machine and are best suited for medium-light traffic areas. If you're expecting a much larger event, then opt for a high-volume urn. As a high-volume version of the standard coffee machine urn, these quickly brew for hundreds and are best suited for large operations.
Hot Plates/Induction Cookers
If you're planning to prepare one or more items at the venue, then you'll first need to ensure that you've got the proper utility hookups at the venue to support your hot plates or induction cookers. Then, be sure to bring one per each menu item you plan to prepare on site.
Carving Station
Equipped with a heating lamp and cutting board, carving counters are ideal for fresh slices of meats. Simply keep one of your staff members on duty to slice meat on demand for guests to give a more upscale feel to the buffet line. You should really plan to only bring one for any given event.
Table Supplies
If the venue or customer isn't providing their own linens or other tabletop goods, you may want to consider also offering these items at additional costs.
Flatware
You can choose to use silverware or plastics depending on the type and style of catering event. Just be sure to bring more than you expect you'll need, as there's nothing worse than not having enough flatware for every guest.
Dinnerware
Plates can either be reusable or disposable, and reusable types can either come in plastics or chinaware. Be sure to purchase a set for catering that is durable (typically this involves plastics of some sort), and collect dirty dishes throughout the night if you're foregoing disposable dinnerware.
Glassware
Similar to the plate situation, glassware can come in true glass or more durable plastic. These are also available in disposable options. Be sure to offer different styles of glassware (cups, mugs, and champagne glasses at a minimum) to cater to different portions of the meal.
Chairs (Stacking or Folding)
Stacking banquet chairs tend to be more aesthetically-pleasing and tend to cater to fancier catering events. If you opt for this style, then also purchase a chair cart for easier transportation. Folding chairs tend to work better for casual catering events and can also benefit from a chair cart.
Tables (and linens)
If you're planning to offer tables as an add-on option for off-site catering, then you'll need to ensure that you're not only considering the seating arrangements, table capacities, and shapes but also how many tables you'll need to support your buffet line and other prep areas as well. Linens to go with your tables can be offered in one neutral color (like beige), allowing guests the option to choose from that color or simply supply their own. Always bring extras, and keep in mind that you'll likely need to replace these regularly and will also need to invest in washing services to keep linens fresh for each new event.
Glass and Dish Racks
Those catering buffet-style events may find that keeping dishes and glasses in the racks for transport and for guests to serve themselves is simple enough, but even a sit-down meal will require caterers to utilize glass and dish racks to get glasses and dishes from the restaurant to the venue.
Display Items
Mirror Trays
For individual portions of items such as appetizers or desserts, mirror trays can make a big impact on their display. This is optimal for buffet-style catering events, as sit-down events typically involve waiters or waitresses serving guests directly.
Dessert Cart
Buffet-style catering events can benefit from specialized carts for guests to help themselves to plated or portioned items like desserts.
Risers
With buffet-style catering, having portioned items ready-to-go for guests is essential to keeping the line moving. Unfortunately, many resorts to placing large quantities of portioned items across a flat surface, making it difficult for guests to see what's available. Invest in risers to lift the items towards the back of the table up for easier access and viewing.