Google Analytics: A Quick Primer for Restaurants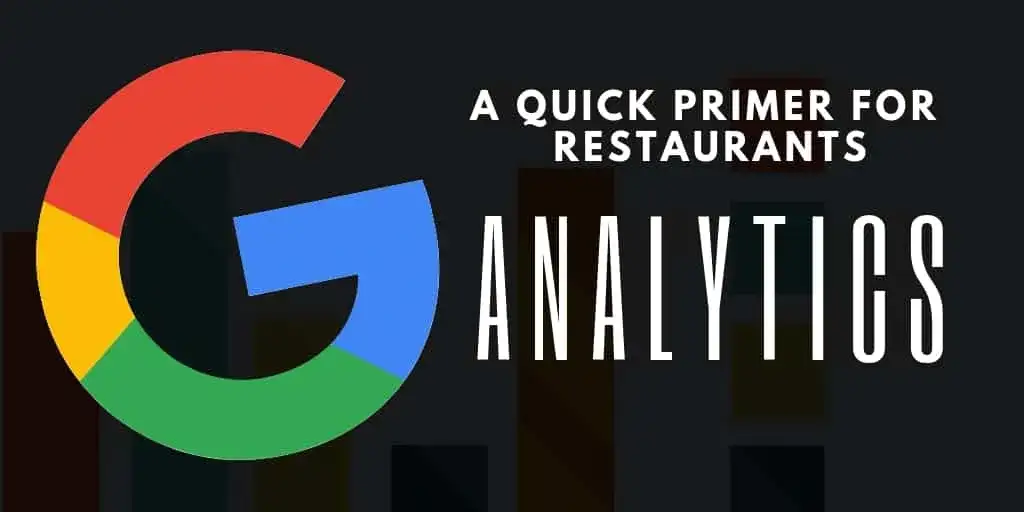 Google Analytics helps restaurants gather relevant data about their customers and analyze this data so that they can make informed business decisions. This is a free and powerful tool that allows website owners to analyze data collected about their website's users.
Google Analytics works by gathering anonymized data about the way users interact with your website and generating detailed reports that can help you create an accurate picture of who is visiting your website, what they are doing there, and how you can improve your website to create a better user experience.
What Google Analytics Data to Pay Attention To
Google Analytics can be overwhelming for beginners. Though available for free, this is a premium tool that can provide a wide variety of reports that could be difficult to understand for people who are not used to it.
When first opening the dashboard, you'll find four items at the top of your screen: Users, Sessions, Bounce Rate, and Session Duration.
Users
In simple terms, users are the people who visit your website. Google classifies them into new users and returning users. Whenever someone visits your website, Google assigns a unique identifier for that user and classifies them as a new user. When the same person returns to your website on another day, Google recognizes their unique identifier and classifies them as a returning user.
This shows you how many people are going to your website for the first time and how many are repeat visitors. However, there are instances when a returning user may be qualified as a new user, such as when they have deleted their browser cookies, used a new device, or visited your website through a different browser.
It's great to have a high number of new users, but restaurants can easily make more sales based on repeat business. If your website has a low number of returning users, figure out ways you can convince more people to keep coming back. For instance, offering website-only exclusive deals and promos that change regularly can attract visitors to check your website often.
Sessions and Session Duration
Sessions are the sets of interactions that a user does with your website. That includes checking out the menu, sending an inquiry for special events, or ordering takeout, to name a few.
By default, sessions lapse after 30 minutes of inactivity, which means if someone visits your website, opens another tab, and forgets to go back to your website after 30 minutes, the session will automatically expire.
Most people don't spend 30 minutes on a restaurant website. You can customize the length of a session and adjust it from 3 minutes to 3 hours to match the length of time users typically spend on a restaurant website. This metric helps you look at whether visitors are actively interacting with your website since passive users are filtered out and won't affect the data in a negative way.
Bounce Rate
The bounce rate indicates the rate at which users land on a page on your website and immediately bounce away to another website without visiting another page.
Having a high bounce rate means people are leaving your website without investigating further. In general, this can mean two things. Either your customers are not fully engaged with your website or your website is so well-designed that they were able to easily find the information they were looking for. It can also mean that your website takes too long to load and people leave without waiting for loading to finish. Another reason is that your website may have some annoying elements, such as pop-up ads, Flash-based graphics, or background music, that irritates users and prompts them to leave at once.
Simply looking at the bounce rate will not mean a thing unless you look at every individual page and look for elements that could be causing your visitors to leave. Analyze each web page with a high bounce rate and figure out how you can make the user experience on each page better.
Traffic Sources
Where do your visitors come from? Some of them could be typing your web address on the browser bar directly, but a lot of them will be coming from search engines such as Google and Yahoo and other websites.
Take a look at the various sources of traffic for your website and look for ways to improve your relationship with that source. For example, if most of your traffic comes from Yelp, what can you do to improve your Yelp rating? If more people are searching for your restaurant via local search on Google, perhaps you can consider enlisting the services of an expert that specializes in local SEO to help you get higher in the rankings.
Location
Location refers to the geographic location of your users. Google Analytics breaks it down by country by default. However, you can create a custom report that analyzes user location by city. This is especially helpful for restaurants since most restaurants do not have physical locations all over the world.
This metric lets you know if your visitors come from your local area or somewhere else. If your website traffic is composed of people who come from a city outside your location, you may want to consider setting up a new location there or offering an online ordering and delivery system to cater to that area.
Time of Day
Google Analytics also lets you know the busiest times for your website, allowing you to make adjustments accordingly. For example, if people in your local area are checking out your menu during the wee hours of the morning, it may be time for you to expand your staff and extend operating hours to address the gap in service.