Making Waffles Has Never Been Easier than with a Commercial Waffle Maker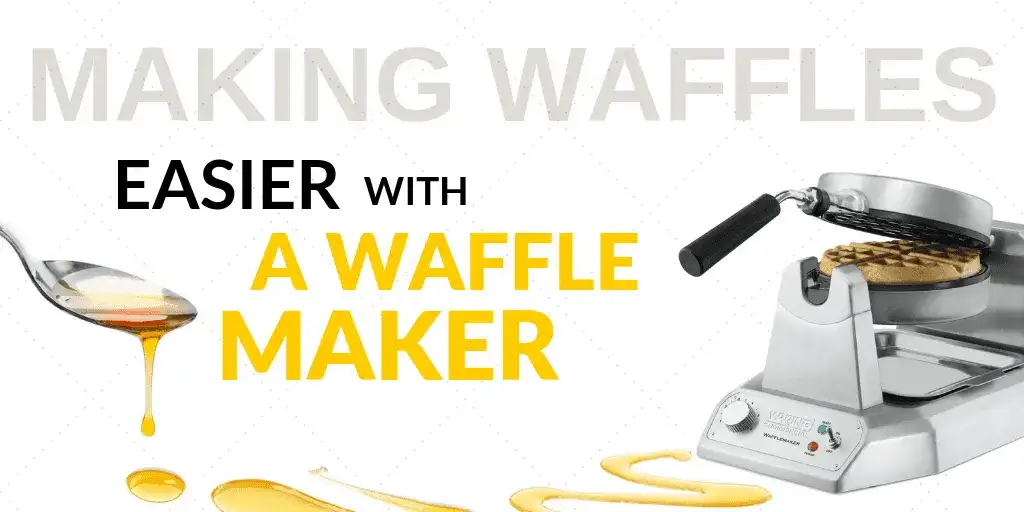 What better breakfast is there than a hot waffle smothered in butter and maple syrup? Or a brunch with a fluffy Belgian waffle covered in whipped cream and strawberries? Or even a delicious dinner of chicken and waffles? Well, none of these would be possible without the help of a waffle maker!
Waffle makers are staple pieces of equipment for any restaurant, hotel, cafeteria, or other food-service business. They are great for back-of-house kitchens in restaurants and diners, as well as for self-serve areas such as public cafeterias in colleges or hotels. No matter where you plan on putting your waffle maker, you will not be disappointed in the outcome that it brings.
Waffle makers can be found in multiple styles, sizes, and shapes. There are different waffle makers for standard waffles as well as for Belgian waffles. There are even some waffle makers that make churro waffles. In addition, there are single and double waffle makers as well. No matter what type of waffle maker you choose, you can be sure that it will be very efficient and easy to use for the professional and the layperson alike, as they all come with simple layouts and controls, and are very easy to utilize and clean up. Some even come with timers to make cooking even easier!
Although single and double waffle makers are very similar in the way that they work, a double waffle maker, like the Star Mfg. SWB7R2E CSA Standard Waffle Baker, will significantly increase your food output. Whether placed in back-of-house kitchens or front-of-house self-serve areas, twice as many waffles can be made and served with a double waffle maker. If waffles are not such a hit item at your business, it may be a good idea to stick with a single waffle maker, like the Star Mfg. SWB7R1E Standard Waffle Baker.
If one of the hit items on your menu is the Belgian waffle, there are commercial waffle makers, such as the Wells BWB-1SE Belgian Waffle Baker, specifically designed to bake Belgian waffles. These machines are designed to make the waffles thicker and fluffier than standard waffles. Belgian waffle makers come in various sizes and shapes as well.
Another must-have piece of equipment, especially in diners or ice cream parlors, is the waffle cone forming tool. The Star Mfg. WCB-FT Waffle Cone Baker Forming Tool is an example of one of these. As the name suggests, waffle cone forming tools are used to form waffles into a cone shape to make… yep, you guessed it: waffle cones! These are must-have items in ice cream shops, or any food-service business that serves ice cream for that matter.
All commercial waffle makers are made with strict specifications in regards to strength and durability. Therefore, you can be certain that your waffle maker, whichever style, size, or shape you choose, will be long-lasting and a great overall investment.