Taking Foam Out of the Equation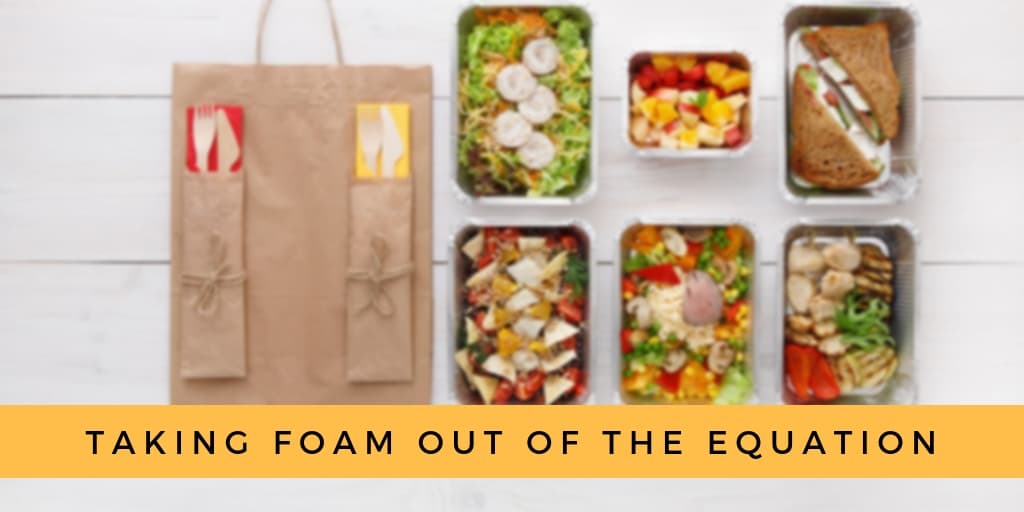 For many restaurants, plastic foam to-go containers are always at the ready. From delivery to take-out to packaging customer leftovers, styrofoam boxes are an integral part of food transportation for many. As part of environmentally-friendly initiatives, many large cities are choosing to ban the use of foam containers altogether. In fact, NYC's mayor Bill de Blasio announced that come January 2016, those who still use foam containers will be subjected to fines, forcing restaurants to reconsider their green initiatives. When you take plastic foam containers out of the equation, does the math add up to profit?
Most of us can concur that plastic containers are not environmentally friendly. "While much of the waste we produce can be recycled or reused, polystyrene foam is not one of those materials," said Sanitation Commissioner Kathryn Garcia. "Removing polystyrene from our waste stream is not only good for a greener, more sustainable New York, but also for the communities who are home to landfills receiving the city's trash." But not having the ability to use these containers leaves restaurant owners wondering what substitute would work in order to maintain profit margins.
Many will opt for paper-based to-go containers and cardboard boxes with wax paper or waterproof liners. Michael Allen, who hopes to open his casual vegetarian Beerline Cafe in June, already is planning to use compostable containers and flatware for takeout, with reusable tableware for guests who dine in. The aim is to reduce as much waste as possible. At SURG restaurants Hom Wood Fired Grill in Glendale and Brookfield, the staff has begun packing leftovers and takeout orders in biodegradable containers, said partner Omar Shaikh. Other restaurants in the group, such as Carnevor and Umami Moto, use recyclable and reusable plastic containers.

Even just a few years ago, compostable containers cost around four times what polystyrene foam containers cost, Manyo said. Since then, with increased demand for and production of green containers, the price has fallen and now is around double. "They're readily available, there's not a huge price difference, and to be true to our concept — it's really a no-brainer," Manyo said. Michael Oshman, a spokesman for the Green Restaurant Association, said restaurants that want to use earth-friendly packaging have many more options these days, including containers made entirely of recycled plastic, with portions of that being post-consumer recycled plastic.
Aside from opting for 'greener' container options, you may also want to reconsider your portion sizes to reduce leftovers and potentially reap the most profit from each meal. You'll waste less food, utilize more creativity, and emphasize each meal with smaller plates and high-quality options. Invest in quality China to showcase your meals, and rather than fill the plate, use decorative sauces and garnishes to frame the food on the platter. In this manner, you reduce leftovers, reduce ingredient quantities, and increase your margin of profit.
Nonprofits and businesses with less than $500,000 in annual revenue could qualify for an exemption from the plastic foam ban, but they would have to prove that using non-foam materials would create financial hardship. But becoming a part of the green movement is merely a matter of time, so start brainstorming your strategy to combat plastic waste today!