Seafood Ideas for Lent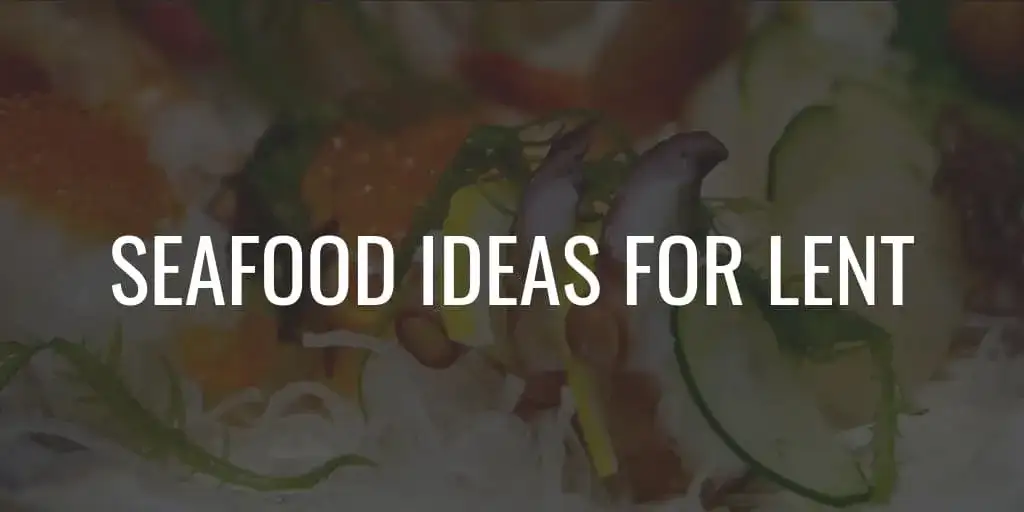 Starting Ash Wednesday and lasting all the way through Easter Sunday is Lent. This Christian religion-based observance typically means an increase in seafood sales as those who observe the forty day holiday abstain from 'flesh meat' on Fridays, thus turning to seafood counterparts. If your restaurant isn't paying attention to this crowd, then you're missing out on potential profits and satisfied customers. Ensure that your seafood menu is fresh and unique to keep your customers satisfied this season of Lent.
About 24 percent of the U.S. population is Roman Catholic, according to the Pew Forum on Religion & Public Life, and about 60 percent of Roman Catholic people follow rules about avoiding meat on Fridays during Lent, according to a 2008 poll by the Center for Applied Research in the Apostolate at Georgetown University in Washington, D.C. That means more than 14 percent of Americans avoid meat during the seven Fridays of Lent.
"For the past three to four years, we have seen double-digit increases in the seafood department during Lent," says James Breuhl, meat and seafood director for Thibodaux. "A lot of that is attributed to keeping it fresh, bringing new things to the table, and not offering the same old, same old every year."
"It's a significant business opportunity, I think, for all chains," said Brad Haley, chief marketing officer of CKE Restaurants Holdings Inc., the parent company of quick-service restaurants Carl's Jr. and Hardee's, which rolled out fish specials for the season. Whether you're running a fine-dining establishment or a quick-serve restaurant like Brad Haley, offering seafood dishes should be an integral part of your marketing plan - especially during Lent.
Capitalizing on some of the seasonal flavors can help to bring a little life into your seafood dishes. Here are a few ideas to get you started!
Ingredients
1/4 cup organic canola mayonnaise (such as Spectrum), divided $

4 teaspoons fresh lemon juice, divided $

2 1/2 teaspoons Dijon mustard, divided

1/4 cup finely chopped green onions

2 tablespoons minced red bell pepper

1/2 teaspoon garlic powder

1/4 teaspoon salt $

1/8 teaspoon ground red pepper

2 (6-ounce) packages skinless, boneless pink salmon

1 large egg, lightly beaten $

1 cup panko (Japanese breadcrumbs) $

1 tablespoon canola oil $

1 tablespoon chopped fresh parsley

1 teaspoon finely chopped capers

1/2 teaspoon minced garlic $

1/8 teaspoon salt $
Preparation
1. Combine 2 tablespoons mayonnaise, 1 tablespoon juice, 1 1/2 teaspoons mustard, and next 7 ingredients (through egg), stirring well. Add panko; toss. Shape mixture into 8 (3-inch) patties.
2. Heat oil in a large skillet over medium heat. Add patties; cook 5 minutes on each side or until browned.
3. Combine remaining mayonnaise, juice, and mustard with parsley, capers, garlic, and salt, stirring well.
Seared Scallops [via Cooking Light]
Ingredients
2 tablespoons olive oil, divided $
1 1/2 pounds sea scallops $
1/4 teaspoon salt $
1 cup prechopped onion $
1/8 teaspoon crushed red pepper
2 garlic cloves, minced $
1/4 cup dry white wine
1 cup fat-free, less-sodium chicken broth $
1 (19-ounce) can cannellini beans or other white beans, rinsed and drained
1 (6-ounce) package fresh baby spinach $
2 tablespoons chopped fresh basil
Get Expert Nutrition for Your Growing Child
Preparation
1. Heat 1 tablespoon oil in a large nonstick skillet over medium-high heat. Sprinkle scallops evenly with salt. Add scallops to pan; cook 2 minutes on each side or until done. Remove scallops from pan; keep warm.
2. Add remaining 1 tablespoon oil and onion to pan; sauté 2 minutes. Add pepper and garlic; cook 20 seconds, stirring constantly. Stir in wine; cook 1 minute or until most of liquid evaporates. Stir in broth and beans; cook 2 minutes. Add spinach; cook 1 minute or until spinach wilts. Remove from heat; stir in basil.
3. Grilled garlic bread is great for dipping into the brothy beans. Heat a grill pan over medium heat. Brush 1 tablespoon olive oil evenly over 4 (1-ounce) slices French bread. Add bread to pan; cook 2 minutes on each side or until lightly browned. Rub one side of each bread slice with cut sides of a halved garlic clove.