Ice Machine Add-Ons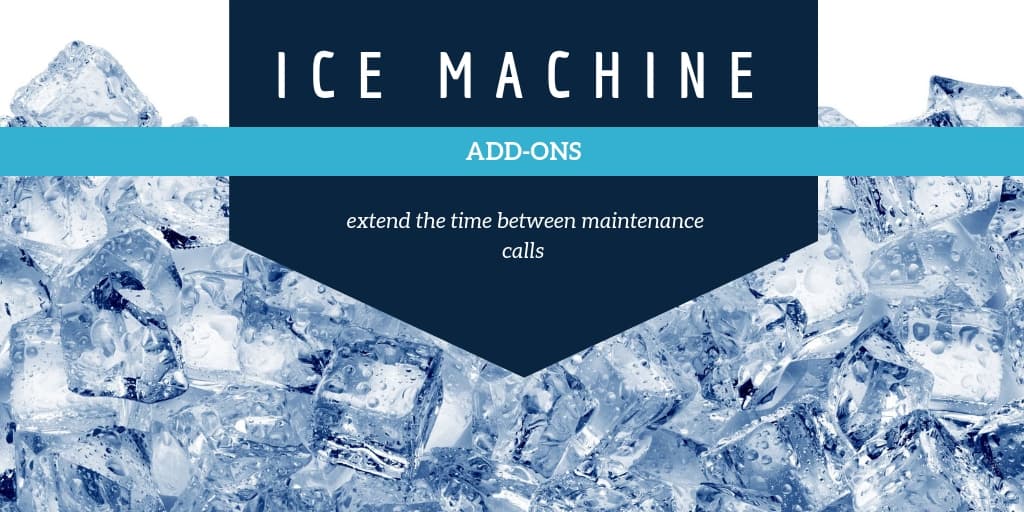 An integral kitchen appliance in most restaurants is the ice machine. Both money and effort are invested in choosing and maintaining our machines to ensure they're performing their best. To prolong the life of our ice machines and extend the time between maintenance calls, many choose to spend a little more time on the extras! With a few simple add-ons, one can turn their ice machine into a long-lasting, energy-saving unit.
We all know that specifying the right size, capacity, and condensing type can help to boost the performance and reduce the energy consumption of ice machines. Outside of these aspects, there are a few additional ways to prolong the life of your machine and to even cut down more on energy use!
Heat Exchanger: A simple heat exchanger can be hooked up to an ice machine to reuse chilled drain water off the ice bin and pre-chills the incoming water. This reduces the time the unit takes to freeze the water and helps the condenser run for a shorter period of time," says Ray Soucie, FCSI, LEED AP, principal of RSA Inc. Foodservice Design in Portland, Ore. "What's nice is a heat exchanger can be retrofitted on any brand and it doesn't have any moving parts. You can hook it right up to the plumbing line." Fortunately, CKitchen carries the top name-brand line of heat exchangers by Systems IV known as the ChillTech I, II, and III. Choosing between the three is merely a matter of the ice output your restaurant requires and what your ice machine is capable of.

AuCS: The Automatic Cleaning System for ice machines helps to remove impurities and extend the life of your unit! While many newer models may already come with the cleaning system, it's an easy addition that can save you money in the long-run. The AuCS system is only available on the Manitowoc machines.

Preventative Maintenance: Ice machines should have routine seasonal maintenance to ensure that problems are fixed before they're critical and to keep your system functioning at peak performance. This helps to extend its life while cutting back on utility bills!

Placement: While there are many aspects to the setup of your kitchen, ensuring that your ice machine is far from your bread-baking station or oven is important. Professional designers know that the yeast from bread can become airborne and invade the ice machine, which can be detrimental to its safety and performance.

Filters: Filters can cut down more than 65% of all service calls according to some estimates. We offer 15% off all filters with the purchase of an ice machine.
Your ice machine is designed to support your kitchen's needs. Ensure that you're getting the most for your money by investing in the add-ons in order to keep it running at peak performance! Your wallet and your customers will thank you.