Alternative Thanksgiving: Low Carb, Dairy & Gluten-Free, Vegan, and Vegetarian Ideas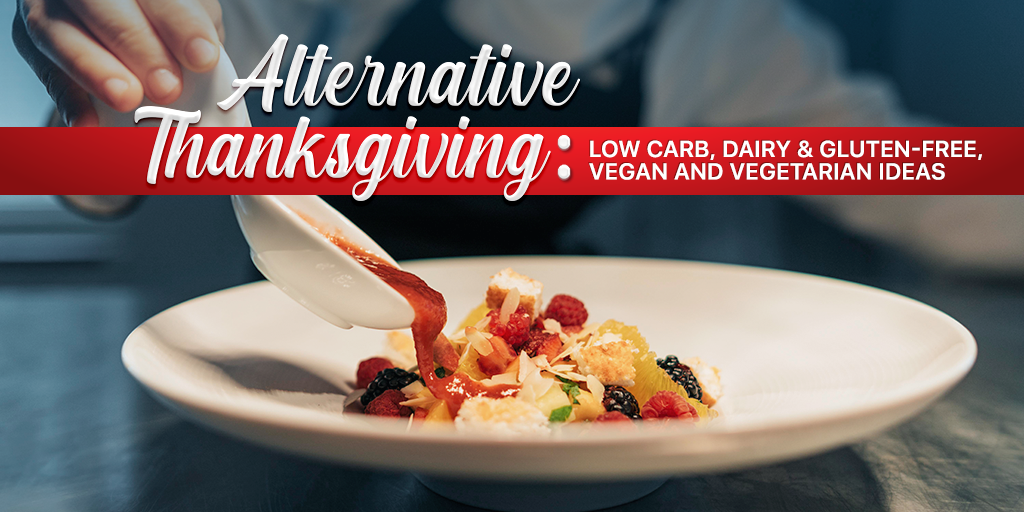 Thanksgiving is an important event that promotes culture, family, and unity. In traditional Thanksgiving dinners, turkey, wine, gravy, and traditional appetizers are served. These traditional dinner recipes are mostly cholesterol or calorie-rich, which is not at all healthy. To serve alternative thanksgiving diets, you need to take advantage of alternative Thanksgiving dinner ideas. Alternative Thanksgiving dinner recipes can include vegetarian, vegan, gluten-free, dairy-free, and low-carb dishes. In this article, we discuss alternative Thanksgiving ideas, vegetarian Thanksgiving dishes, a gluten-free Thanksgiving menu, and a dairy-free Thanksgiving.
Alternative Thanksgiving Ideas
Alternative Thanksgiving ideas and recipes are perfect for Thanksgiving dinners for patrons or family members with meat-free diets. You can even prepare alternative recipes or dishes for larger crowds. During Thanksgiving, people are looking for restaurants or food service establishments where Thanksgiving dinners are served. Most restaurants serve traditional Thanksgiving dinner recipes like turkey, ham-based dishes, and other delicious meat-based dishes. But a sizeable portion of the population is now looking for meat alternatives during Thanksgiving. As a part of your business strategy, you can serve vegetarian Thanksgiving dishes and gluten-free Thanksgiving dishes.

Vegetarian Thanksgiving Dishes
Vegetarian dishes are an ideal alternative to traditional heavy Thanksgiving dishes. These low-carb Thanksgiving dishes are healthier than most traditional dishes. With these vegetarian Thanksgiving dishes, you can serve a sumptuous but healthy meal during Thanksgiving. Most vegetarian alternative Thanksgiving dishes include grains, dairy, veggies, legumes, and fruits. You can serve vegetarian Thanksgiving appetizers, vegetarian Thanksgiving side dishes, vegetarian Thanksgiving entrees, and vegetarian Thanksgiving desserts during Thanksgiving dinners. Here we list some popular vegetarian Thanksgiving dishes :
Burmese Tofu or Chickpea Tofu:

Vegan thanksgiving dishes can include delicious Burmese tofu, which has high protein content. It can work as an alternative to traditional thanksgiving turkey. Chickpea tofu or Burmese tofu can be served with vegetarian gravy, meatless stuffing, and mashed potatoes without dairy. These can provide a soulful traditional Thanksgiving flavor.

Roasted Cauliflower With Turmeric-Tahini Sauce & Pistachios:

Whole roasted cauliflower is a healthy alternative to traditional unhealthy meals. This dish is served with herbs, nuts, spices, olives, and other ingredients. You can easily cook and serve roasted cauliflower with turmeric-tahini sauce in less than an hour.

Lentil Shepherd Pie and Parsnip:

Lentil Shepherd pie is an excellent Thanksgiving alternative dish that is served with rosemary and thyme-based mushroom. The lentil blend is ideally served as gravy. Lentil shepherd pie is rich in protein. Youcan also use mashed potatoes and parsnips as toppings. It is mostly served with sourdough bread as an accompaniment.

Sweet Potato and Chickpea:

Most people eat sweet potato-chickpea cakes after Thanksgiving, but it is a great dish that you can serve during Thanksgiving as well. You can start by making a coconut-based mashed potato mix. After that, you can add panko, scallions, chickpea, salt, and spices to the blend. You can serve sweet potato and chickpea cakes with vegetarian gravy and cranberry sauce.

Vegan Lasagna and Roasted Veggies:

Lasagna is a popular dish across the world. Simple vegetarian lasagna is made with ricotta, mozzarella, and parm. You can serve vegan lasagna with wine or aerated beverages.

Vegetarian Burgers:

Vegetarian burgers are perfect as Thanksgiving alternatives. You can make nutty veggie burgers that are served with tomato ketchup. Veggie burgers are made with soft burger buns and tofu, peas, chickpeas, or other protein-rich plant-based sources. They are then served with with sweet potatoes, beans, and carrots.

Squashduckens Dish:

Squash is a healthy vegan alternative that can be served during Thanksgiving. Squashducken is a simple dish where squash is stuffed in another squash. It can be included in your menu of vegan gluten-free Thanksgiving dishes. It is a tedious dish to make, but you will be swarmed with inquiries regarding the recipe if you can serve it perfectly during Thanksgiving. Squashducken is all about execution. The dishis an apple-pear crumble with buttery-smooth squash. It can be served with a big scoop of vanilla ice cream.

Gluten-Free Thanksgiving Menu
Gluten-free Thanksgiving dishes are perfect for people with Celiac disease or gluten intolerance. Some reduce the total intake of gluten for a healthy lifestyle. In most gluten-free diets, people reduce the total intake of grains and carbohydrates. Gluten is mostly present in pasta, gravy, biscuits, sauces, alcohol, salad dressing, and other wheat-based dishes.
Vegan gluten-free thanksgiving dishes can include hummus with veggies, gluten-free dinner rolls, burrata salad, and baked potatoes with sour cream.
Gluten-free Dinner Rolls:

Gluten-free dinner rolls are as delicious as regular dinner rolls. These special gluten-free dinner rolls are made from gluten-free flour. You can sprinkle these gluten-free dinner rolls with sesame seeds. These gluten-free are also dairy-free, nut and soy-free. Gluten-free dinner rolls are perfect for a dairy-free Thanksgiving.

Burrata Salad: Burrata salad is a perfect gluten-free appetizer for Thanksgiving. It can also be served as a side dish. Burrata salad has fig, prosciutto, and brown sugar vinaigrette.
Spinach and Artichoke Dip: Spinach and artichoke dip is an ideal savory dip. It is made from cream cheese, sour cream, mayonnaise, garlic, parmesan, mozzarella, pepper, canned artichokes, and frozen spinach. You can serve this dip with most appetizers during a traditional Thanksgiving dinner.
Buckwheat Cherry Crumble: Buckwheat and cherry crumble is one of the most popular desserts you can serve after a heavy Thanksgiving dinner. It is a light dessert that is rich in fruits, nuts, dairy-free chocolate, and dairy-free chocolate chips. It is a purely vegan dessert that is gluten-free and has low-sugar content.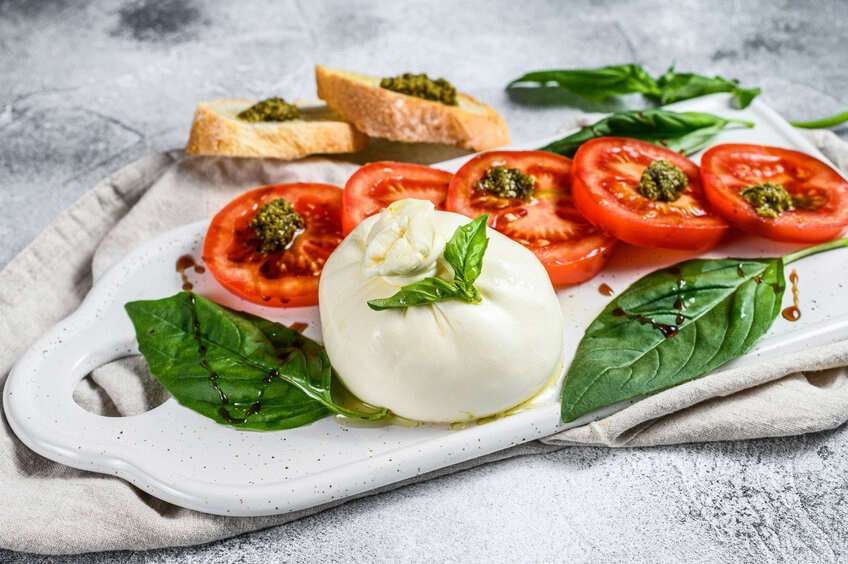 Dairy-Free Thanksgiving
Lactose is a type of sugar found in dairy products. You can find lactose in cheese, yogurt, ice cream, milk, and other milk products. Lactose provides a distinct taste to milk products. However, some people are naturally lactose intolerant. Lactose intolerant people have difficulty digesting lactose or milk products. They prefer a dairy-free diet or limit their total intake of milk or milk-based products. For lactose-intolerant people, a dairy-free Thanksgiving menu is an ideal choice.
Thanksgiving alternatives are preferred over traditional Thanksgiving dishes as lactose-intolerant people avoid mashed potatoes, macaroni and cheese, butter, and cream. Here is a list of dairy-free Thanksgiving alternative recipes:
Sweet Potato Casserole:

Sweet potato casserole is made from unsalted butter, sweet potatoes, soy milk, brown sugar, vanilla extract, kosher salt, eggs, and all-purpose flour. It is a healthy and dairy-free alternative that lactose-intolerant people can consume.

Pumpkin Tart: Pumpkin tarts are made from eggs, brown sugar, pumpkin puree, soy milk, vanilla extract, kosher salt, and gingersnap cookies. The process of making pumpkin tart or pumpkin pie is similar to that of any other pie. The primary difference is that pumpkin tart is primarily dairy-free.
Pineapple-glazed Ham: Pineapple glazed ham is one of the most popular dairy-free dishes that you can serve for Thanksgiving. You can make pineapple glazed-ham from fully cooked ham, fresh pineapple, pineapple juice, and brown sugar. This delicious recipe is easy to make, and can be a part of an alternative Thanksgiving dinner.
Managing A Restaurant During Thanksgiving
During the Thanksgiving season, people prefer home-cooked Thanksgiving dinner more than restaurant meals. But some like to go out during Thanksgiving and enjoy a sumptuous Thanksgiving meal with their family and friends. As a food business owner, It is essential to understand the importance of restaurant holiday management during the Thanksgiving rush. Restaurants are mostly swamped with customers, and traditional or contemporary Thanksgiving menus take time to cook and serve, which increases the turnaround time for restaurants. However, as more people opt for alternative Thanksgiving dishes, restaurants are switching to traditional Thanksgiving dishes. These alternative Thanksgiving dishes can be prepared quickly and are healthier than conventional Thanksgiving meals.