The Top Commercial Ice Maker Machines By Type Of 2022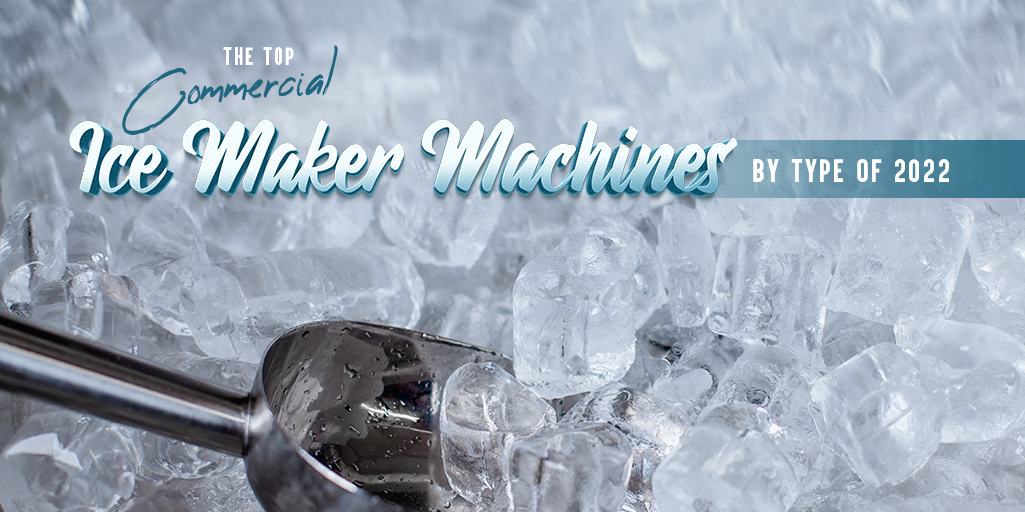 Ice is an integral part of your operations, whether it's for kitchen use or to serve refreshments to your customers the right way. Every commercial kitchen requires a trustworthy and durable ice maker for its seamless functioning. Equipping yourself with an icemaker that will keep you supplied with quality cubes throughout the year is not just an option, but a necessity to keep your customers satisfied. In case your ice machine is up for replacement, and you're wondering what is the best countertop ice maker, or the best undercounter ice machine available in the market - you're at the right place. We discuss the best commercial ice machines by type so you can have a unit that works best for your establishment in 2022.
Best Commercial Ice Maker Overall
Manitowoc, being one of the most reputed refrigeration companies in the market, offers customers the IDF0500N model from the Indigo NXT series. Capable of producing over 510 lbs of ice in a 24-hour period with full-dice ice production capabilities, the unit also comes with Alpha-san antimicrobial protection, multilingual digital controls with touch displays, and automatic reminder notifications.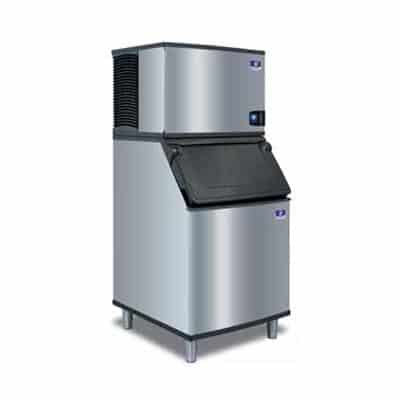 Best Quick and Energy-Efficient Commercial Ice Maker
Another model from Manitowoc's pristine Indigo NXT series, this model serves to produce large quantities of ice within a short period. With a water-cooled condenser, self-diagnostic technology, and DuraTech exteriors, this machine is cost-effective and resilient. It holds a production capacity of over 1600 lbs of ice in 24 hours.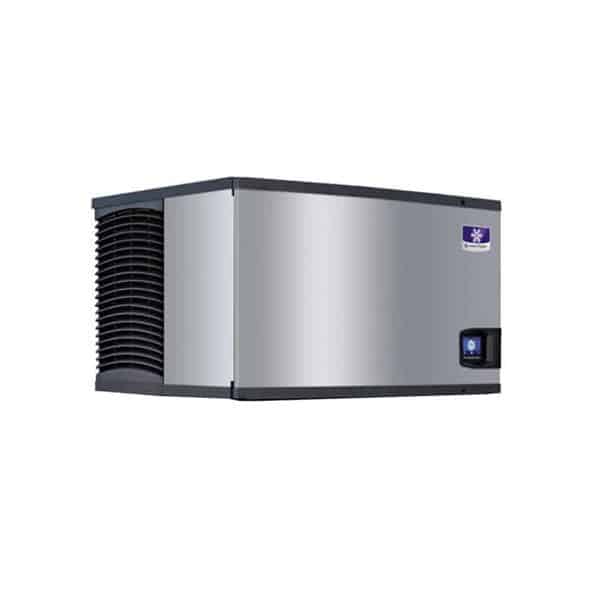 Best Value Commercial Ice Maker
Scotsman's value-based solution, the NS0422W-1, amounts to what is the best nugget ice machine in the market. The unit comes with a durable finish, AgION antimicrobial protection, a water-cooled self-contained condenser, a digital display, and much more! With a production rate of over 455 lbs in 24 hours, you can rest assured about this unit's all-around utility.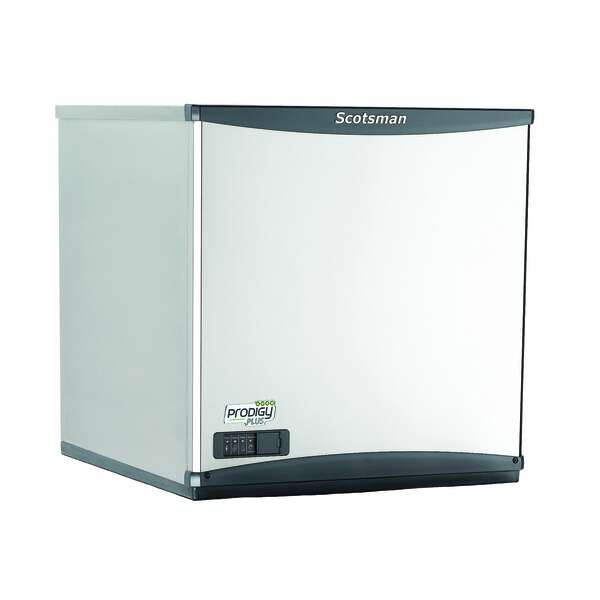 Best Compact Ice Maker
One of the most efficient yet compact ice makers on the market, Scotsman's HID312AB-1 has push-button dispensing for both ice and water, allowing you to cater to both needs in a single machine. Stellar at producing nugget ice, this machine is a small & efficient, yet power-packed model. With a 260 lbs production capacity and a 12-pound bin, this model is a whole unit in a manageable set of dimensions.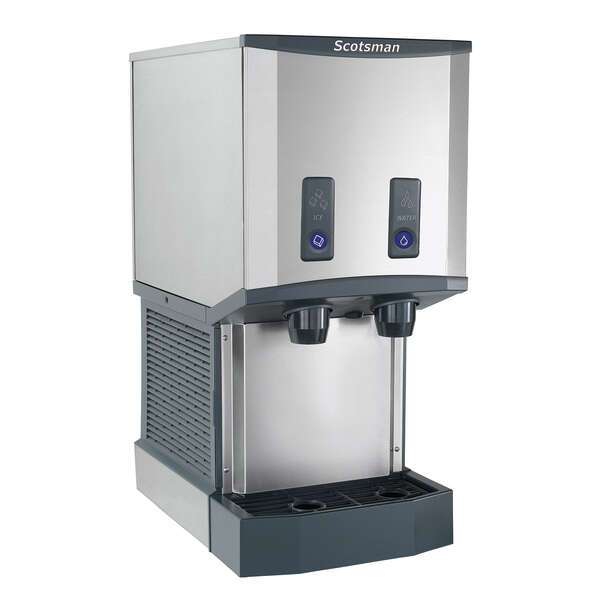 Best Budget Commercial Ice Maker
Made for establishments that are looking to supplement their existing ice supply and for small businesses that have limited ice requirements and budgets, Maxx Cold's premier model can produce over 50 lbs of ice per day. It comes with a durable exterior capable of putting up with the rigors of commercial kitchen existence.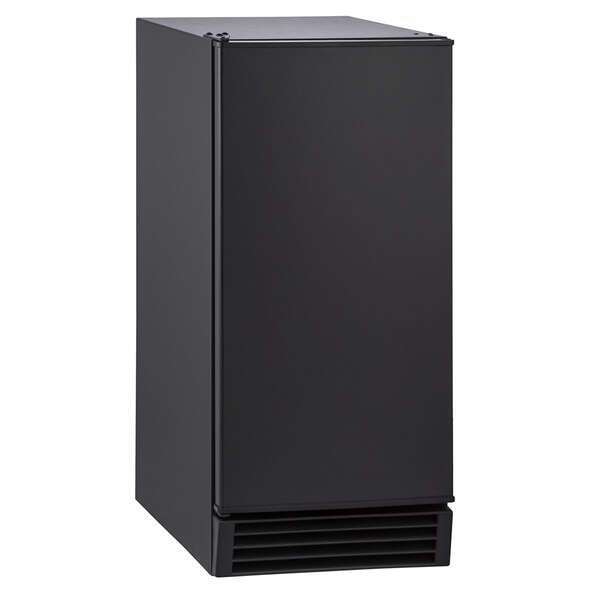 Best Commercial Ice Machine to Splurge On
Manitowoc SDF3000C 48" Full-Dice Ice Maker
The Quadzilla QuietQube commercial ice machine from Manitowoc is a beast worth every penny if you operate an establishment that requires large quantities of ice every day. Armed with an air-cooled, remotely placed condenser, and a tough stainless steel finish, the SDF3000C is capable of producing over 2850 lbs of high-quality full dice ice over 24 hours.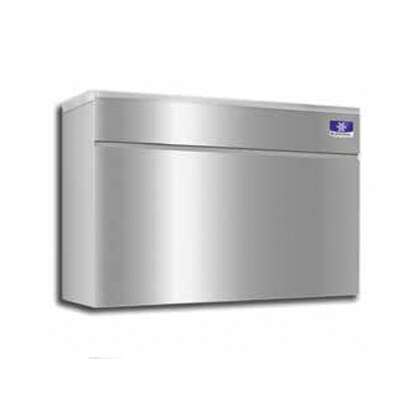 Best Ice Cube Trays to Work with
OMORC Easy Release Silicone Ice Cube Trays
A unique take on existing ice cube trays, the OMORC easy-release silicone trays are flexible and come with lids to help you keep the ice cubes fresh and odor-free. The silicone material enables you to remove ice from the tray without any hassle, allowing you to quickly harvest ice.
Best Undercounter Ice Machine
The UMD425A80 model from Follett's Maestro Plus series allows business owners to address their requirements for the best undercounter ice machine. With an air-cooled & self-contained condenser coupled with a 75 lb bin, this model is capable of supplying over 425 lbs of top-tier nugget ice in a day.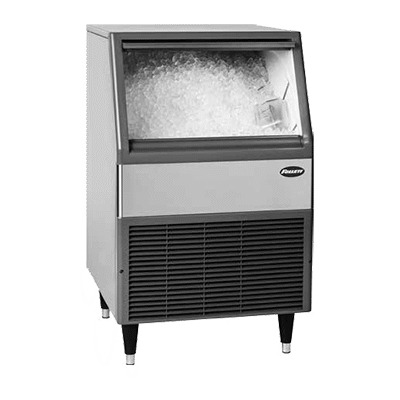 Best Countertop Ice Maker
Scotsman HID312AW-1 18.25" Nugget Ice Maker Dispenser
Scotsman's offering from its Meridian series is the answer to the question, 'what is the best countertop ice machine?' The unit comes equipped with infrared technology that allows you to operate the ice maker and harvest ice touch-free. With standard Scotsman endowments such as AgION antimicrobial protection and a stainless steel finish, this model is capable of producing over 260 lbs of ice a day and comes equipped with a 12 lb bin.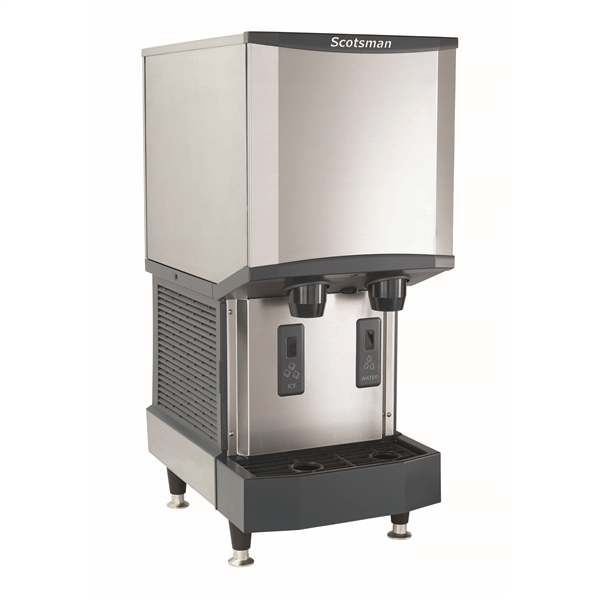 Best Freestanding Ice Maker
Hoshizaki offers an all-around solution for all your ice needs with F-330BAJ, endowed with an ice bin, air-cooled & self-contained compressor. If you're looking for the best commercial shaved ice machine on the market, this model is a great contender. With its capacity to produce over 332 lbs of flake ice each day, you can be sure of serving your customers seamlessly.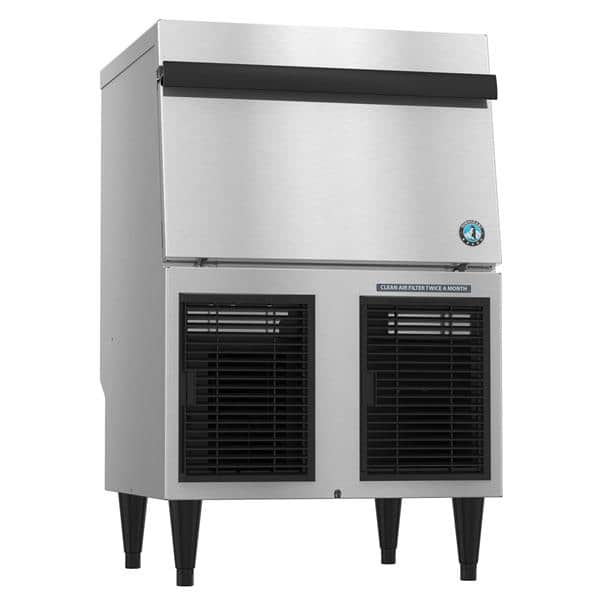 Best Nugget Ice Maker
ICE-O-Matic GEM2006R 30" Ice Maker
ICE-O-Matic's entry in the nugget ice maker niche is one of the best commercial ice solutions for your establishment when you have a large requirement for chewable, soft ice cubes. In case you're deliberating over what is the best nugget ice machine, the GEM2006R is your best bet. With over 2000 lbs of daily output, your operation can operate ceaselessly with a supply of high-end ice cubes.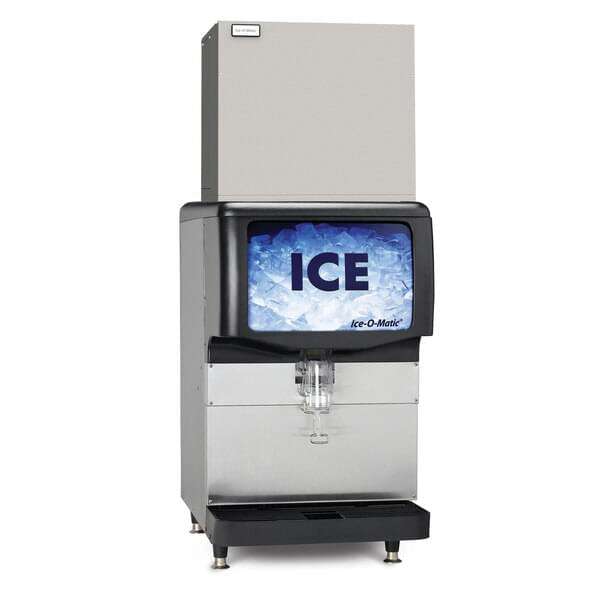 Best Portable Ice Maker
Hoshizaki DB-130H Ice Dispenser
Hoshizaki's trusted engineering in a manageable size comes in handy in making what is the best portable ice maker for restaurateurs that undertake regular catering orders. The DB-130H is durable, efficient, and capable of producing over 130 lbs of ice a day. With a built-in bin and dispenser, this machine is perfect for your portability requirements.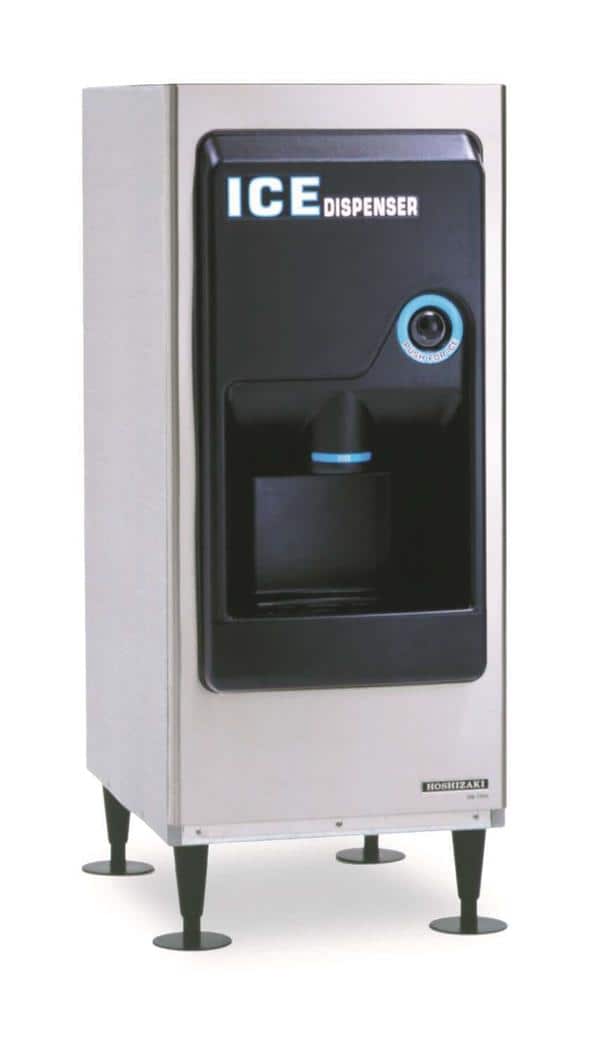 Best Shaved Ice Machine
Manitowoc RFF1300A 30" Flake Ice Maker
This unit from the renowned ice maker brand produces over 1200 lbs of flake-style ice in a day, allowing you to serve ice-based drinks and desserts without any hiccups. One of the best options in case you're seeking the best commercial shaved ice machine, Manitowoc's RFF1300A is certainly a machine built to last.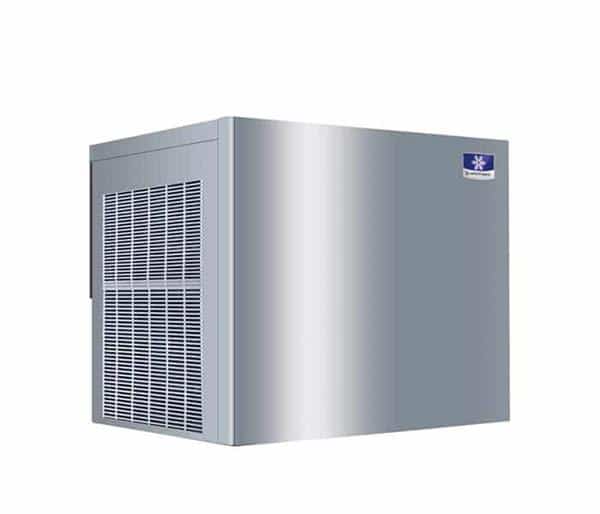 Best Snow Flake Ice Machine
ICE-O-Matic MFI0500A 21" Flake Ice Maker
Your search for the best commercial snowflake ice machine ends with ICE-O-Matic's MFI0500A - a reliable ice machine from one of the veteran brands in the ice maker market. Capable of producing over 500 lbs in a day, the snowflake ice it produces is perfect for culinary, cold-storage, and medical purposes. The model is known for its durability and is bound to serve your establishment for years to come.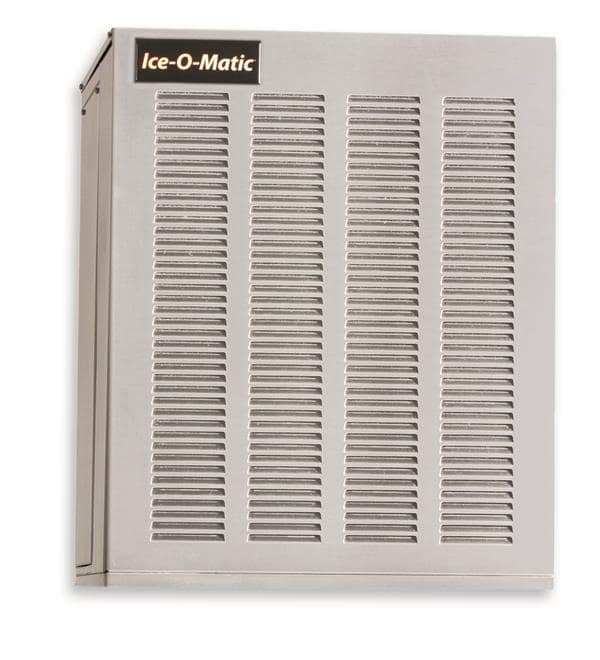 What to Consider When Buying Commercial Ice Maker Machines?
Here's what you need to watch out for when you're out shopping for commercial ice maker machine for your establishment:
1. Ice Production
The rate of ice production of the ice machine is essential for the operations at your establishment. Calculate the amount of ice required on your busiest day and add 30-40% to that number to offset losses and other variables. This number will give you an idea about the amount of ice your ideal ice maker must produce.
2. Type of Ice Machine
While you might be considering a variety of ice machine options for your restaurant, the type of ice machine you require depends on the nature of your operation. If you're running a bar or a full-service restaurant, full or half-dice ice is the type you should go with. On the other hand, for establishments serving desserts and other refreshments, nugget & flake ice makers are the better options.
3. Maintenance & Upkeep
Understanding your prospective ice maker's maintenance requirements is essential. Ice machines require regular maintenance and upkeep to remain safe and hygienic for use. Ice machines should be cleaned at least biweekly for pristine service. Procure an ice machine you can maintain efficiently.
FAQs About Commercial Ice Maker Machines
Here are some frequently asked questions to help you with your search for the ideal ice machine for your business:
What are the different types of ice used in commercial kitchens?
The different types of ice used in commercial kitchens are:
What is the most common type of ice used at commercial establishments?
Half-cube ice finds the most widespread use in commercial kitchens, used in the kitchen as well as for serving guests. It can also be bagged quite simply to be sold as packaged ice.
Is a filtration system essential for my ice maker?
A filtration system helps you extend the lifespan of your ice machine since it significantly reduces the number of unnecessary minerals and salts reaching your ice maker. You will also spend less on removing lime deposits from the interior of your ice machine if you invest in a filtration system.

Now that you have an informed opinion about the best commercial ice machines in the market, you can make the best choice for your establishment by choosing a unit that will last longer and work efficiently.