The Complete Ice-O-Matic Buying Guide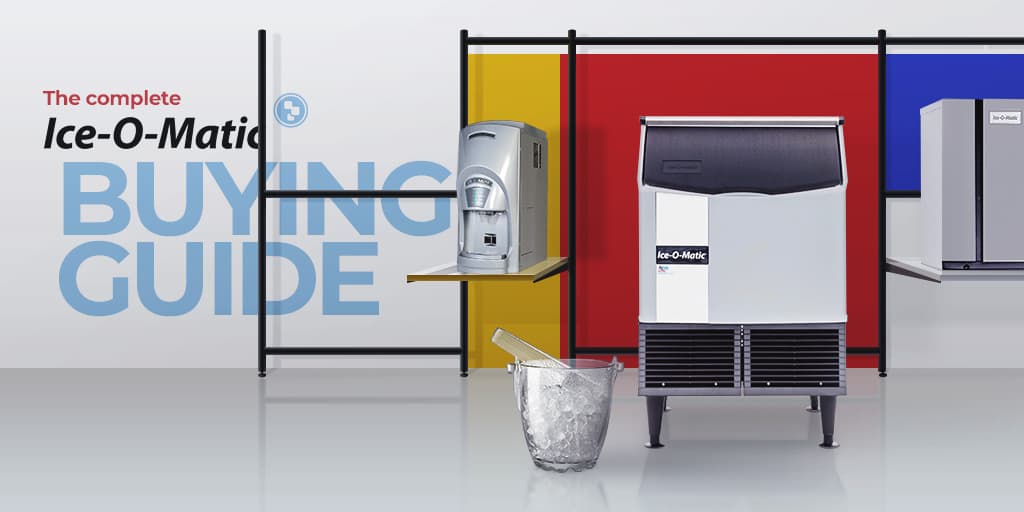 Ice-O-Matic is one of the most trusted names in commercial ice making today. The company has been in the business for half a century, bringing some of the smartest and most powerful commercial ice makers to various industry segments from restaurants, cafeterias, and convenience stores to hotels, offices, and healthcare centers. If you are looking for your next Ice-O-Matic commercial ice machine, use this guide to find the perfect product that will truly fit your needs.
Start by choosing your ice type
Ice-O-Matic commercial ice machines can produce five types of ice: half-cube, full-cube, grande, nugget or pearl, and flake ice. Click on an ice type below and we'll take you through all the available commercial ice machines sizes for that ice type.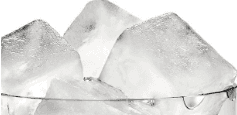 Grande Cube Size: 1/4" x 1 1/8" x 7/8"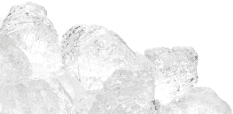 Nugget/Pearl Size: 1/2" x 3/8"
FULL-CUBE ICE MACHINES
Undercounter Full-Cube Ice Machines

ICEU150

Overall Dimensions:

24.54"W x 26.27"D x 39"H

Storage Bin Capacity: 70 lbs.
WATER-COOLED
Model
Ice Type
Max Production
Full-cube
180 lbs. 24/HR
AIR-COOLED
Model
Ice Type
Max Production
Full-cube
185 lbs. 24/HR

ICEU220/225/226

Overall Dimensions:

24.54"W x 26.27"D x 39"H

Storage Bin Capacity: 70 lbs.
AIR-COOLED
Model
Ice Type
Max Production
Full-cube
211 lbs. 24/HR

(Energy Star)

Full-cube
238 lbs. 24/HR
Full-cube
241 lbs. 24/HR
WATER-COOLED
Model
Ice Type
Max Production
Full-cube
210 lbs. 24/HR
Full-cube
232 lbs. 24/HR
Full-cube
251 lbs. 24/HR

ICEU300/305

Overall Dimensions:

30.34"W x 29.97"D x 39"H

Storage Bin Capacity: 97 lbs.
AIR-COOLED
Model
Ice Type
Max Production
Full-cube
299 lbs. 24/HR
Full-cube
309 lbs. 24/HR
WATER-COOLED
Model
Ice Type
Max Production
Full-cube
314 lbs. 24/HR
Full-cube
356 lbs. 24/HR
Modular Full-Cube Ice Machines

CIM0320/0325/0326

Overall Dimensions:

22.25"W x 24.25"D x 21.25"H

AIR-COOLED
Model
Ice Type
Max Production
Full-cube
290 lbs. 24/HR
Full-cube
313 lbs. 24/HR
Full-cube
330 lbs. 24/HR
WATER-COOLED
Model
Ice Type
Max Production
Full-cube
316 lbs. 24/HR

CIM0330/0335

Overall Dimensions:

30.25"W x 24.25"D x 21.25"H

AIR-COOLED
Model
Ice Type
Max Production
Full-cube
290 lbs. 24/HR
Full-cube
313 lbs. 24/HR
WATER-COOLED
Model
Ice Type
Max Production
Full-cube
316 lbs. 24/HR

CIM0430/0436/0435

Overall Dimensions:

30.25"W x 24.25"D x 21.25"H

AIR-COOLED
Model
Ice Type
Max Production

(Energy Star)

Full-cube
435 lbs. 24/HR
Full-cube
460 lbs. 24/HR

(Energy Star)

Full-cube
465 lbs. 24/HR
WATER-COOLED
Model
Ice Type
Max Production
Full-cube
460 lbs. 24/HR
Full-cube
500 lbs. 24/HR

CIM0520/0525/0526

Overall Dimensions:

22.25"W x 24.25"D x 21.25"H

AIR-COOLED
Model
Ice Type
Max Production
Full-cube
529 lbs. 24/HR
Full-cube
555 lbs. 24/HR
Full-cube
561 lbs. 24/HR
WATER-COOLED
Model
Ice Type
Max Production
Full-cube
586 lbs. 24/HR

CIM0530/0535

Overall Dimensions:

30.25"W x 24.25"D x 21.25"H

AIR-COOLED
Model
Ice Type
Max Production
Full-cube
529 lbs. 24/HR
Full-cube
561 lbs. 24/HR
WATER-COOLED
Model
Ice Type
Max Production
Full-cube
531 lbs. 24/HR
Full-cube
586 lbs. 24/HR
REMOTE-COOLED

(Requires RCA-1061 Condenser)

Model
Ice Type
Max Production
Full-cube
490 lbs. 24/HR
Full-cube
525 lbs. 24/HR

CIM0636/0635

Overall Dimensions:

30.25"W x 24.25"D x 21.25"H

AIR-COOLED
Model
Ice Type
Max Production
Full-cube
585 lbs. 24/HR
Full-cube
600 lbs. 24/HR
WATER-COOLED
Model
Ice Type
Max Production
Full-cube
620 lbs. 24/HR
REMOTE-COOLED

(Requires RCA-1061 Condenser)

Model
Ice Type
Max Production

(Energy Star)

Full-cube
615 lbs. 24/HR

CIM0826/0825

Overall Dimensions:

22.25"W x 24.25"D x 26.9"H

AIR-COOLED
Model
Ice Type
Max Production
Full-cube
896 lbs. 24/HR
REMOTE-COOLED

(Requires RCA-2061 Condenser)

Model
Ice Type
Max Production
Full-cube
906 lbs. 24/HR

CIM0836/0835

Overall Dimensions:

30.25"W x 24.25"D x 26.9"H

WATER-COOLED
Model
Ice Type
Max Production
Full-cube
896 lbs. 24/HR
Full-cube
901 lbs. 24/HR
AIR-COOLED
Model
Ice Type
Max Production
Full-cube
896 lbs. 24/HR
Full-cube
922 lbs. 24/HR
REMOTE-COOLED

(Requires RCA-2061 Condenser)

Model
Ice Type
Max Production
Full-cube
906 lbs. 24/HR
Full-cube
912 lbs. 24/HR

CIM1136/1135/1137

Overall Dimensions:

30.25"W x 24.25"D x 26.9"H

AIR-COOLED
Model
Ice Type
Max Production
Full-cube
917 lbs. 24/HR
Full-cube
932 lbs. 24/HR
Full-cube
937 lbs. 24/HR
WATER-COOLED
Model
Ice Type
Max Production
Full-cube
968 lbs. 24/HR
Full-cube
994 lbs. 24/HR
Full-cube
1,030 lbs. 24/HR
REMOTE-COOLED

(Requires RCA-2061 Condenser)

Model
Ice Type
Max Production
Full-cube
968 lbs. 24/HR
Full-cube
973 lbs. 24/HR
Full-cube
1,035 lbs. 24/HR

CIM1126/1125

Overall Dimensions:

22.25"W x 24.25"D x 26.9"H

AIR-COOLED
Model
Ice Type
Max Production
Full-cube
932 lbs. 24/HR
REMOTE-COOLED

(Requires RCA-2061 Condenser)

Model
Ice Type
Max Production
Full-cube
968 lbs. 24/HR
Full-cube
1,035 lbs. 24/HR

SLIMLINE ICE1506

Overall Dimensions:

30.4"W x 26.3"D x 22.03"H

REMOTE-COOLED

(Requires RCA-2061 Condenser)

Model
Ice Type
Max Production

(Energy Star)

Full-cube
1,450 lbs. 24/HR

CIM1446/1447

Overall Dimensions:

48.25"W x 24.25"D x 26"H

AIR-COOLED
Model
Ice Type
Max Production
Full-cube
1,560 lbs. 24/HR
WATER-COOLED
Model
Ice Type
Max Production
Full-cube
1,560 lbs. 24/HR
REMOTE-COOLED

(Requires RCA-3061 Condenser)

Model
Ice Type
Max Production
Full-cube
1,560 lbs. 24/HR

ICE2006/2106/2107

Overall Dimensions:

48.25"W x 24.25"D x 26.0"H

REMOTE-COOLED

(Requires RCA-3061 Condenser)

Model
Ice Type
Max Production
Full-cube
1,636 lbs. 24/HR

1806/1807

Overall Dimensions:

48.25"W x 24.25"D x 26"H

REMOTE-COOLED

(Requires RCA-3061 Condenser)

Model
Ice Type
Max Production
Full-cube
1,751 lbs. 24/HR
WATER-COOLED
Model
Ice Type
Max Production
Full-cube
1,832 lbs. 24/HR

CIM2046/2047

Overall Dimensions:

48.25"W x 24.25"D x 26"H

REMOTE-COOLED (Requires RCA-3561 Condenser)
Model
Ice Type
Max Production
Full-cube
1,830 lbs. 24/HR
WATER-COOLED
Model
Ice Type
Max Production
Full-cube
1,860 lbs. 24/HR
HALF-CUBE ICE MACHINES
Undercounter Half-Cube Ice Machines

ICEU150

Overall Dimensions:

24.54"W x 26.27"D x 39"H

Storage Bin Capacity: 70 lbs.
AIR-COOLED
Model
Ice Type
Max Production
Half-cube
185 lbs. 24/HR
WATER-COOLED
Model
Ice Type
Max Production
Half-cube
180 lbs. 24/HR

ICEU220/225/226

Overall Dimensions:

24.54"W x 26.27"D x 39"H

Storage Bin Capacity: 70 lbs.
AIR-COOLED
Model
Ice Type
Max Production
Half-cube
211 lbs. 24/HR

(Energy Star)

Half-cube
238 lbs. 24/HR
Half-cube
241 lbs. 24/HR
WATER-COOLED
Model
Ice Type
Max Production
Half-cube
210 lbs. 24/HR
Half-cube
232 lbs. 24/HR
Half-cube
251 lbs. 24/HR

ICEU300/305

Overall Dimensions:

30.34"W x 29.97"D x 39"H

Storage Bin Capacity: 97 lbs.
AIR-COOLED
Model
Ice Type
Max Production
Half-cube
299 lbs. 24/HR
Half-cube
309 lbs. 24/HR
WATER-COOLED
Model
Ice Type
Max Production
Half-cube
314 lbs. 24/HR
Half-cube
356 lbs. 24/HR
Modular Half-Cube Ice Machines

CIM0320/0325/0326

Overall Dimensions:

22.25"W x 24.25"D x 21.25"H

AIR-COOLED
Model
Ice Type
Max Production
Half-cube
313 lbs. 24/HR
Half-cube
330 lbs. 24/HR
WATER-COOLED
Model
Ice Type
Max Production
Half-cube
316 lbs. 24/HR

CIM0330/0335

Overall Dimensions:

30.25"W x 24.25"D x 21.25"H

AIR-COOLED
Model
Ice Type
Max Production
Half-cube
290 lbs. 24/HR
Half-cube
313 lbs. 24/HR
WATER-COOLED
Model
Ice Type
Max Production
Half-cube
316 lbs. 24/HR

CIM0430/0436/0435

Overall Dimensions:

30.25"W x 24.25"D x 21.25"H

AIR-COOLED
Model
Ice Type
Max Production

(Energy Star)

Half-cube
435 lbs. 24/HR
Half-cube
460 lbs. 24/HR

(Energy Star)

Half-cube
465 lbs. 24/HR
WATER-COOLED
Model
Ice Type
Max Production
Half-cube
460 lbs. 24/HR
Half-cube
500 lbs. 24/HR

CIM0520/0525/0526

Overall Dimensions:

22.25"W x 24.25"D x 21.25"H

AIR-COOLED
Model
Ice Type
Max Production
Half-cube
529 lbs. 24/HR
Half-cube
555 lbs. 24/HR
Half-cube
561 lbs. 24/HR
WATER-COOLED
Model
Ice Type
Max Production
Half-cube
555 lbs. 24/HR

CIM0530/0535

Overall Dimensions:

30.25"W x 24.25"D x 21.25"H

AIR-COOLED
Model
Ice Type
Max Production
Half-cube
529 lbs. 24/HR
Half-cube
561 lbs. 24/HR
REMOTE-COOLED

(Requires RCA-1061 Condenser)

Model
Ice Type
Max Production
Half-cube
490 lbs. 24/HR
Half-cube
525 lbs. 24/HR
WATER-COOLED
Model
Ice Type
Max Production
Half-cube
531 lbs. 24/HR
Half-cube
586 lbs. 24/HR

CIM0636/0635

Overall Dimensions:

30.25"W x 24.25"D x 21.25"H

AIR-COOLED
Model
Ice Type
Max Production
Half-cube
585 lbs. 24/HR
Half-cube
600 lbs. 24/HR
REMOTE-COOLED

(Requires RCA-1061 Condenser)

Model
Ice Type
Max Production

(Energy Star)

Half-cube
615 lbs. 24/HR
WATER-COOLED
Model
Ice Type
Max Production
Half-cube
620 lbs. 24/HR

CIM0826/0825

Overall Dimensions:

22.25"W x 24.25"D x 26.9"H

AIR-COOLED
Model
Ice Type
Max Production
Half-cube
896 lbs. 24/HR
REMOTE-COOLED

(Requires RCA-2061 Condenser)

Model
Ice Type
Max Production
Half-cube
906 lbs. 24/HR

CIM0836/0835

Overall Dimensions:

30.25"W x 24.25"D x 26.9"H

WATER-COOLED
Model
Ice Type
Max Production
Half-cube
896 lbs. 24/HR
Half-cube
901 lbs. 24/HR
AIR-COOLED
Model
Ice Type
Max Production
Half-cube
896 lbs. 24/HR
Half-cube
922 lbs. 24/HR
REMOTE-COOLED

(Requires RCA-2061 Condenser)

Model
Ice Type
Max Production
Half-cube
906 lbs. 24/HR

CIM1126/1125

Overall Dimensions:

22.25"W x 24.25"D x 26.9"H

AIR-COOLED
Model
Ice Type
Max Production
Half-cube
932 lbs. 24/HR
REMOTE-COOLED

(Requires RCA-2061 Condenser)

Model
Ice Type
Max Production
Half-cube
968 lbs. 24/HR
Half-cube
1,035 lbs. 24/HR

CIM1136/1135/1137

Overall Dimensions:

30.25"W x 24.25"D x 26.9"H

AIR-COOLED
Model
Ice Type
Max Production
Half-cube
917 lbs. 24/HR
Half-cube
932 lbs. 24/HR
Half-cube
937 lbs. 24/HR
WATER-COOLED
Model
Ice Type
Max Production
Half-cube
968 lbs. 24/HR
Half-cube
994 lbs. 24/HR
Half-cube
1,030 lbs. 24/HR
REMOTE-COOLED

(Requires RCA-2061 Condenser)

Model
Ice Type
Max Production
Half-cube
968 lbs. 24/HR
Half-cube
973 lbs. 24/HR
Half-cube
1,035 lbs. 24/HR

CIM1446/1447

Overall Dimensions:

48.25"W x 24.25"D x 26"H

AIR-COOLED
Model
Ice Type
Max Production
Half-cube
1,560 lbs. 24/HR
WATER-COOLED
Model
Ice Type
Max Production
Half-cube
1,560 lbs. 24/HR
REMOTE-COOLED

(Requires RCA-3061 Condenser)

Model
Ice Type
Max Production
Half-cube
1,560 lbs. 24/HR

SLIMLINE ICE1506

Overall Dimensions:

30.4"W x 26.3"D x 22.03"H

REMOTE-COOLED

(Requires RCA-2061 Condenser)

Model
Ice Type
Max Production
Half-cube
1,430 lbs. 24/HR
Half-cube
1,450 lbs. 24/HR

ICE2006/2106/2107

Overall Dimensions:

48.25"W x 24.25"D x 26.0"H

REMOTE-COOLED

(Requires RCA-3061 Condenser)

Model
Ice Type
Max Production
Half-cube
1,636 lbs. 24/HR

1806/1807

Overall Dimensions:

48.25"W x 24.25"D x 26"H

REMOTE-COOLED

(Requires RCA-3061 Condenser)

Model
Ice Type
Max Production
Half-cube
1,751 lbs. 24/HR
WATER-COOLED
Model
Ice Type
Max Production
Half-cube
1,779 lbs. 24/HR
Half-cube
1,832 lbs. 24/HR

CIM2046/2047

Overall Dimensions:

48.25"W x 24.25"D x 26"H

REMOTE-COOLED (Requires RCA-3561 Condenser)
Model
Ice Type
Max Production
Half-cube
1,830 lbs. 24/HR
WATER-COOLED
Model
Ice Type
Max Production
Half-cube
1,860 lbs. 24/HR
Half-cube
1,860 lbs. 24/HR
GRANDE CUBE ICE MACHINES
Modular Grande Cube Ice Machines

CIM0836/0835

Overall Dimensions:

30.25"W x 24.25"D x 26.9"H

AIR-COOLED
Model
Ice Type
Max Production
Grande Cube
800 lbs. 24/HR
Grande Cube
845 lbs. 24/HR
GOURMET ICE MACHINES
Undercounter Gourmet Ice Machines

ICEU070

Overall Dimensions:

15.2"W x 23.6"D x 34.2"H

Bin Storage Capacity: 24 lbs.
AIR-COOLED
Model
Ice Type
Max Production
Gourmet
84 lbs. 24/HR
FLAKE ICE MAKERS
Modular Flake Ice Machines

MFI0500

Overall Dimensions:

21"W x 24"D x 27"H

AIR-COOLED
Model
Ice Type
Max Production

(Energy Star)

Flake
540 lbs. 24/HR
WATER-COOLED
Model
Ice Type
Max Production
Flake
541 lbs. 24/HR

MFI0800/0805

Overall Dimensions:

21"W x 24"D x 27"H

AIR-COOLED
Model
Ice Type
Max Production
Flake
735 lbs. 24/HR

(Energy Star)

Flake
900 lbs. 24/HR
WATER-COOLED
Model
Ice Type
Max Production
Flake
737 lbs. 24/HR
Flake
940 lbs. 24/HR
REMOTE-COOLED (Requires GRC 1001 Remote Condenser)
Model
Ice Type
Max Production

(Energy Star)

Flake
925 lbs. 24/HR

MFI1256/1255

Overall Dimensions:

21"W x 24"D x 27"H

REMOTE-COOLED

(Requires RGA-1061-HM Condenser)

Model
Ice Type
Max Production

(Energy Star)

Flake
1,054 lbs. 24/HR
WATER-COOLED
Model
Ice Type
Max Production
Flake
1,137 lbs. 24/HR
Flake
1,230 lbs. 24/HR
AIR-COOLED
Model
Ice Type
Max Production

(Energy Star)

Flake
1,149 lbs. 24/HR
Flake
1,260 lbs. 24/HR

MFI1256/1255

Overall Dimensions:

21"W x 24"D x 27"H

REMOTE-COOLED

(Requires RGA-1061-HM Condenser)

Model
Ice Type
Max Production

(Energy Star)

Flake
1,390 lbs. 24/HR
AIR-COOLED
Model
Ice Type
Max Production

(Energy Star)

Flake
1,450 lbs. 24/HR
NUGGET/PEARL ICE MACHINES
Undercounter Nugget/Pearl Ice Machines

GEMU090

Overall Dimensions:

14.875"W x 23.625"D x 33.375"H

Bin Storage Capacity: 22 lbs.
AIR-COOLED
Model
Ice Type
Max Production
Nugget
85 lbs. 24/HR
Nugget/Pearl Ice and Water Dispenser

GEMD270

Overall Dimensions:

15.3"W x 26.1"D x 34.4"H

Bin Storage Capacity: 12 lbs.
AIR-COOLED
Model
Ice Type
Max Production
Nugget
273 lbs. 24/HR
Modular Nugget/Pearl Ice Machines

GEM0450

Overall Dimensions:

21"W x 24"D x 27"H

Recommended Dispenser/s:
AIR-COOLED
Model
Ice Type
Max Production

(Energy Star)

Nugget
464 lbs. 24/HR
WATER-COOLED
Model
Ice Type
Max Production
Nugget
508 lbs. 24/HR

GEM0650/0655

Overall Dimensions:

21"W x 24"D x 27"H

Recommended Dispenser/s:
AIR-COOLED
Model
Ice Type
Max Production
Nugget
665 lbs. 24/HR

(Energy Star)

Nugget
740 lbs. 24/HR
WATER-COOLED
Model
Ice Type
Max Production
Nugget
699 lbs. 24/HR
Nugget
770 lbs. 24/HR
REMOTE-COOLED (Requires Use with GRC1061 Condenser)
Model
Ice Type
Max Production
Nugget
770 lbs. 24/HR

GEM0956/0955

Overall Dimensions:

21"W x 24"D x 27"H

Recommended Dispenser/s:
REMOTE-COOLED (Requires Use with GRC1061 Condenser)
Model
Ice Type
Max Production

(Energy Star)

Nugget
1,011 lbs. 24/HR
AIR-COOLED
Model
Ice Type
Max Production

(Energy Star)

Nugget
1,053 lbs. 24/HR
Nugget
1,053 lbs. 24/HR
WATER-COOLED
Model
Ice Type
Max Production
Nugget
1,053 lbs. 24/HR
Nugget
1,128 lbs. 24/HR

GEM1306

Overall Dimensions:

21"W x 24"D x 27"H

Recommended Dispenser/s:
AIR-COOLED
Model
Ice Type
Max Production

(Energy Star)

Nugget
1,350 lbs. 24/HR
REMOTE-COOLED

(Requires RGA-1061-HM Condenser)

Model
Ice Type
Max Production

(Energy Star)

Nugget
1,350 lbs. 24/HR