The Best School Cafeteria Equipment To Serve Evolving Student Dining Habits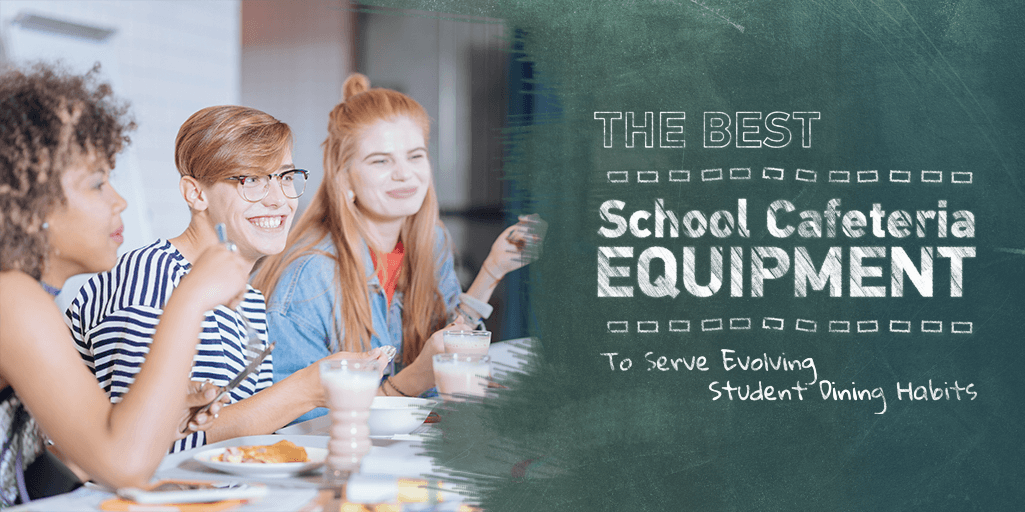 With the prevalence of virtual learning resulting from the efforts to mitigate coronavirus concerns, schools had to pivot to a more mobile approach to foodservice. Catering successfully to students that learn from home and face-to-face means having the ability to take food wherever they are. And for an industry defined by large dining halls, this calls for quite an overhaul, and a lot of that will involve the school cafeteria equipment.
Bringing food to students outside the campus
Like the rest of the foodservice industry, delivery and pickup solutions, specifically the "contactless experience", made it possible to continue operations in the pandemic. This is expected to continue as these temporary remedies are shaping to be major players on the greater school foodservice infrastructure.
For one, mobile ordering is becoming more widely adapted in school cafeterias. Now, it is a matter of making the system fast, reliable, and streamlined to create a workflow that will meet customer expectations for speed, convenience, and quality.
As a result, cloud-based point of sale (POS) systems have become the new standard for most foodservice operations. They are well-equipped to keep the flow of information quick and efficient and can be upgraded with features on demand to meet your changing needs. You can program it to send food orders to the kitchen in real time, which is perfect when you take orders online and on-site. Check out this blog post about the technologies that go hand in hand with our school cafeteria equipment to facilitate speedier service.
Adding mobile ordering and delivery to the menu comes with another set of challenges to the school cafeteria kitchen--the proper transport, holding, and packaging of food. This necessitated the use of nontraditional school cafeteria equipment such as food lockers and heated shelves, which are designed to hold packaged food.
Food lockers offer a way to minimize contact while providing the convenience of picking up food. The cooked food is packed and then placed inside food lockers. Each student is assigned with a locker that they can access with a code sent to them upon payment. This way, they can get their meals without interacting or requiring assistance from staff.
Heated shelves are designed to hold packaged food orders awaiting delivery or pickup. Unlike food lockers, they are accessible by staff and delivery couriers only. Orders are labelled and organized to reduce mistakes and to find items fast. You can choose heated shelves with multiple tiers and a range of lengths.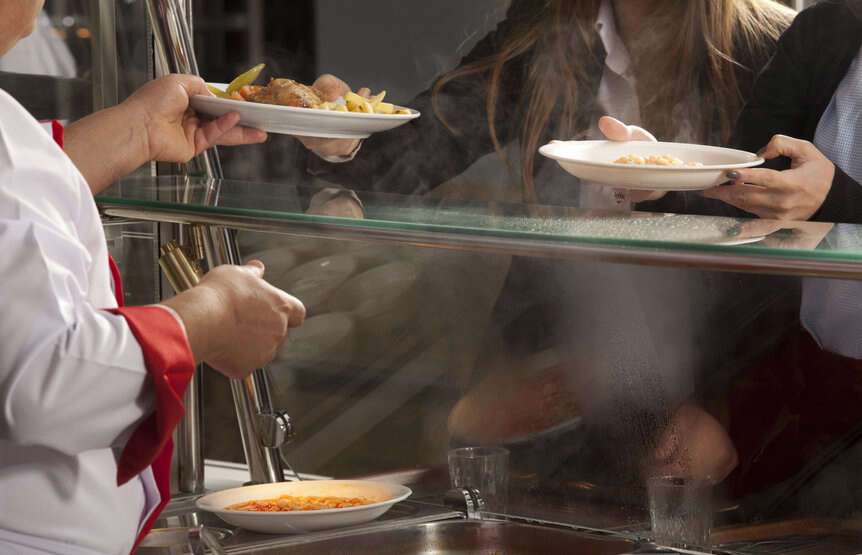 Transporting food within the school
In an effort to maintain the safety of students, school cafeterias had to make sure that students are not gathering in one central location or that the number of students in the same space is reduced.
Insulated mobile carts will be front and center to support this effort. They can keep cooked meals hot or cold for several hours and they give staff the ability to wheel the food to classrooms.
In line with this, self-service points are being removed. For example, silverware is already placed on the tray so students won't have to get it themselves. You will need more trays in your list of cafeteria supplies as well as school cafeteria equipment that will allow you to access and clean them quickly. Tray dispensers allow you to stack a large number of trays so you can grab one as needed. These dispensers usually come with silverware dispensers as well, which saves you a lot of space and consolidates these parts of the process. Tray dryers will also make your operation more efficient.
Eating at a safe distance
For students that do go to lunchrooms to eat, the challenge is to keep them socially distanced. A large school lunchroom might have to be divided into multiple rooms, which translate to more tables in the school cafeteria equipment list.
Equally as important is the smart and strategic placement of these tables and the seating arrangement. Cooked food from the kitchen is placed on need trays, which then go to mobile carts to be brought to the tables.
Grab-and-go stations
Grab-and-go stations allow students to quickly get food so they don't stay in the same space with large groups of people for an extended amount of time. You can convert traditional dining spaces and self-service stations to grab-and-go centers and equip them with food-holding school cafeteria equipment such as temperature-controlled holding cabinets and reach-in cases to showcase food and drinks.
To reduce touch points, you can set up air curtain merchandisers, which don't have doors so students can get the food and head to the cashier without any barrier. These open merchandisers are great for various milk and beverages as well as prepackaged salads and sandwiches.
Satellite locations
Consider building multiple satellite locations so students in various parts of the campus can get food conveniently. These locations are set up to provide cooked food already, which means it will be prepared and packaged somewhere else. Food pan carriers and insulated mobile cabinets will be great to have here because they can hold and transport pans of cooked food safely to these satellite stations and keep them in ideal serving temperatures. These carriers can accommodate a wide variety of both hot and cold foods so they are pretty versatile as well.
The menu can be changed depending on the location. For example, fitness bars set up near gyms and athletic areas will offer items like smoothies or protein shakes.
Batch cooking
If you are cooking in batches, you need school cafeteria equipment that will let you keep the cooked meals high-quality and safe from spoilage until ready to serve. Blast chillers are exactly made for the job. They are designed to lower the temperature of the food in the shortest time possible to lock in as much of the original flavors and prevent bacteria growth. You can then simply preheat the food on rethermalizers as you get the orders, so you can bring out orders in no time without a dip in quality.
Cook-and-hold ovens are also becoming more instrumental to school foodservice success as they consolidate the baking and holding in a single piece of equipment. After cooking the dish, these ovens will switch to holding mode so the food stays in proper temperatures until it is ready to serve.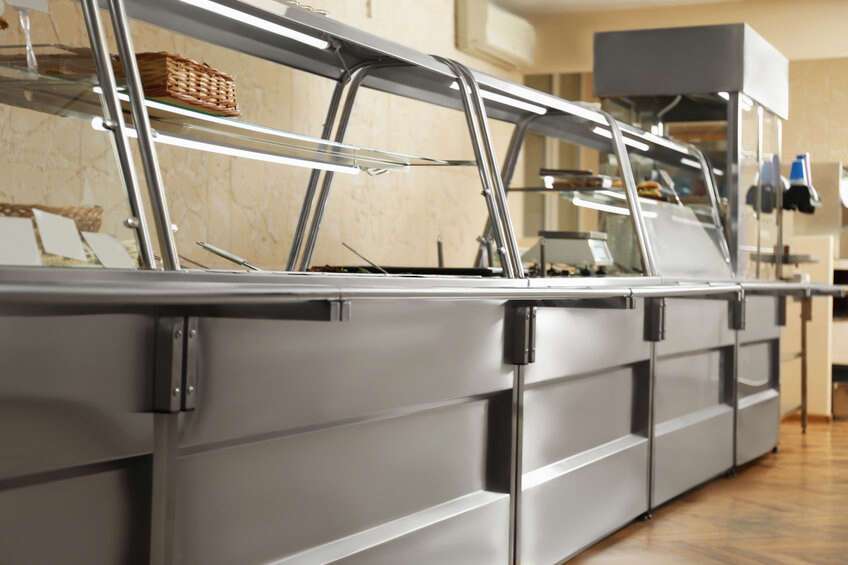 Evolving menu, evolving school cafeteria equipment
Retooling the menu
Menu items that are not traditionally considered "school food" such as sushi and nachos are now on the menu. This means that you will need different kinds of school cafeteria equipment to prepare, cook, and hold all these foods.
The plant-based diet is catching on in many schools as more students look for healthier options. As a result, many are incorporating meatless offerings such as veggie and mushroom burgers to their menu and even creating dedicated stations for it. Combi ovens are useful to have in a plant-based kitchen because they enable you to steam and bake using convection heat in a single footprint. The steam retains much of the nutrients of the ingredients while the convection heat achieves a crisp texture and moist tender interior.
On top of the convenience and speed of service, students also value experience as they also consider authenticity and presentation in their dining decisions. School cafeterias respond in creative ways. Many are taking students through a world of flavors, offering pan-Asian, Middle East, Mediterranean flavors and other international offerings.
This opens up opportunities to introduce global cuisine to their students and at the same time, the school cafeteria is able to treat students coming from different countries to an authentic dish that reminds them of home. Some are setting up dedicated food stations that offer a rotation of vegan offerings.
Customization is king
As school cafeterias compete with convenience stores and quick service restaurants, a shift to a more commercial design is becoming more inevitable. One of the ways school cafeterias are adapting this new setup is to give students the ability to customize and build their own dish by adding school cafeteria equipment that was usually only found in restaurants.
By reimagining school cafeteria food, food bars are well-equipped customization stations where students can pick the exact ingredients they want on their meal. They add a lot of energy and action to the front-of-the-house as customers can watch the chefs prepare the food before their eyes. They also offer a way to keep the menu fresh to keep students interested.
With food bars, you can offer nachos on Monday and chicken wings the next day. A food bar features spreads of various cold and hot foods placed on food wells where they stay at proper serving temperatures throughout the day.
For hot food, you can choose from gas steam tables and electric steam tables, which both accommodate standard-sized pans.
You also have a wealth of options for cold food display. You can choose cold food wells that also hold and chill food pans with an ice cooling system or a refrigeration system. Frost tops, which have a flat top can display fruits, salads, and cold desserts. There are also food wells that can support both hot and cold temperatures.
A dynamic food bar will also need a versatile set of school cafeteria equipment in the production line. For cooking in the serving line, induction cooktops will be a great choice because they won't add heat to the space and are safe to use. Depending on your menu, you can set up various kinds of food holding equipment to showcase the food.
You can also add impinger ovens with single or multiple stacks to make pizzas. Impinger ovens are a type of convection ovens that circulates hot air inside the cooking chamber and blasts it through the "cold bubble" that surrounds the food to cook it thoroughly. This technology helps these ovens cook in less time compared to other ovens.
Older students love their coffee, as evidenced by the popularity of Starbucks in this age group. So offering different types of coffee can elevate your cafeteria. You can set up a coffee station with one or multiple full-service coffee brewers and a number of blenders. The more advanced brewers use technology that allows them to communicate with compatible coffee bean grinders for easier, consistent, and error-free brewing. You can also offer pastries such as bagels, cookies, muffins, and cinnamon rolls to go with the caffeine. Add a toaster for warming the pastry.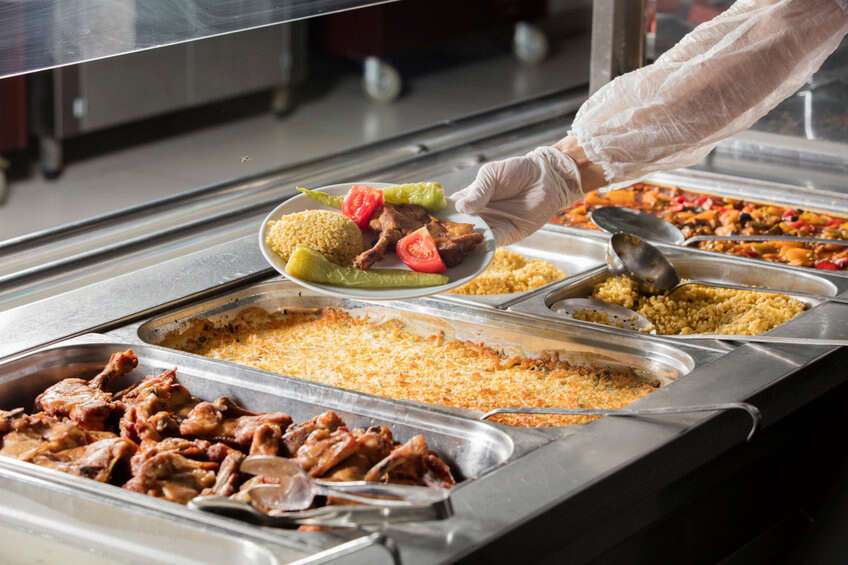 Easing labor shortage in the school cafeteria kitchen
School foodservice has always struggled to find and retain crew members, and it is expected to be a greater concern moving forward. Another is that more nonfoodservice competitions are closing in on the communities, offering wages that school foodservice operations are unable to match.
With labor shortage a reality that the industry expects to face beyond the pandemic, adding automated school cafeteria equipment might alleviate the burden and deliver on the convenient and speedy service that customers have come to expect. Get some tips on how to incorporate automated equipment, clean up workflow, and retain employees in this detailed staff shortage survival guide.