8 Ways To Optimize Your Restaurant's Footprint For Maximum Profitability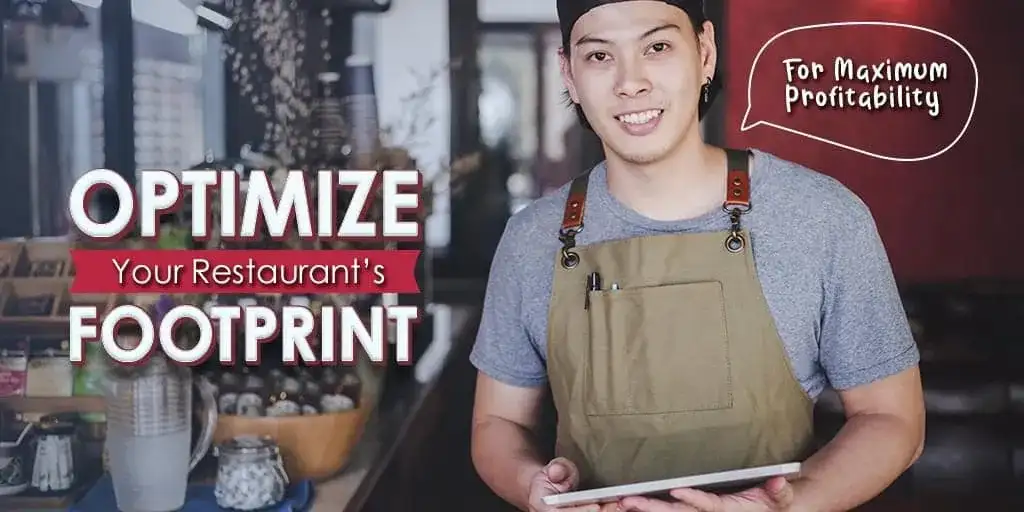 Restaurants are getting smaller. Some operators want to enhance food production transparency while others are looking for ways to cut real estate costs.
What are the best ways to design a limited footprint and still generate revenue? We discuss some tips below:
1. Get the basics right
All the elements necessary to provide high-quality service should be accommodated in the space. Determine the key materials that will help you bring your concept to fruition. Tick boxes for safety, efficiency, comfort, and code compliance, which go hand in hand in many cases.
Consider categorizing these must-have elements based on the level of importance, so you can focus on what matters most, get everything covered, and make the entire process smoother. As you move through the checklist, the process will organically reveal the available space you can use to create the dining experience and fit other features you want on your restaurant.
A major priority is getting your restaurant up to code to create a safe, comfortable environment for both your staff and customers. In fact, complying with the requirements will inform a lot of your restaurant's design. Ensure there is proper ventilation and total control of the heat, smoke, and grease as well as sound especially if there is reduced separation between the kitchen and the dining area.
Make sure to provide aisles that can be used by both guests and staff. Restrooms are usually required to be accessible from the dining or receiving area. Small restaurants are generally allowed a shared restroom between employees and customers.
It is imperative to have all the functionality and storage you need. Just as important is creating a workflow that makes it easy for staff to move, access what they need, and efficiently perform their tasks.
Choosing the right size for each piece of equipment will allow you to fill the space strategically and keep up with the demand. In a small footprint, it might pay to get compact equipment that consolidates multiple processes.
Chef bases, prep tables, and worktop refrigerators and freezers provide a temperature-controlled space for perishables as well as a flat surface for order assembly, food prep, or additional space for heavy cooking or prep equipment.
Cook-and-hold ovens are versatile, space-saving cooking systems for your production line. They can bake, roast, broil, or even slow-cook a large amount of food and hold it at the ideal serving temperatures for extended periods. Many commercial ovens are also stackable, so you can increase your production capacity from the same space.
There are ventless versions of many cooking equipment such as fryers, ovens, and ranges. This technology removes the need for external ductwork, so you get tons of flexibility with regard to the placement and costs. Requirements for ventilation vary, so make sure to check with your local code.
Multi-compartment sinks, dishtables, and dishwashing equipment will also take some space at the back of the house. Ventless dishwashing equipment is an available option so that's another exhaust hood that you won't need.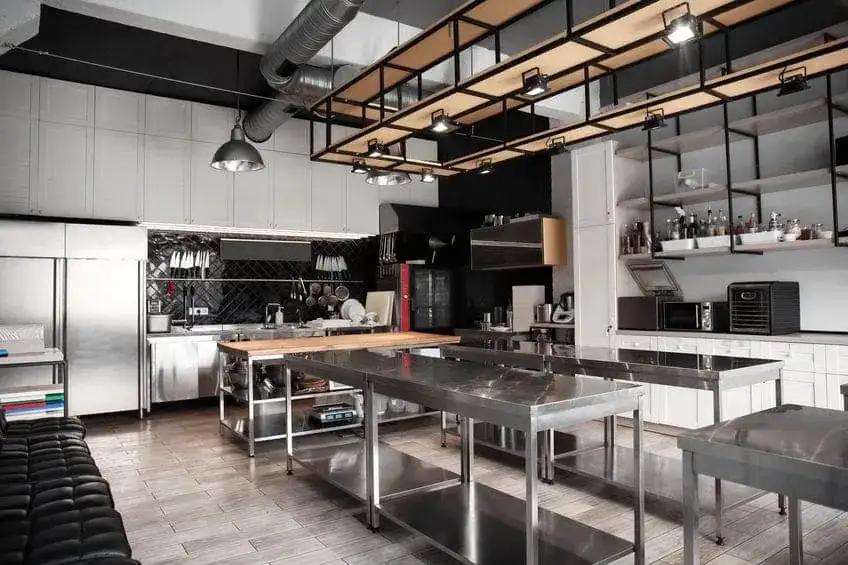 2. Taking delivery and takeout into account
In the past, the kitchen generally takes less space than the dining room. This is slowly changing as the prevalence of online ordering and pickup paves the way for the higher takeout and delivery demand. And as a small restaurant looking to get in on the action, it is all the more vital to have the proper equipment that can get the job done without taking up too much space.
Your kitchen must be able to handle the orders from these additional sources. A separate production line dedicated to these channels as well as a space for packing these off-premise orders might be necessary to ensure efficiency and speed of service and eliminate bottlenecks in dine-in service.
Additionally, you might need to create pickup stations for your delivery staff or your customers. Food lockers are a great investment because they keep orders secure and at ideal temperatures until pickup time and do not disrupt the dine-in operation. These units facilitate a contactless transaction and minimize error.
Heated shelves, which are also temperature-controlled, but are not enclosed, can be set up in a dedicated pick-up station for your delivery staff.
3. Keep the palette limited
With a small space to work with, don't go overboard on the palette. You might want to lean more towards a clean but bold look by keeping the number of different materials at work to a minimum. This prevents the risk of creating a visually and physically disconnected space.
You can create nuanced areas that are also complementary by infusing the space with richness and color that work well together and add charm and intrigue.
A great example is Rupee, a 700-square-foot bar in Seattle. The design by Heliotrope has been recognized in the James Beard Foundation's Outstanding Restaurant Design Awards. The bar and tabletops are adorned with warm Oregon walnut wood. The walls are peacock blue to create a cozy vibe while establishing harmony with the polished brass accents, decorative Indian clay tiles, and slatted pendant lights.
4. Pay attention to small details
Entrance
The entrance of your restaurant can easily be overlooked, but it has an impact on the overall customer experience. With a small space, you probably want to maximize capacity by adding more tables by the entrance. However, customers might not want to be seated there because they don't want to be constantly interrupted by the swinging of the door and the resulting force of the air as people come and go.
Additionally, the entrance of your restaurant should also connect to and make an impression from the side. You want to give customers a glimpse of the experience that could pull them in.
Lighting
Lighting can transform a small space in big ways. It has a psychological effect on customers by influencing the perception and atmosphere of the place. Oftentimes, a small space is viewed as an inherently intimate space, but the wrong lighting can make it boring or off-putting.
There are several types of lighting you need in your restaurant: ambient, which sets the overall mood; task lighting, which helps your staff and customers see what they're doing; and accent lighting, which promotes visual interest and directs the customer's eye.
A great combination of these three will make a more dynamic setting that offers so much without being too much. It gives you more opportunities to customize each section of the restaurant.
All areas of your restaurant--the counter, the bar, and every single table--could be their own thing with the use of different lighting that suits and supports their purpose.
Various layers of lighting will go a long way in elevating the atmosphere and visual composition, helping you create a richer and more inviting space that your guests would love to be in. Intimate settings are usually under low, warm lighting while fast-food and quick-serve restaurants thrive in natural or bright lighting.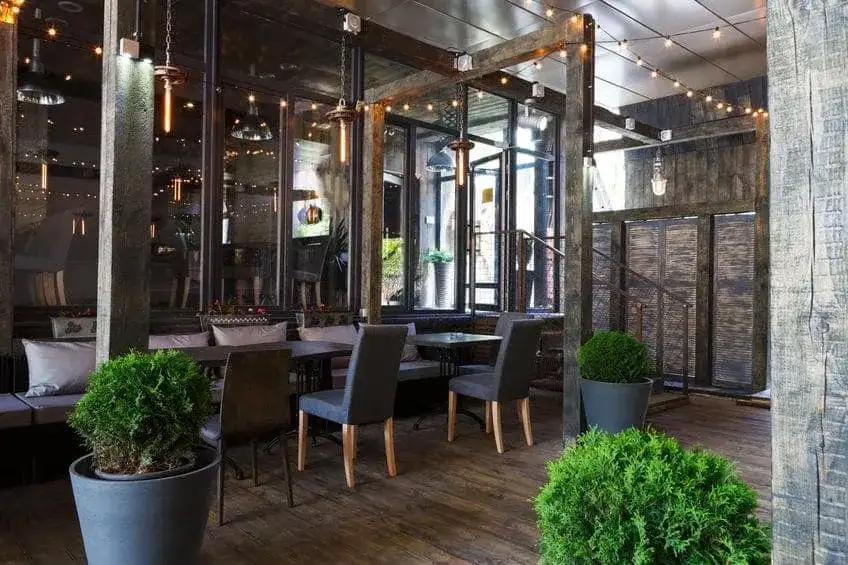 Unique design elements
Especially if you operate in a building or location with a history, you can make remnants of these special places into an attraction or a centerpiece of your restaurant.
Alternatively, if there is a unique characteristic or feature of the space you can accentuate, such as a tall ceiling or a masterpiece of a window, use it to your advantage.
5. Create amazing guest experiences
Different seating options
To make the space more dynamic, incorporate an array of seating options with varying elevations. Multiple seating options let customers dine and enjoy in their own little space while still being connected to the rest of the restaurant.
Fixed seating is a popular option for a small footprint because it can maximize seating capacity and keep paths unobstructed. Fixed benches, banquettes, and stools are some seating options that will serve you well.
In the age of coronavirus, high-backed booths with high partitions will help you create a more intimate space for each table where customers can feel comfortable and safe.
Picture-perfect
Social media can help you expand your reach. One of the best ways to be on the radar is to make your restaurant photogenic. Make it easy for your guests to take good photos that showcase your business at its best. These photos can be shared online to pique other people's curiosity and interest.
6. Consider an open kitchen
As customers become more concerned about food safety and sanitation, the barrier between the front and back of the house is slowly being torn down. Open kitchen designs in the industry are growing in number as a result.
What is usually behind the scenes is now front and center. This is especially a concept that small restaurants can embrace because it unlocks more space that operators otherwise won't have with the kitchen and dining room being two separate areas.
Open kitchens come with their own set of challenges though. By pulling back the curtain, your staff will be working under greater pressure and higher expectations.
There is also more emphasis on form and function, as the equipment needs to look good to complement the dining space and perform reliably at the same time. Additionally, sound mitigation will be a greater factor because you can't have the humming of refrigerators and the clanging of pots and pans disturbing the dining atmosphere. Learn more about how to design a good open kitchen in this article.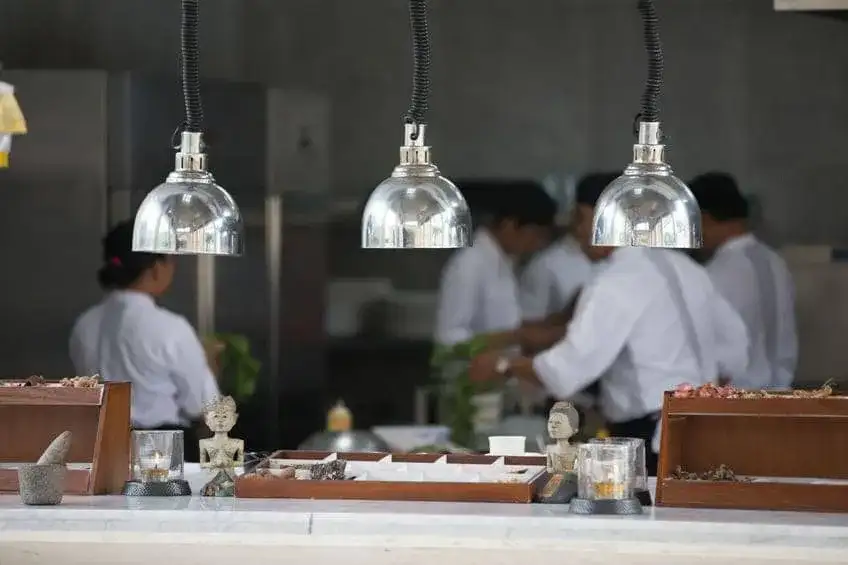 7. Remove the dining room altogether
If your concept can work as a delivery-only model, consider creating a ghost kitchen instead. This means you won't have a dining room, only a production space. Without having to worry about dine-in customers, you can add more cooking and prep equipment to increase your production volume and capitalize on the delivery demand.
8. Use kitchen display systems
A small space will not need a lot of wait stations. Depending on the concept, you can combine multiple stations into one main station. But if space is at a premium, you might benefit from adding a kitchen display system that will make order taking and processing easier.
This technology includes the use of screens in the kitchen and tablets for inputting orders. Your wait staff can input the order from the tablet, which will then be received by the kitchen staff through the screen. The wait staff will be informed when the food is ready so they can deliver it to the table immediately. This cuts service time while enhancing quality.
In Conclusion
The evolving customer standards are fundamentally changing restaurants.
We hope that these tips can help you optimize your space for success. If you need professional assistance in designing your kitchen, we have a projects division team here at CKitchen that can help you bring your vision to life. Learn more about it here.