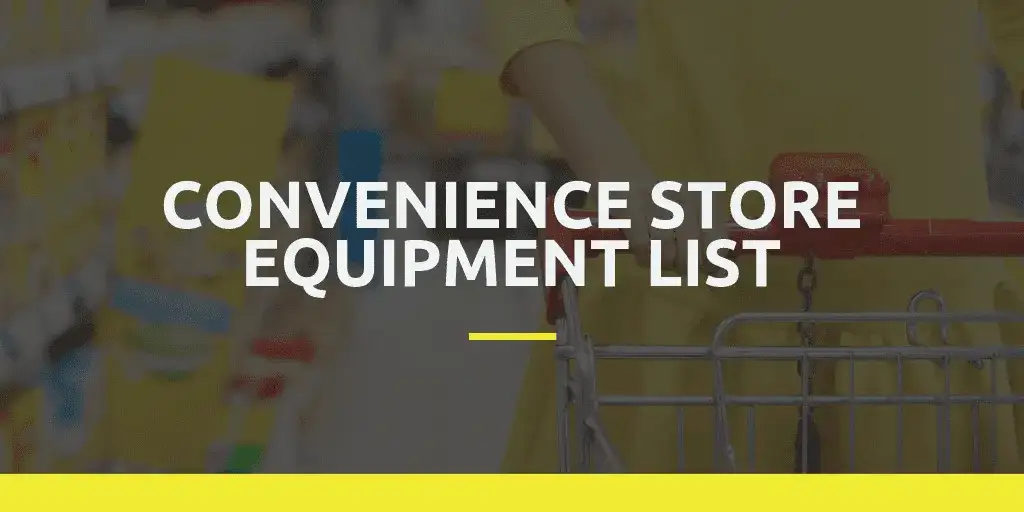 Convenience Store Equipment List
In running a successful convenience store, speedy service, instant availability, adequate storage space, sleek and appealing design, product quality, easy access, merchandising capability, and a variety of selection are all important.
Using the proper equipment is one way to tick all those boxes, so it is crucial that you have not only the right tools and machinery but also the complete furnishings for every process from the back house to the front. This will help you streamline your service and improve the experience for your customers looking for convenience and immediacy.
C-Store Merchandisers and Refrigeration
Commercial Merchandiser
Commercial merchandisers are designed to attract customers to your food and drinks with attractive lighting and colors. They achieve a presentable display area for your inventory for increased impulse buys. Merchandisers for convenience stores are typically smaller in size to accommodate the low ceilings.
Commercial merchandisers are either air curtain or glass door. Glass displays keep your merchandise visible and still well-protected from contamination and theft, which is an important consideration for a lot of customers.
Open air merchandisers are simply designed to maintain the temperature of the product using an invisible air curtain, which can help with lowering energy costs. The significant advantage of these merchandisers, however, is immediate access. Customers can grab food items without a barrier in between. This is a big plus especially at a convenience store with crowded or narrow aisles.
Some glass and open air merchandisers are offered with side glass for visibility from multiple angles. Horizontal or vertical styles are available to accommodate different layouts and space.
As far as sizes go, commercial merchandisers are either single-section or multi-section with 2 or 3 doors to match the storage space you need. Shelving is standard and adjustable. Sliding door units are recommended for stores with narrow aisle spaces. Whether swing or sliding, merchandisers have a self-closing and stay-open feature for energy efficiency and easy restocking.
Commercial merchandisers also differ in terms of ventilation. They typically have their compressors at the top or bottom. Each comes with unique advantages, but what you can get from both is zero rear clearance so you can have them flush against the wall.
Bottom-mounted compressors are very easy to service and maintain. Plus, they achieve that no-stoop for easy access to the items placed on the lower shelf. This unit also operates on the coldest part of the room for better refrigerating efficiency. Top-mounted merchandisers, on the other hand, are less likely to clog and often provide larger cold storage space.
With regards to the condensing unit, a self-contained refrigeration system is ready for use while a remote design requires installation. The latter is ideal for convenience stores because they operate with virtually no noise and don't generate significant heat. Plus, they generally look better because of the seamless appearance especially when they are fully stocked. Keep in mind that they are far more expensive to buy and install. Whichever makes sense for your convenience store, it is smart to go with a similar design for in a single aisle for a sleek and uniform look.
Freezer merchandisers are also available as standalone or in combination with a refrigerator for storing and preserving frozen goods. Chest freezers with glass doors are generally preferred for ice cream products.
There are also merchandisers designed to store and maintain your ice supply. Many units have a single control panel for simple operation. Air-cooled units are ideal in cooler establishments and are more cost-effective while water-cooled models are best suited for hotter operations.
Merchandisers are not always refrigerated though. Some of them are heated, perfect for storing and displaying cooked proteins and side dishes as well as pre-packed servings of pizza, popcorn, nachos, bread, and more.
Walk-in Units
Convenience stores typically stock up on a bulk of supply, so owners are encouraged to invest in a walk-in cooler or freezer. The last thing you need is throwing out spoiled stock, which is basically throwing away money.
These units are built for preserving a massive volume of food in a large foodservice operation. They maintain low interior temperatures to avoid deterioration.
Perishable ingredients absolutely need to be refrigerated in a walk-in cooler to avoid bacteria growth. Walk-in freezers have lower temperatures compared to standard freezers and extend the shelf life for bulk ingredients. There are combination types for convenience stores with smaller space that need both functionalities.
To find the right size for your business, determine the maximum volume of items that will need to be refrigerated in a single operation and the number of shelves and racks to accommodate the stock neatly.
Walk-in coolers can either be pre-fabricated or built-in. The former is less expensive but is only offered in limited sizes and configurations. The latter gives you a higher degree of flexibility and can be tailor-made to your space and specific application.
An essential consideration in outfitting your store with a walk-in cooler is the ease of operation. If you can afford the higher price tag, a unit with an intuitive control system is going to be highly useful for passive yet efficient management.
The refrigeration systems will almost always require professional installation, but side-mount compressor units, which will benefit unique low-ceiling interior of convenience stores, usually come pre-assembled for a much easier setup.
The downside of built-in compressors is the reduced interior storage area. Remote systems, on the other hand, allow for utilization of the unit's capacity.
Undercounter Refrigerators
Convenience stores can maximize a limited floor space using an undercounter refrigerator. These units can be utilized both at the front and back house. You can use counter-height glass door units with relatively small capacity for added merchandising bonus behind your counter.
For the employee break room, a solid door design will suffice. Height configurations are usually 32", 34", and 36". Unless it has front-breathing ventilation, the undercounter refrigerator will usually require side clearance.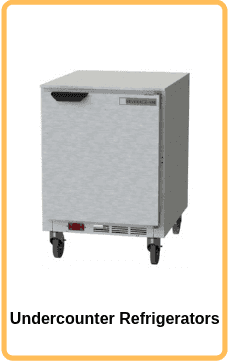 Sandwich/Salad Preparation Tables
If sandwiches or salads are huge parts of your menu, you will benefit from a prep table that consolidates the storage and prep area into one. Units are configured for 6-24 pans at ⅙ size and less common, ⅓.
Standard models usually offer two rows of cold pan storage while mega top units have double the storage arranged in three rows. These units are usually air-cooled, which make them very easy to use.
You also get adjustable storage at the base for reserved ingredients that will either be drawers or cabinets with single to multiple doors and up to eight racks. You will typically come across front-breathing models that can help you save floor space without sacrificing functionality.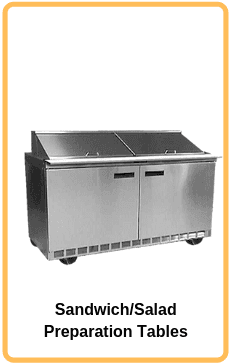 C-Store Display Cases and Warmers
Commercial Display Cases
You'll need to show off your merchandise to make the most of the traffic you get at your convenience store. You can find refrigerated or non-refrigerated styles although some models have both.
Convenience stores will need refrigerated display cases for bottled and canned drinks as well as food items like salads, quick heat-up meals, yogurts, and more. This is where these products are kept chilled and ready for purchase.
Non-refrigerated displays, on the other hand, will be useful in keeping items from being contaminated amid traffic at the store. They are great for self-service display for unpackaged snacks like donuts.
You can have both with dual service display cases that feature an open bottom section for drinks and enclosed, staff-only access refrigerated or heated top section for baked items.
Commercial display cases come in floor and countertop designs. Surely, both will easily find a place in your convenience store.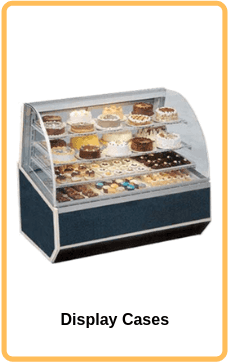 Hot Food Display Warmers
Hot foods will be more enjoyable and satiating for hungry customers looking for a quick bite, so heated merchandisers are perfect. You can store and display cooked proteins and side dishes as well as pre-prepared servings of pizza, popcorn, nachos, bread, and more. They can consume these foods on-premise or bring with them to eat at a nearby place.
Hot food display warmers will help you keep hot foods at ideal serving temperatures. They come in different sizes but your convenience store can go for a countertop design with a single or double shelving (if not multiple racks that fit one item each) for a small volume of hot packaged or wrapped food items. There are floor designs that can accommodate a wide variety of hot dishes you have on offer.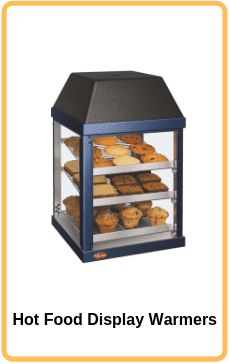 C-Store Brewers and Dispensers
Beverage Dispensers
An extensive drink menu is imperative in a convenience store. Beverage dispensers give you the leeway you need to offer an assortment of drinks to customers that they can easily acquire while making the most of your space.
These units are built to dispense a huge volume of liquids before refilling sessions. You can offer coffee or cocoa, or refrigerated bottled and canned carbonated drinks, as well as frozen fruity drinks or smoothies.
Cold beverage dispensers and frozen beverage dispensers come in a number of large clear hoppers that show off the colorful drinks for an added merchandising benefit. This makes them generally bigger in size too. Some units have small glass windows that show off the fun colors. These units usually have fun signage that would add to the appearance for impulse bonus.
Hot beverage dispensers, on the other hand, usually have single to multiple dispensing capacities as well. You can house chocolate and different flavors of coffee in one unit. The designs are darker in shade for better insulation and a sleek and complementary appeal.
It is important never to use refrigerated dispensers on hot drinks because the refrigerated system wasn't designed for it. It will then have to work hard to get the job done.
Combination Ice and Water Dispensers
Convenience stores will also benefit from having water and ice combo dispensers at hand to ensure you always have cold water and refreshing ice on demand. For your establishment, countertop models will generally be enough with bin capacities ranging from 7 lbs all the way to 250 lbs. These units are very easy to use.
You can choose between air-cooled and water-cooled units. Air-cooled units are more common because they are generally less expensive and easy to install with no water costs for you to worry about. Water-cooled units are more energy-efficient, however, but are more difficult to install.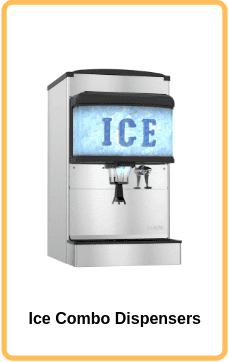 Hot Water Dispensers
A convenience store should be able to offer piping hot water to customers looking to make tea, cocoa, hot cereal, soup, noodles, and other hot meals. Countertop units with capacities between 1-15 gallons will be great for convenience stores. You can place them next to sachets of teas or chocolate drinks for customers to prepare on their own.
When buying hot water dispenser, consider the clearance between the base and the faucet. Some units are built to accommodate cups only, but other models consider taller mugs too.
In terms of refilling, there are automatic or pour=over designs. It is a matter of whether or not you have the staff to refill water each time it runs out.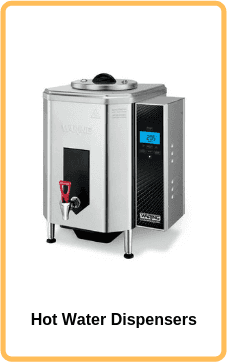 Hot Food Dispensers
Hot food dispensers are used to provide easy access to condiments like cheese or chili for nachos or sandwiches, and syrup for waffles or pancakes at the single push of a button. There are models designated for oatmeals or mashed potatoes. They have eye-catching graphics panels that will definitely make them more enticing to customers.
These units cut your prep time and lower labor costs by allowing your customers to get the item themselves. Hot food dispensers come with heating and pumping designs for one or two products. It is important that hot food dispensers are easy to operate to avoid spills and drips.
Some models take portion control into account for proper and adequate serving during self-service. The sides are usually made cool to the touch while the temperature is displayed and easily adjustable. LED light indicators are sometimes included for easier operation. Pumps are usually designed for easy cleanups.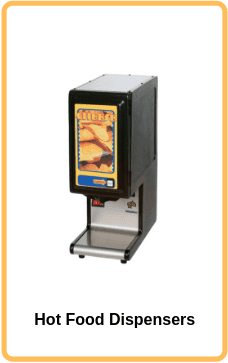 C-Store Hot Dog Equipment and Toasters
Commercial Hot Dog Equipment
Hot dogs are staple snackable offerings in any convenience store setting. Your establishment must have the proper commercial equipment to cook hot dogs and keep them at perfect serving temperature every time a customer has an appetite for one.
You can choose between roller grill types, steamers, or warmers for hot dogs and buns. They generally have large capacities for smart use of space. There are units with glass covers so that you will be able to both cook and safely showcase the hot dogs in a single unit.
Hot dog rollers have several rollers that can cook multiple hot dogs at a time. They achieve a crisped brown exterior that many customers will like. Rollers are great for expanding your menu using just one unit. They can even be used for cooking other food items like egg rolls or sausages. Some models will let you set the temperature in separate sections to be able to handle different food items simultaneously.
Hot dog rollers either have an open design or sneeze guards. Both offer excellent merchandising, but the latter will appeal to customers concerned with the sanitation and cleanliness of the food.
Buns are also important in the hot dog experience. Your patrons might want to enjoy it in a sandwich as opposed to a hot dog on a stick, so having bun warmers close by will definitely help. They are sold separately, but a great alternative is a hot dog and bun steamer, which produce juicy hot dogs that are perfect to eat as a sandwich. These units are usually designed for self-service and come with a dedicated shelf or rack for buns.
Commercial Toasters
You can also offer made-to-order sandwiches and hoagies using a commercial toaster or conveyor toaster for more fresh meals that your customers can dig into.
Pop-up toasters are designed mainly for bread and muffins. Anything thicker than that, like bagels, you will need a conveyor toaster by your side. For low-volume toasting, pop-up toasters with two or four-slice capacity can get the job done. For medium or high production, a conveyor toaster might serve your convenience store better. These units will allow you to toast bread continuously. Capacities range from as low as 5 slices with an hourly output in several hundred.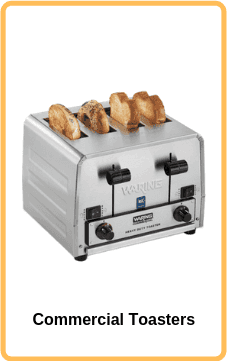 C-Store Shelving and Storage
Equipment Stands and Tables
Equipment stands and tables are essential in a convenience store for setting up workstations, additional display and storage, and boosting the height of your equipment for ease of operation. They are either stationary or mobile.
A lot of stands are built to support common equipment and unique applications. For safe storage for tools and pieces of equipment like griddles and mixers, stationary stands are ideal. They come in a wide variety of sizes and configurations depending on your needs and space layout. There are designs with multiple shelves, cabinet compartments, sliding trays, recessed edge top, and framed, cut-out designs.
Merchandise Shelves
Convenience stores will absolutely need merchandise shelves to display the rest of their products from chips and biscuits to household items. They come in different heights and shelf length so you can accommodate an assortment of goods. They usually have slanted designs for better visibility and access to the products. Shelves should preferably be shorter in height so that they will be easy to reach.
The shelves can either be wire or glass. There are also those fountain-style shelves where you can showcase bread. You can install checkout shelves for a last-minute impulse buy attempt for chips and candies. Choose shelves capable of supporting a bulk amount of items. Wire racks will be great for the lighter items like chips while glass will better handle heavier items.
Get creative! Pick shelving that will complement your store and utilize the space perfectly. There are unique merchandise shelves that you can mix and match for your inventory. Some merchandise shelving you'll find include gondola shelving with end panels (with or without sides), 4-way merchandisers that make excellent use of a single floor space, and Slatwall backings. Additional accessories include plastic dividers and fences and pegboard backings.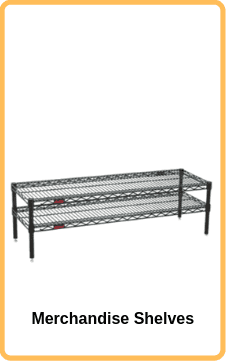 Dunnage Racks
Dunnage racks can support heavy or sensitive food items or ingredients that you can't place on the floor for sanitary reasons. Dunnage racks are heavy-duty and well-built for excellent use in walk-in freezers or storage rooms. These items differ in capacity and for heavier items that need mobility, there are dolly-style racks that come standard with casters and a handle.
These units typically come in polyethylene or welded construction and are different in lengths. There are those with connects two small dunnage racks together so you can customize the storage to your demands. This way, you can use it for big and small items.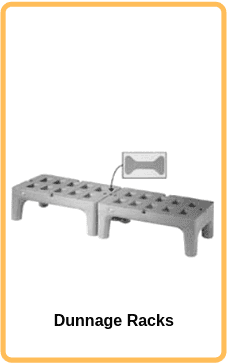 C-Store Ovens
Commercial Ovens
Your convenience store will also benefit from commercial ovens engineered for retail application. There are different types of commercial ovens. Convection ovens are preferred over standard ovens for convenience stores for faster cooking times and excellent crisped bake quality that a microwave or a traditional oven won't achieve. You can choose from gas or electric configurations depending on your power supply and capacity. You can also get rotisserie ovens specifically designed for showcasing and roasting chickens and other meats. A lot of commercial ovens feature intuitive controls and easy programmability for shorter staff training.
High-speed combination ovens, which work as both convection and steamer, are even better if you attract a lot of hot food eaters on a daily basis. These ovens cook up to 20 times faster than regular ovens without losing flavor and quality. You can expect enriched baking and browning in seconds, may it be pizza, sandwiches, pretzels, fries, and some pastries and casserole food items. Tabletop high-speed combi ovens, which can fit half-size sheet pans will already be a major boost to convenience stores.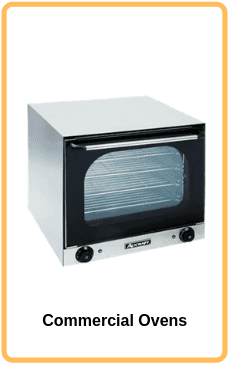 Microwave Ovens
These are absolute must-haves for heating up pre-packaged meals or sandwiches. When offering foods that require to be warmed before consumption, a microwave oven that your customers can use by themselves is a must. Commercial microwave ovens are built for frequent access.
Choose Microwave Ovens based on the use. Light duty and medium duty microwave ovens can defrost and heat sandwiches, snacks, meals, and other pre-packaged foods. It will all depend on your traffic. Light duty microwave ovens obviously have lower wattage no more than 1000 for lower output and slower cooking time. Medium duty microwave ovens are ideal for higher volume c-stores that perform more than a hundred microwave processes daily.
They also come with dials or push buttons, the latter offering additional features and more efficient control for a higher price tag. Don't forget to choose the right size to accommodate small and big items.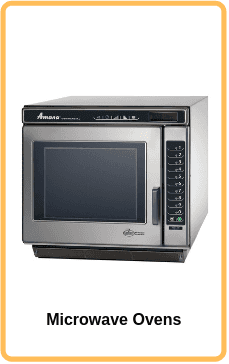 C-Store Coffee and Tea Equipment
Coffee and Tea Brewers
Convenience stores should be able to offer a variety of hot drinks as well. Coffee is popular with your customers, but tea is becoming more in-demand in a convenience store setting, pushing owners to come up with a wider range of drink program. Coffee and tea are perfect on-the-go partners to breakfast and snacks like bagels, muffins, or bread.
Coffee and tea brewers usually come in a single or double dispensing system so that you can offer both in one convenient unit. Generally, units like this, a single tank boasts 2 or more gallons of the liquid with a high-volume hourly output. Coffee and tea brewers usually have an industrial design and very rarely do they have popping signage because of the automatic demand.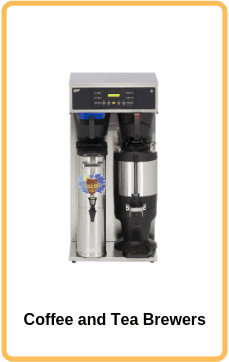 Liquid Coffee Dispensers
Liquid coffee dispensers allow your customers to help themselves to a hot cup of joe so your staff won't have to attend to it every time. They are very easy to operate so they can get their hands on the brew quickly. Liquid coffee dispensers have single or multiple dispensers, some with up to 5 or 6. This means you can offer a selection of flavors for your coffee patrons or at least allow multiple customers to pour coffees instead of waiting for one. These units also have attractive signage that makes the product easy to identify and hard to resist.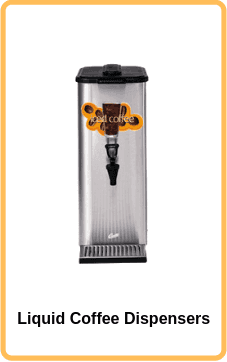 C-Store Food Preparation Equipment
Blenders
Commercial blenders allow you to serve smoothies and other frozen beverages to your customers. Having blenders at your disposal will also allow you to prepare ingredients or sauces and dips. To find the right flavor, anticipate your daily demand.
Low-volume units are generally more economical with a pretty straightforward and familiar operation with toggle buttons as the primary control. Higher-end models come with a wider range of features that will allow for more precise control. Some even have automatic timers.
If your convenience store needs to puree ingredients and make smoothies consistently throughout the day, go for high-volume blenders with programmable timers and power levels. This not only allows you to stay on top of your food prep, but these units can be left unattended and your employees will be able to do something else.
Many commercial blenders come standard with low noise technology for minimal interruption in your establishment during use.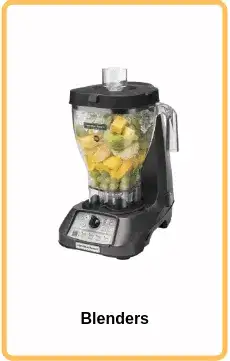 Slicers
Slicers will help you break down ingredients to help you save precious minutes on sandwich or salad prep time.
There are all-purpose slicers that you can use with most fruits and vegetables at a variety of sizes, but there are specialized slicers for bread and cheese, tomatoes, lettuce, onion, and even french fries. Find units that are easy to clean. Make sure that the blades don't easily dull for long service life.
Electric slicers are typically more expensive, but they will surely cut down food preparation even further. Manual slicers can get the job done if you have the manpower and time to spare.
Meat slicers is a required tool for convenience stores looking to assemble their own meat or deli dishes. Meat slicers are either manual or automatic. Of course, the latter will require less effort to operate for speedier service and excellent quality.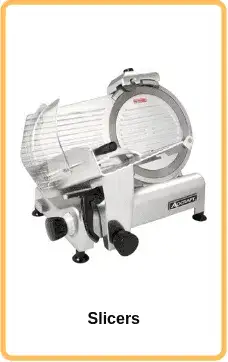 Mixers
Commercial mixers will help you convert bulk items into smaller, more manageable portions for easy merchandising or assembly. There are different kinds of mixers. You can get away with light duty mixers for limited use, but you will be better served with a standard model if you are working with a consistent amount of dough or batter. Keep in mind that some food products will need specific mixers and are better handled at certain speeds.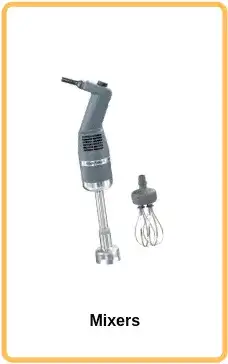 C-Store Accessories
The whole experience doesn't stop with the purchase. Convenience store owners should make it their goal to ensure your customer's journey is simple and straightforward and your staff delivers a fast, efficient, and safe service.
Pay attention to the little things. Condiments should have their own containers and should be in one place for easy access. Cup sleeves should be standard for hot drinks as well as stirrers. Keep straws close for juices and smoothies.
Bun prevention mitts ensure safety when handling hot food. Coffee urns can help you serve up freshly brewed hot cups or hot water for your patrons. Decanters and carafes are smaller in size and are used for serving the coffee.
Have food bags, kraft bags, and take-out containers and boxes on hand to make sure your customers are able to take their purchases out neatly and safely. Disposable gloves are necessary for keeping your workstation sanitary and your products free from bacteria or germs.
For food prep, you will need cutting boards, bread or sandwich knives, and other tools that will help you handle ingredients easily. Plastic food pans are a must to hold ingredients for effective storage and refrigeration to achieve the utmost quality and avoid flavor mixing.
C-Store Facility Safety
Your establishment must be squeaky clean. A dirty convenience store will have your customers thinking twice about the safety and quality of your service. You can't have leftovers or packagings lying around. You should always be ready to mop up spills or mud. Make it easy for your customers to discard food wrappings.
Additionally, a factor as important as service and product quality in convenience stores is the actual safety of the establishment. See to it that customers safely walk in and out of your place of business without a scratch. Do your due diligence to avoid injury or harm to come to your customers and your employees.
Floor Mats
For your customers, you would need a carpet or entrance floor mat where they can clean their shoes. This is also a great way to keep your flooring safe if you have a lot of traffic.
You might also want to invest in anti-fatigue floor mats, which offer ergonomic benefits to your cashiers to help them get through the day more comfortably.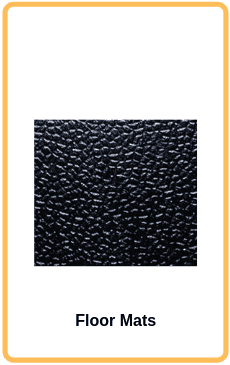 Grab Bars
To further ensure the safety of your staff and customers, install a grab bar in parts of your convenience store that they can hold on to when standing for too long or if they slip or fall.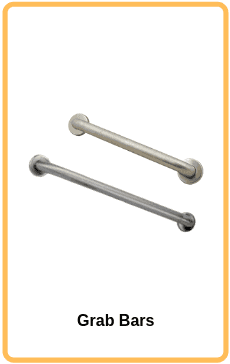 Trash Cans
Waste management is important in every foodservice facility. It couldn't be truer for convenience stores where people grab and go. Trash cans are typically constructed with plastic or metal. Swing-top or step-on trash cans with a hands-free design are always great. With the kind of waste that you will be dealing with, recycle bins will be useful in managing and handling all of it.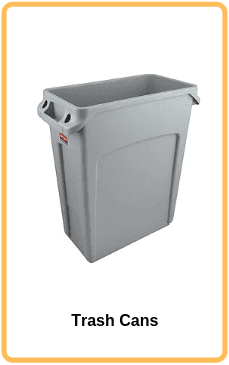 Wet Mops
Wet mops are essential for keeping the convenience store clean and pleasant. With customers coming and going, you'll most likely be dealing with muddy footprints and other dirt. Wet mops are usually made of cotton or microfiber and both are great for scrubbing up a tile floor.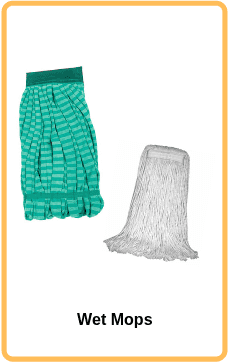 Wet Mop Buckets/Wringers
This is a simple way to keep your convenience store clean. When mopping up the place, it is important that the mop isn't dripping with water. This not only makes it harder to clean, but it can also be a slip hazard. Mop buckets and wringers help with that by draining dirty water from your wet mop and accessing clean water in one mobile location. Make sure they aren't too bulky and that they are easy to put into storage.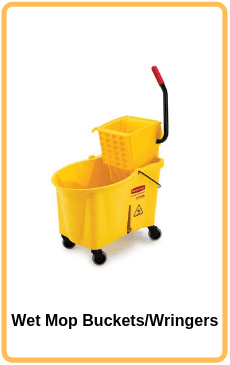 Wet Floor Signs
Wet floor signs are another tool for keeping your customers safe. This is a visual warning that discourages them from walking on a wet floor, which can lead to accidents and injury. These things are yellow in color and either come two sides like the traditional signs or safety cones with three to four signs. You can also use "closed for cleaning" signs so your customers know not to step into newly scrubbed spots of the store that are still drying.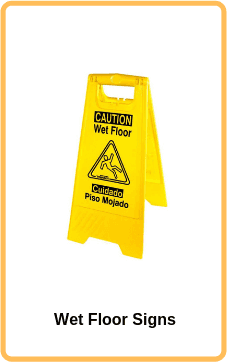 Floor Sweepers
Convenience stores tend to attract a lot of dust, dirt, and debris. Floor sweepers can help you collect all of that to keep the hard floor or carpet spotless. There are mechanical sweepers and electric-powered sweepers, which come with or without brushes and employe a more thorough cleaning. Choose silent and slim designs that can squeeze into tiny spaces.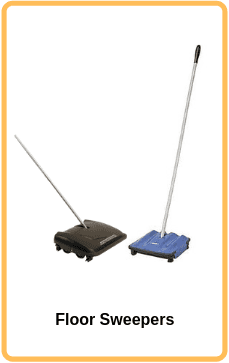 Equipment to Improve Your C-Store
Convenience stores are evolving so it is crucial to tap into the latest trend in the industry to set your business apart. Apart from the quintessential offerings like hotdogs, sandwiches, cold and hot beverages, more and more convenience store owners are finding ways to take their services to the next level.
Keep up with the changes in customer behavior and advancements in technology. Consider expanding your offerings without losing the concept of convenience that your customers are after in the first place.
Go beyond hot dogs or donuts, and go ahead and add popcorn, nachos, pretzels, pizza, and soups on the menu! There are several pieces of equipment you can use to be able to serve these foods quickly.
Popcorn Merchandisers
Popcorn merchandisers usually have vintage style graphics panels that are enticing enough for impulse buyers. These products come in various sizes and capacities. Choose durable units that are easy to operate. For a better presentation, serve the goodies in fun popcorn bags or buckets!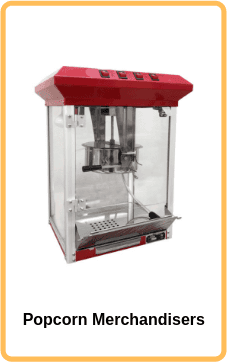 Nacho Chip Merchandisers
It will be difficult to resist nacho chips with a striking merchandiser warming them constantly for perfect serving temperature. You can purchase nacho chip merchandiser, which have bright, eye-catching design and labels! But if you are serious about nacho chips, you can go for larger capacity units that can pop no less than 20 gallons of the irresistible kernels in a single session!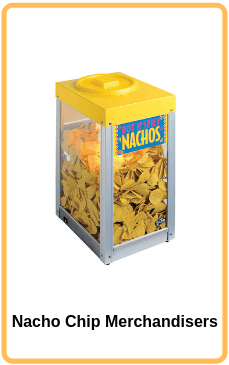 Pretzel Merchandisers
Pretzel merchandisers are an excellent way to warm and showcase the mouth-watering salted wafers. Units have revolving holders with numerous prongs that can handle dozens of pretzels at once.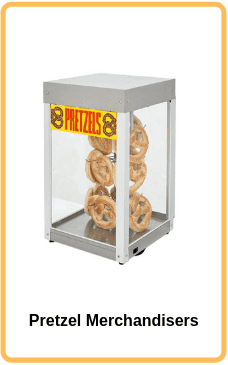 Pizza Warmers
If you sell a lot of pizza, you would benefit from pizza warmers that can hold and heat up several boxes of pizzas at the same time. They come in slanted shelving with more than two racks so you have enough to go around. You can also opt for smaller pizza warmers designed for single slices.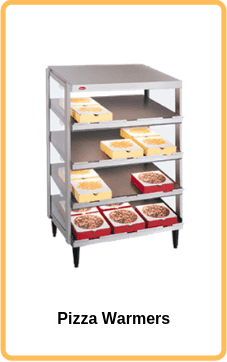 Soup Warmers
Being able to serve up piping hot soup to hungry customers especially during a cold or rainy day is a major plus for your convenience store! You can get a soup warmer with 1 or 2 containers. There are aluminum and stainless steel models with easy-to-operate controls. Designs vary from plain to downright colorful.