Start A Profitable BBQ Restaurant With This Winning Equipment Lineup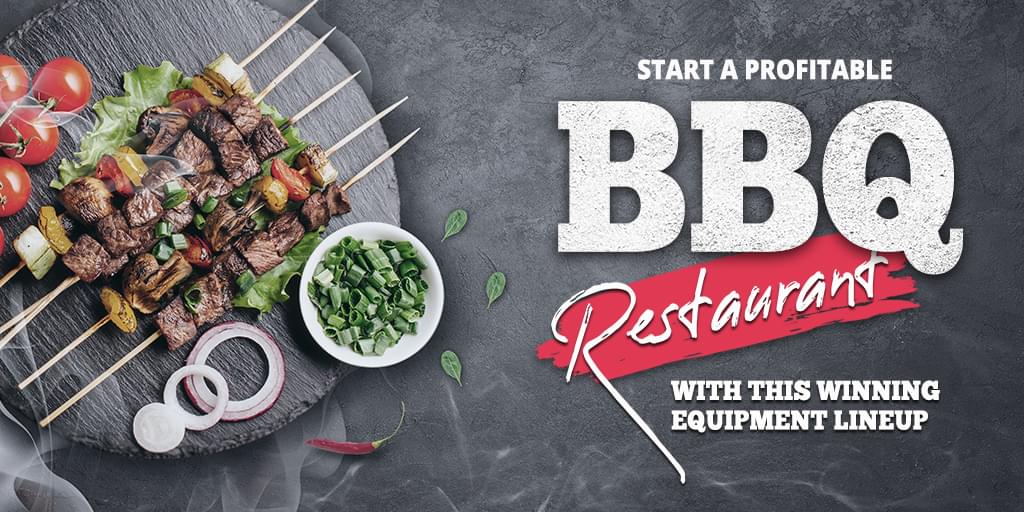 There is nothing more satisfying than spending a sunny afternoon feasting on cooked meat and vegetables fresh off the grill. Anyone who has a couple of bags of charcoal and a barbecue can prepare tons of delicious food. Restaurants often try to recreate the authentic flavor and form of backyard meals. If you are thinking about opening a BBQ restaurant or simply looking to supplement a menu in time for the summer dining season, you might look toward quality restaurant equipment to help mimic an outdoor cook-off.
Developing the Recipes
There are many different meals that remind a customer of summer cooking, but none are more traditional than hamburgers and hot dogs. This simple fare is easy to prepare and serve, but can also be customized in a variety of ways. For example, anything can be added on top of a dog to make it more unique. Chili and cheese are popular toppings but you can go for more creative items such as jalapenos, chopped scallions, buffalo sauce and other uncommon ingredients that will make a hot dog or hamburger unforgettable.
That being said, barbecue sauce is one of the most important things to include in a particular summer dish. Restaurant owners who want to make their own brand may want to start with a base of tomato sauce and then add in varying amounts of vinegar, brown sugar and cayenne. There is no universal recipe for barbeque sauce, but chefs will want to make sure that the finished product is both sweet and tangy.
Once a delicious sauce has been prepared and the necessary toppings have been added, a restaurant owner may start to think about what meat he is going to cook. Pork seems to be a staple when it comes to barbecuing, because pulled pork, bacon strips and tenderloin all come from this magical animal. Beef and chicken can be slathered in barbecue sauce and placed right on the grill, and even vegetarian patties can be squirted with a few drops of marinade.
If you are thinking about opening a BBQ restaurant, it is important that you have all the equipment to support your entire menu. Some of the items you will need in your kitchen are discussed below. If you are not sure if you need gas or electric-powered equipment for some of them, don't forget to check out this blog.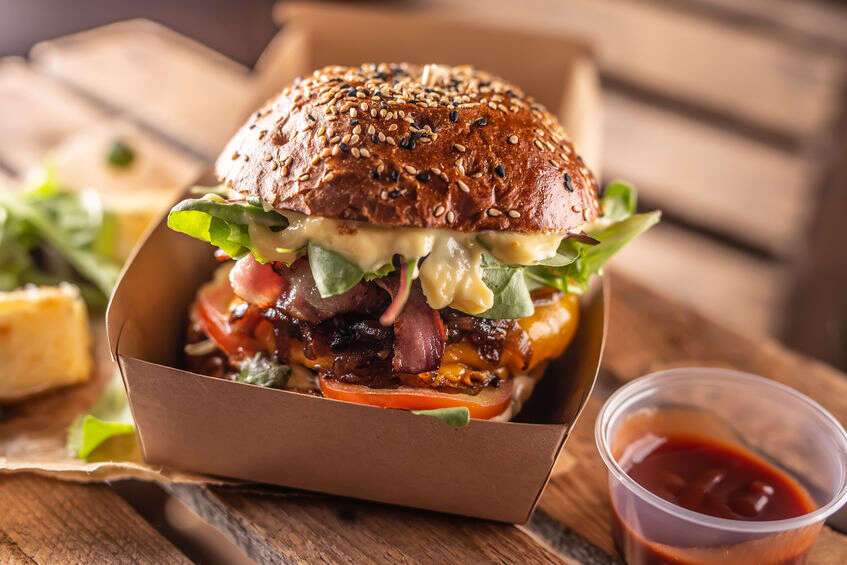 The Proper Cooking Equipment
A piece of cooking equipment like the Eagle charbroiler has the perfect heavy-duty surface for barbecuing. The grease- and heat-resistant cooking plate will not tarnish from repeated use and can handle dozens of burgers and hot dogs at a time. It can be removed for easy cleaning and storage in a commercial kitchen or small establishment.
There are charbroilers made specifically for indoor or outdoor use. Outdoor charbroilers have removable tanks so they can be easily transported where they are needed. These mobile charbroiling stations are also perfect for catering events. They typically have domes that cover the entire cooking surface to keep all the flavors and aroma in.
Charbroilers can be up to 72" wide and can have up to 16 burners with up to 320,000 BTU to provide all the cooking power you need for your operation. There are several options for heat source you can choose from:
Wood. Available in both countertop and floor configurations, wood-burning charbroilers use chips of wood or charcoal for heating. They have a gas log lighter built in, eliminating the need for electric starters or lighter fluids usually preferred for barbecuing to deliver that authentic smokey flavor.
Lava rocks. A charbroiler with a bed of lava rocks is warmed by the burners from below, bringing the heat upwards. The rocks help enrich the flavor and aroma of the food you are cooking because they are able to catch and retain the drippings from what you're cooking. The lava rocks generally have to be flipped over and replaced depending on the frequency of use and the type of food you cook.
Ceramic Briquettes. You can also use ceramic briquettes on a charbroiler, which are deemed more fuel-efficient and better in distributing heat evenly by absorbing heat as quickly as possible.
Radiants. A charbroiler can also use a radiant made of either stainless steel or cast-iron, angled towards the grates to heat and cook the food. Unlike the lava rock charbroiler, this type directs the grease away from the food, which makes cleaning much easier. Radiants can be found in various charbroilers including wood-burning charbroilers.
Infrared. One of the newer ways to grill and char-broil is with an infrared element set in between the grate and the burner. This technology is designed to heat up food faster than other methods like convection, conduction, and radiant heat. It is also useful in preventing flare-ups, retaining as much flavor as possible, and evenly heating the surface for uniform results.
Do you need both a charbroiler and a griddle in your barbecue restaurant? It depends entirely on your menu. Unlike a charbroiler, a griddle has a flat cooking surface that is ideal for cooking breakfast staples like pancakes, bacon, toasts, and eggs. They can also be used for sandwiches and quesadillas.
When it comes to grilling, you would want a charbroiler by your side. The ridged cooking surfaces make them ideal for cooking meats, steaks, and hamburgers. The grates give the food the signature charred lines that add to the presentation and texture of the food.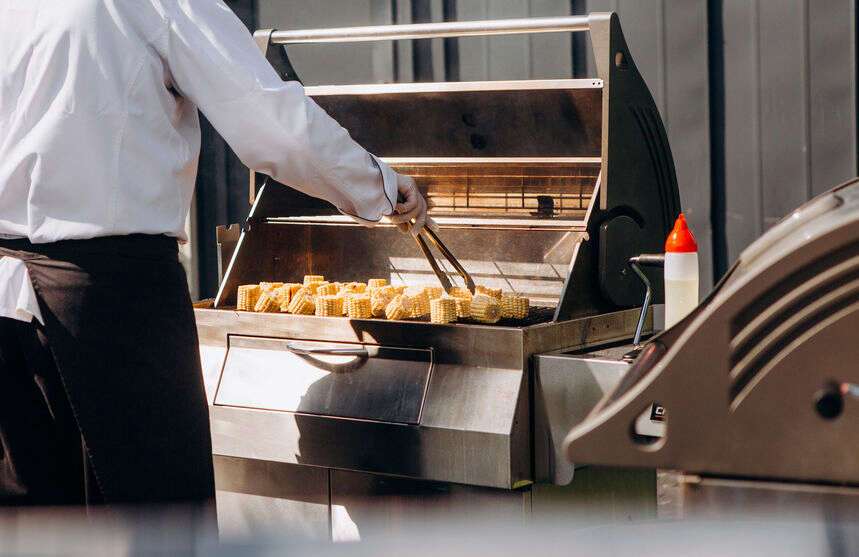 Smoking meat is one of the best and most popular ways to prepare barbecue. A lot of the success in producing tender and savory barbecue lies in the smoker you use. So it is important to find a unit that gives you the ability to control the temperature with precision.
You will get the best results by smoking meats at 200 to 220 degrees Fahrenheit. Having an internal thermometer for the meat and an external thermometer for the smoker will be the best way to monitor the cooking process and tailor the results.
Commercial smokers are available in a wide variety of styles. Many commercial smokers such as our units from Vulcan can be added to your charbroilers. These smokers can be used indoors and placed on the countertop or as a base, which makes them convenient for smoking meats no matter the season. These units use either electricity or gas. The larger-capacity smokers can be operated with wood, charcoal, or gas. Wood is especially preferred since it enhances that smoky flavor.
While you also want to be able to bring orders out quickly, some dishes are just best when slow-cooked. Roasters allow you to achieve the perfect cooking environment for these types of food. They are pretty versatile in that they can cook a wide array of recipes including meats, vegetables, seafood, and many more.
If you are thinking about starting a barbecue restaurant or simply an outdoor cooking station, an outdoor grill will be your next big investment. They have roll-in domes that protect the food from external elements while also accelerating cooking time. Outdoor grills can be built-into a designated spot or mounted on wheels so it can be moved anywhere.
Outdoor grills typically produce heat using charcoal or gas. Charcoal units add a unique smokey flavor that enhances the food. However, they can take time to heat up, which is not ideal for busy operations. The ash from the charcoal should also be cleaned and removed before being replaced with a new job, which adds to the labor.
Gas outdoor grills might be better suited for the needs of a barbecue restaurant because they are quicker to heat up and provide you with the ability to control the temperature. They are also easier to clean up although they will need regular maintenance. You will, of course, miss out on that added smokey touch charcoal provides.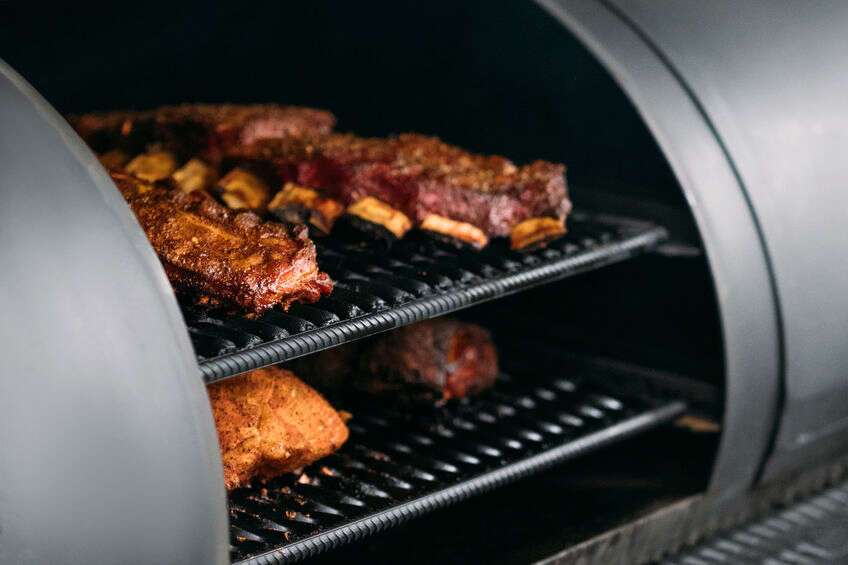 A barbecue restaurant will also benefit from having convection ovens. The dry heat and enhanced airflow elevate some meat and veggies recipe by keeping the exterior perfectly crisped and the inside moist and juicy. Convection ovens are available in a wide range of capacities. For floor models, you can choose units with one cooking chamber or units with two or three stacked and independently controllable to keep the footprint compact while maximizing production capacity. These models can fit half or full-size sheet pans to cook a large amount at a time. There are countertop units with quarter-size cooking chambers for small needs.
Convection ovens sometimes come with a steam cooking capability, which officially makes them combi ovens. These dual-functionality equipment provide the best of both worlds, adding a bit of humidity to the dry heat to improve the quality and reduce shrinkage. They are pretty versatile in that they can smoke, broil, bake, braise, and even rethermalize meats, vegetables, and many more.
Depending on the level of control you want over the operation, you can choose units with manual controls, digital controls, or touchscreen controls. The manual style keeps it simple while the digital and touchscreen options provide a little more flexibility to better tailor the results to exactly what you want. They also allow you to program your recipes so you can whip up the same dishes of uniform quality over and over again at the touch of a button.
Deep fryers will allow you to complete meals with perfectly cooked sides. There are countertop and floor model units available depending on your production. They can have one or multiple tanks so you can cook multiple recipes at a time. If you anticipate outdoor use, you can opt for units that support propane gas.
When thinking about how to start a BBQ restaurant, a primary point of discussion is storing the meat and ingredients you will use on a daily basis. Walk-in or reach-in styles are best for keeping a large bulk of your inventory.
Chef bases are an excellent asset to any restaurant that serves barbecue because they allow you to store your perishables at the base and cook at the top. Everything you need is in one piece of equipment so you can fill orders quickly and cut unnecessary trips to different parts of the kitchen. The refrigerator or freezer base can have cabinets, drawers, or both. The top is heavy-duty stainless steel that can support heavy barbecue equipment, helping you create a flexible cooking station.
Open A BBQ Restaurant With Confidence
With the right barbecue meals on the menu and the proper equipment in which to cook them, a restaurant can be assured of repeated business all year round.