Delivery Supplies & Take Out Equipment Complete List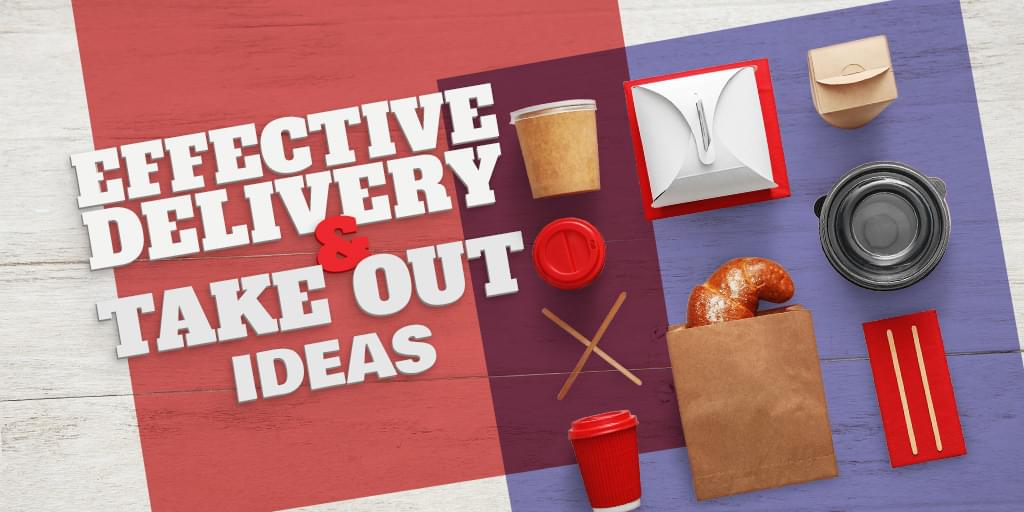 As more people order food online, it's more important than ever to fortify your takeout and delivery strategies to successfully get in on this unstoppable demand.
Let's start with the type of equipment that will ensure safe and speedy service outside of the four corners of your dining room.
1. Cooking Equipment
Especially during rush hours or when you have multiple ordering channels, you want to be able to bring out one order after another as quickly as possible whether it is to the dining room or to the customer's doorstep.
High-Speed Ovens
When you are expected to deliver hot and delicious culinary masterpieces on the double, a high-speed oven is what you want in your kitchen.
Also called rapid-cook ovens, high-speed ovens cut cooking time considerably by combining multiple cooking technologies including microwave, convection, impingement, and radiant heating.
These ovens can in turn help you cook larger quantities of food. More importantly, you can expect each one to be a great-tasting dish that you will be proud to serve and one you can replicate easily.
High-speed ovens can tackle virtually everything on your menu. Simpler units have preset temperatures while high-end models offer a higher degree of precision to achieve the desired results down to the letter.
These advanced models allow you to store hundreds of recipes in the oven's memory for one-touch cooking, repeatable results, and minimal errors. They can even connect to Wi-Fi, so you can easily share recipes with other locations.
High-speed ovens are generally electric-powered. They also use ventless technology that will not tie you down to just one spot in your kitchen for installation. Rather, you can install the oven exactly where it is needed.
This also means no ventilation hood will be required, so you won't have to worry about additional utility and maintenance costs.
High-speed ovens can pack plenty of power to a small space like your countertop. They are stackable, so you can increase your production volume without using extra floor space.
They can accommodate different pan sizes including round pizza pans. Wattage ranges from 1,000 to 2,000 to handle various levels of production. You can choose models with touchscreen or capacitive controls so you can master the unit without trouble.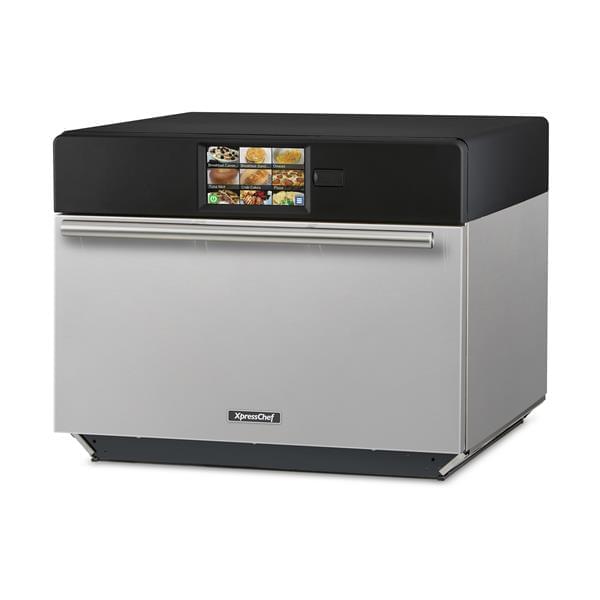 Combi Ovens
Combi ovens are highly versatile cooking powerhouses that can do the work of several pieces of equipment.
These ovens use steam cooking and convection technology to cook up healthier meals quickly and evenly with nutrients, colors, and texture intact. This cooking combination also causes less shrinkage compared to other cooking methods.
In short, you always get a nutrient-dense, high-quality dish out of this oven.
When you don't have much space, combi ovens can be used in place of standalone convection ovens and steamers. Plus, they can operate very much like cook-and-hold cabinets, proofers, and slow cookers at lower temperatures.
The temperature and the humidity inside the cooking chamber can be adjusted based on the recipe, making them highly flexible cooking equipment you can use for a wide array of your menu items.
Combi ovens can be boiler-based or boilerless. Boiler-based units use a steam generator that boils a tank of water to create steam. Since this requires a large quantity of water, regular maintenance, and a robust water filtration system, it is recommended for operations that power multiple steam equipment.
Boilerless combi ovens don't use a boiler, which helps you save on water costs and expenses associated with the maintenance and labor for the boiler. Plus, they can produce excellent results using hard water.
Combi ovens can be powered with either gas or electricity. They are available in half-size versions, which can fit up to 11 pans, and full-size versions, which can accommodate up to 20 sheet pans. There are also mini-size versions, which can fit up to five pans at a time.
You can choose units with casters for added mobility. The smaller combi oven types can also be mounted on a mobile stand with runners for extra storage.
The Electrolux SkyLine ProS electric boilerless combi ovens are some of the most innovative models you can find. These are reliable Energy Star-rated combi ovens that boast a wealth of advanced features that make cooking a one-touch process.
You can log up to 1,000 recipes, manage up to 20 different cooking cycles, and upload customized images of cooking cycles. These ovens can also keep track of several cooking cycles at the same time in the same cooking chamber.
Additionally, these combi ovens can perform real-time remote and data monitoring, connect to the cloud, and download HACCP data and other settings in the oven via the USB port so you can share this information with multiple locations of your business.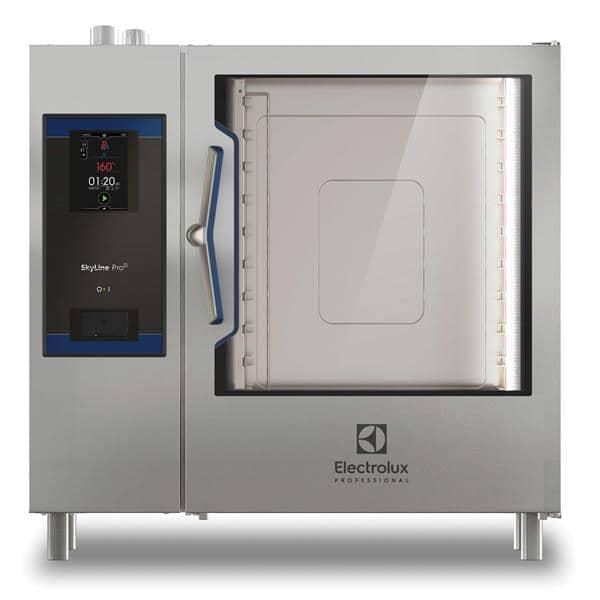 Grill and Griddle
With burgers still one of the most ordered foods for takeout and delivery, you will get a lot of use out of a grill or griddle.
Grills will infuse a delicious smokey flavor in the burger while the grates produce a charred exterior that makes it more savory and mouth-watering.
Griddles also make for a great option for cooking burgers. The flat smooth cooking surface allows for an evenly cooked burger with just the perfect sear. Plus, you can cook all the ingredients such as the buns, cheese, and onions right on the same cooking plate, so the order can be out of the kitchen in no time.
In addition to burgers, a grill will easily help you cook up a wide variety of proteins and vegetables. On the other hand, griddles are great for grilled cheese and a lot of breakfast foods like French toast and pancakes.
Griddles and grills are available as standalone cooking equipment although they can also be purchased as part of a cooking range. You can choose from a wide range of widths to suit your operation.
Deck Oven
Pizza is a bonafide takeout and delivery royalty and it continues to hold its popularity across the world. A deck oven is no doubt an excellent investment that can boost your profits.
Deck ovens are the best type of oven for cooking pizza because they can achieve comparable results to that of a wood-fired oven. These ovens can deliver a perfectly cooked pizza in as little as five minutes.
The large high-performance floor models can be stacked so you can increase your production volume from the same space. Deck ovens will also be the perfect companion for making artisan-style bread.
If you want something a little more flexible, you can go with conveyor ovens, which have a conveyor belt that moves uncooked food through the cooking cavity, which cuts down labor while guaranteeing consistently high-quality food.
Aside from pizza, you can also cook a lot of takeout and delivery favorites like burritos, sandwiches, and pastries.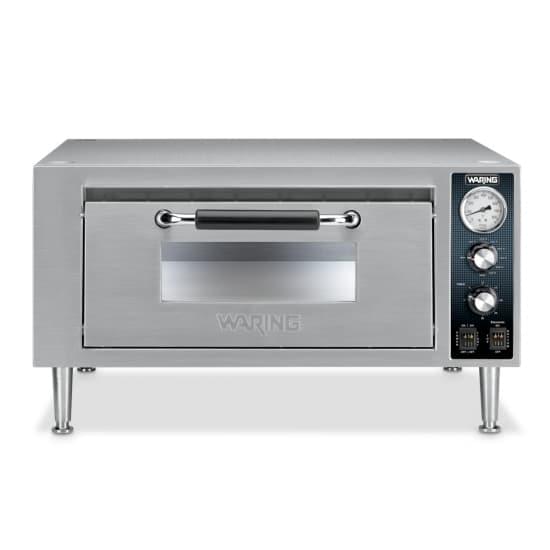 Deep Fryer
Fried foods continue to be an off-premise hit, especially French fries, which was one of the top takeout food items of 2020. Make sure you can cash in on this demand by investing in a reliable deep fryer.
Available in countertop and floor models, deep fryers provide you everything you need to produce crunchy and golden brown fried staples including fries, chicken strips, Jalapeno poppers, and onion rings.
They are powered by either gas or electricity. You can get units with multiple batteries so you can set up a complete frying station where you can whip up an array of dishes in bulk at a time.
There are also ventless deep fryers that do not require an additional hood, which makes them highly economical and flexible in terms of placement.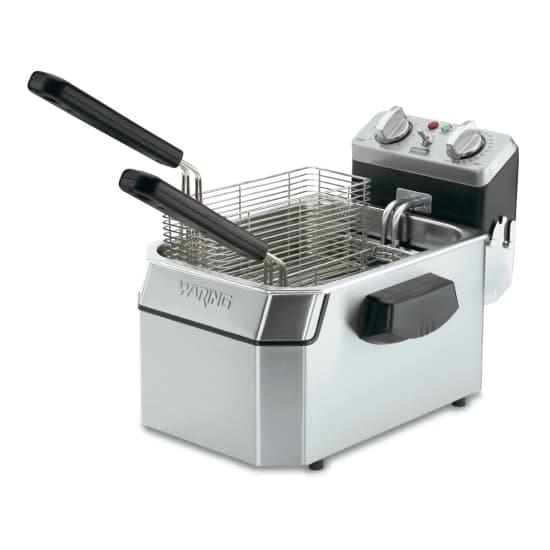 Toaster
A toaster is a worthwhile addition to a kitchen that serves fresh deli sandwiches. This compact machine will prevent the bread from getting soggy. That way, it holds the meat, veggies, and sauces well without losing structure or crunch.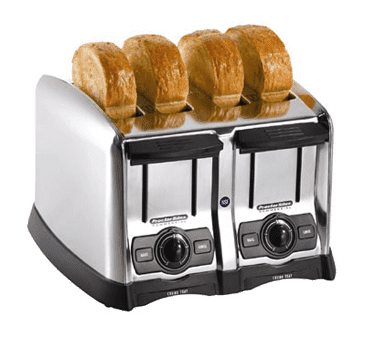 Sandwich Press
A sandwich press is used to simultaneously toast the top and bottom bread of a sandwich while warming up everything in between. It can also be used to grill quesadillas. Some units can even be used to cook chicken fillets and burgers.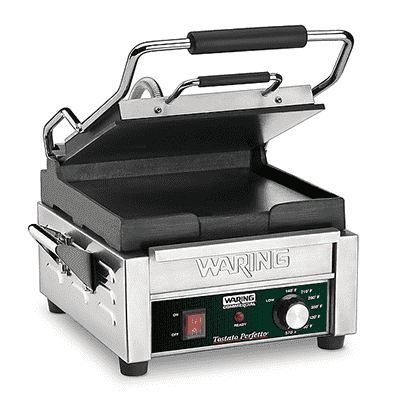 Cheesemelter and Salamander Broiler
Cheesemelters allow you to add finishing touches to the dish before it is packed for takeout or delivery. They can be used to add that gooey cheesy topping on sandwiches. Salamander broilers can reach higher temperatures compared to cheesemelters, which makes them ideal for steaks and casseroles.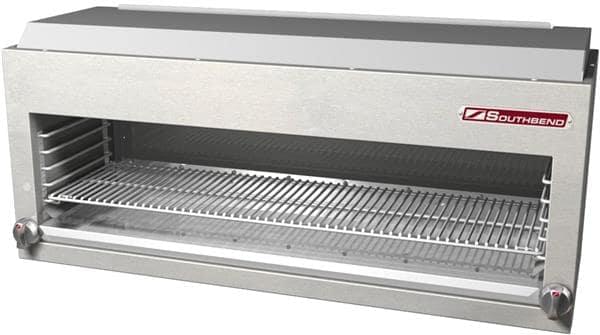 Rice Cooker
Pad thai has recently become an in-demand takeout and delivery food item. A rice cooker is the best place to start to get in on this trend. Rice cookers can supply you with a large amount of rice in a matter of minutes, and then keep it hot so you can serve up fresh orders throughout the day.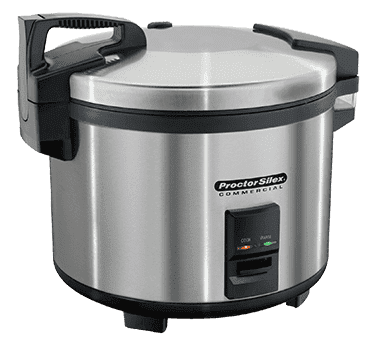 2. Food Holding and Warming Equipment
It is crucial to have the ability to maintain an adequate amount of hot food to serve customers at any given time and prevent any food waste or delay. Whether you are cooking in advance to prepare for busy hours or anticipating large takeout and delivery orders, temperature control is key.
Food Lockers
No more stale cold food for customers. Always meet expectations of taste and quality with food lockers.
Temperature-controlled food lockers streamline your takeout and delivery order processing by providing a food pick-up station solely for orders from these channels. They can be integrated into your restaurant management system for a seamless, time-saving transaction.
These amazing food holding equipment are designed to keep each order safely stowed inside heated individual cubicles until pick-up. To ensure the safety of the food, the lockers come equipped with security features that prevent theft and tampering.
Customers and delivery drivers can simply retrieve the order with the use of a code or password provided upon payment or confirmation of recipient information in the case of delivery. They don't have to enter the dining space to get their order, so the flow of business inside is not disrupted.
Food lockers may have see-through or solid doors. The glass doors provide instant visibility so customers will immediately know where to look, reducing the time they spend at the pick-up station. Lockers with solid doors will help prevent snooping, but can also help improve insulation inside each cubicle.
Food lockers can be built into the wall or set on the floor or a countertop. Some even have a pass-through design so your staff can place the freshly cooked straight into the locker to keep it at its freshest.
You can choose from various colors to help color-code pick-up points for delivery or takeout for easy identification.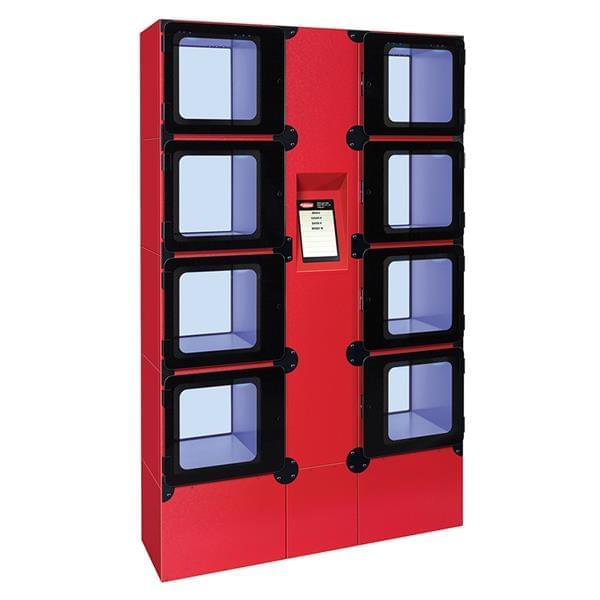 Heated Shelves
Heated shelves are temperature-controlled storage solutions where packaged, outgoing orders are kept at safe temperatures before they are served or delivered. They typically have three to four tiers, each can be programmed at a different temperature to heat various types of products properly and maintain optimal quality.
Heated shelves come in various styles depending on the application and placement. There are heated shelves designed for delivery and carry-out.
These units are open so your delivery staff or waitstaff can grab the products quickly. Set these heated shelves at a convenient spot of your establishment, such as close to the delivery parking space so your staff can just go in and out in no time.
Heated shelves are available in a range of sizes so you can get the space you need to create a dedicated pickup station. There are also display heated shelves specifically used at the front-of-the-house for unpackaged items.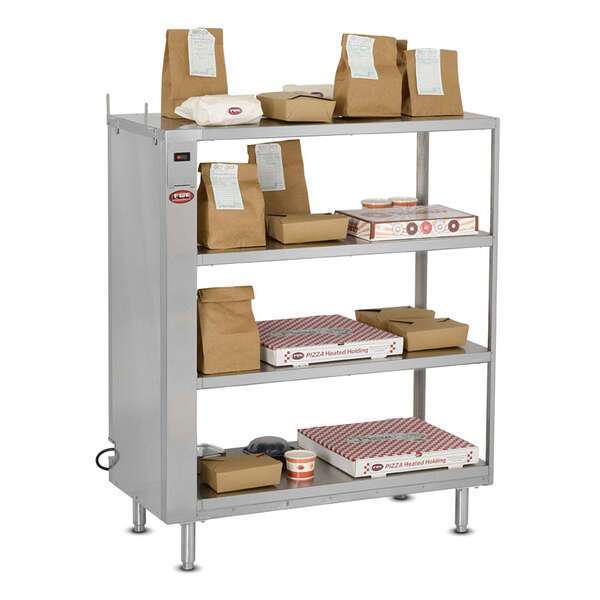 Heated Holding Cabinets
Save time and stay prepared for a surge of orders with heated holding cabinets. Cook a large volume of your bestsellers in advance and store it safely at ideal serving temperatures inside the heated cabinet. The cabinet creates the ideal environment for the food, so orders can be filled quickly.
Depending on the amount of food you need to store at a given time, you can get a full-size or a half-size holding cabinet. Due to the wide temperature range, most models also have a proofing functionality for making dough in large batches.
You can choose from a variety of configurations to suit your space and needs. There are reach-in heated holding cabinets for standard use. Pass-through models provide access from the front and back, which links two kitchen stations for seamless movement of the food items. Roll-in holding cabinets can accept a whole rack of food at a time.
Keep in mind that holding cabinets are meant to be used with cooked food. If you want a piece of equipment that can both cook and hold products, cook-and-hold ovens will be a great alternative.
These units pack tons of functionality in a single space and minimize manual intervention. They can bake and roast a wide variety of dishes and can switch to holding mode to keep it perfectly hot until it is time to serve.
Cook-and-hold ovens generally come with a temperature probe that makes monitoring progress much easier and more precise. Additionally, these units are energy-efficient and can operate at lower temperatures, which makes them ideal for slow roasting and overnight cooking.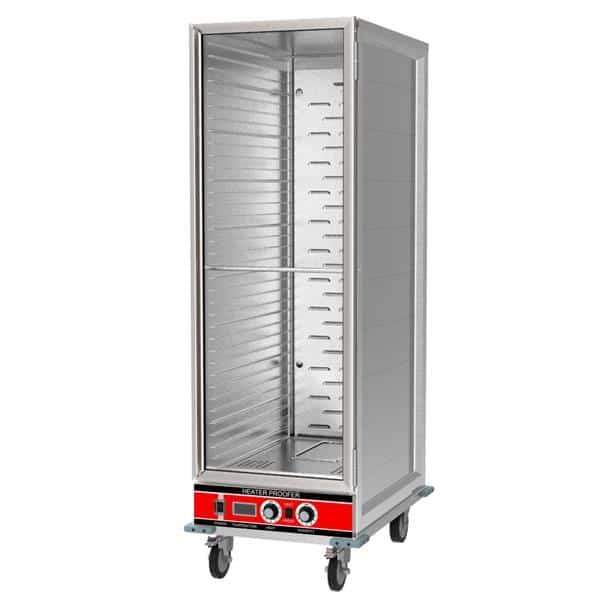 Insulated Food Carriers
An insulated food carrier is a type of lightweight but durable delivery bag that is designed to prevent the transfer of heat between the container and the surrounding space.
Induction Thermal Delivery Heaters
A step-up from insulated food carriers, thermal delivery heaters use induction technology to keep pizza and other types of cuisine hot while in transport. They come with a convection tray and an induction charger base contained in a specialized delivery bag.
The convection tray is placed inside the delivery bag, which then goes on the induction charger base to automatically charge the tray. Charging takes a few minutes and light indicators will tell you when it is ready for use.
When in use, hot air is circulated around the food, so that it arrives with a "just-cooked" quality at the customer's door.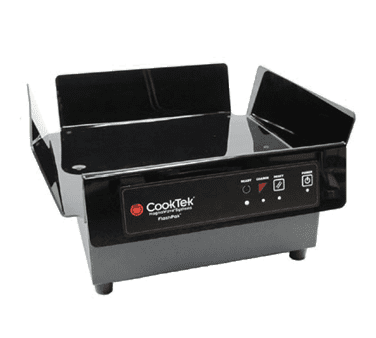 Food Warmers
Food warming equipment is perfect for making orders ahead of time. Cooked food can stay hot without drying out on food warmers so that they taste like they are fresh out of the kitchen.
There is a wide variety of food warmers that you can choose from. You can go with dedicated fry warming stations and heated shelves that can heat up prepackaged food or food in pans.
There are also heat lamps that are perfect for front-of-the-house because they look sleek, but also improve the appearance of the food that in turn entices customers to buy. These lamps use bulbs or strip lights.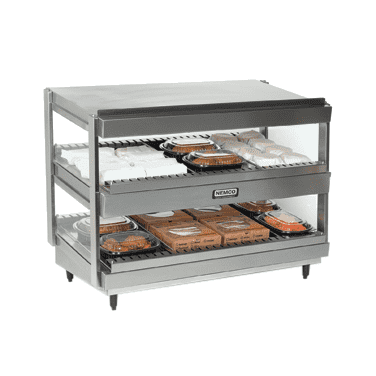 3. Packaging Equipment
Sealing Machine
Now that food is being transported more, operators should be able to seal liquid food items securely to prevent spills and waste.
A sealing machine is engineered to seal serving containers for sauces and other types of food with high liquid content with a push of a button.
Vacuum sealers also allow you to bag precooked food, so it can be safely refrigerated or frozen until use. Bain maries and food rethermalizers can then thaw it out (while still in sealed bags) and bring it to proper serving temperature.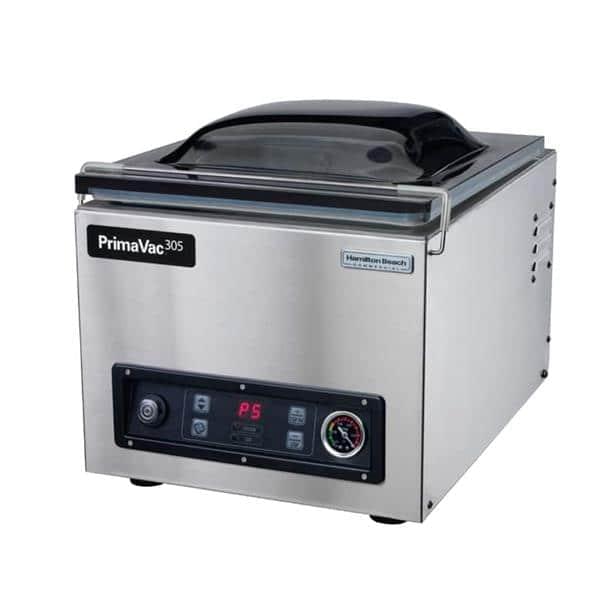 4. Order Processing Equipment
Kitchen Display Systems
Kitchen display systems offer an efficient method to manage orders from various channels to minimize human error and mitigate food waste.
Kitchen display systems are connected to point of sale systems or POS. They have screens that are installed in the kitchen. Once the order is placed, it will immediately show up on the screen in front of the person who will prepare it.
Kitchen display systems can color-code orders based on the order channel, so you will immediately know which one goes out for delivery, carryout, or the dining room. When the food is ready, waitstaff will be notified so it can be placed on heated shelves or food lockers immediately.
These systems also have an excellent feature that optimizes cooking time by identifying which items in the orders take a short or long time to cook. This prevents some food from getting cold while the remainder of the order is still being prepared.
5. Disposables
Disposables generally made of similar materials: plastic, paper, kraft, and foam.
With the people's growing concern about the impact of disposables on the environment, they want greener solutions.
As a response, the industry developed more sustainable and environmentally friendly alternatives like biodegradable, compostable, or recyclable packaging.
Some of these materials are kraft paper, sugarcane, bamboo, wheat straw, and polylactic acid or PLA.
This initiative encompasses many of these disposables from flatware, serveware, cups, take-out bags, and deli containers, to tabletop necessities like napkins.
FOAM
PAPER
PLASTIC
FOIL

Highly popular especially in fast-food and take-out joints

Lightweight and inexpensive

Comfortable to hold and carry because they stay cool despite the hot food inside

Fried foods and deli items like sandwiches can become soggy over time

Material uses nonrenewable sources and is not biodegradable

Can be safely microwaved without reducing food quality or damaging material

Resistant to grease and can conserve heat

Typically comes in one piece and easily collapsible, so it takes less space and is easier to put away

Heat from hot food can transfer to the paper, which requires the use of handles or sleeves

Food can also sog

Paper can decompose in natural materials fairly easily, but production heavily relies on trees

Generally more affordable and durable compared to other options

Non-absorbent and has better resistance to tear, leaks, and cracks

Clear plastic allows customers to see what's inside, giving you the opportunity to take advantage of the food's beautiful presentation or its vibrant, enticing colors

Non-biodegradable and takes

many, many years

to be broken down

Plastic made with all-natural plant materials available, but they have to be disposed of a certain way in order to decompose properly

Used mainly in packaging and food take-aways

Can trap as much heat, moisture, and flavor of the food so it can be enjoyed by customers as if they just got it

Foil pans aren't safe to use in a microwave, only in an oven
Eco-Friendly Alternatives
As the foodservice world works to become more eco-conscious, there emerged alternatives that take the industry in that direction.
From commercial janitorial supplies to dinnerware and take-out containers, there are eco-friendly counterparts to be had albeit they come with a higher price and are not widely available for all applications.
Here are some of these environmentally friendly materials:
Sugarcane is used to make tableware and take-out containers. These disposables are made from the fibrous by-product from the juice extracted from the sugarcane pulp. They can be easily composted and are also safe to use in a microwave and a refrigerator.
Wheat straw is also very sturdy and compostable. This material is practically waste that comes from the grain or juice extracted from crops.
Bamboo disposables have an elegance to them that adds to the overall dining experience. Most of what you will find uses the sheath that falls off young bamboo plants. It is cleaned, boiled, and pressed into the desired size and shape without the use of any chemicals or toxins.
Kraft paper has been a popular alternative to plastic for a long time. It comes in the natural wood color that we all know too well. It comes from long virgin fibers of maritime pine. It is completely compostable and biodegradable and used in a wide variety of disposables.
Delivery and Takeout Add-Ons
Straws and Stirrers
Straws allow your customers to sip and enjoy their drinks with all the convenience and none of the mess. They come in different sizes and shapes for different types of beverages and drinks. Stirrers are used to mix and blend coffee or other hot drinks.
Due to the waste footprint that these things produce, however, there is an active effort to minimize the use of straws and stirrers. This resulted in the rise of reusable straws or alternatives made of sugarcane, bamboo, silicone, metal, or even glass, which offer greater environmental leeway when it comes to biodegrading and recycling.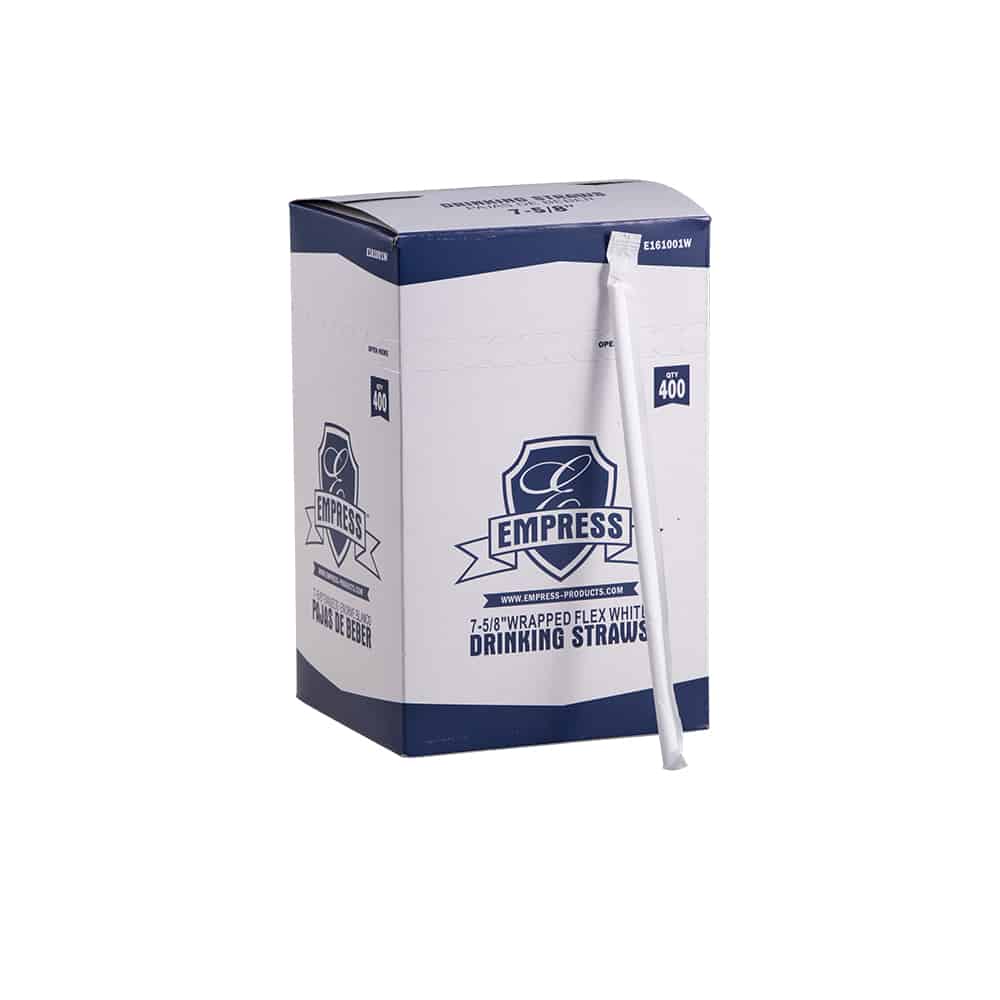 Cutlery
Plastic spoons, forks, and knives are some of the most convenient and economical flatware you can find. The most common ones are made of either polypropylene or polystyrene. Both materials are great for high-heat use and will do well in light and heavy fare dining.
Some eco-friendly alternatives are PLA plastic or plant starch, but they might not be the best for high-heat. Bamboo and wood flatware might do a better job, but heavy-fare dining may prove a bit challenging.
Disposable flatware comes in different weights. The heavier, the greater the ease of use and the perceived quality. The sturdier ones should be able to cut through tougher food items such as meats. Lightweight spoons and forks should be used for simpler meals so that they won't break.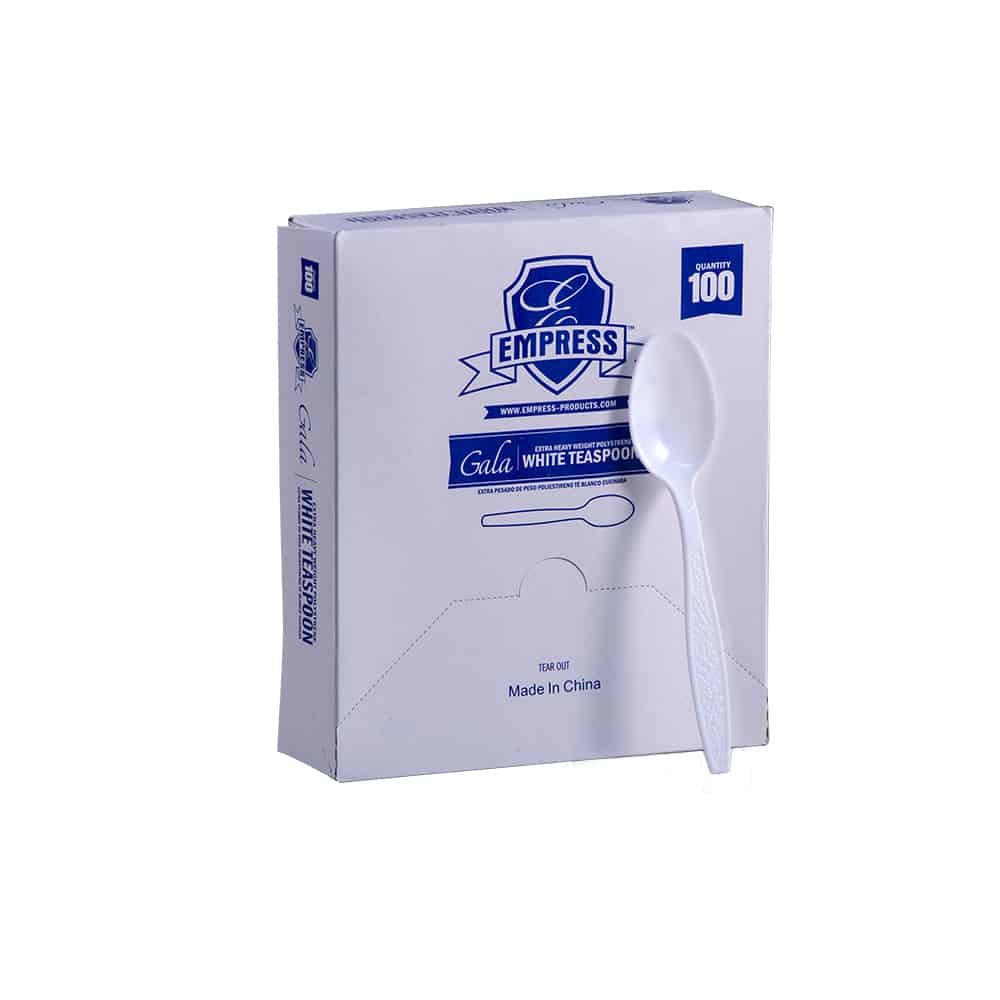 Cups and Lids
Plastic cups are mainly used for cold beverages while paper cups with air pocket insulation between an inner sheet and an outer sheet are better for hotter drinks like coffee, tea, or hot chocolate.
If you want something more versatile and environmentally friendly, poly-coated cups with single or double polymer coating will be a good match. They can hold hot and cold drinks and they are made rigid so that the liquid does not seep through the outside of the cup that would cause it to deform and weaken.
For cold drinks, you might want to look into wax-coated paper cups, which are leak-proof. They are more rugged than their poly-coated counterparts for enhanced insulation and protection. Most of the time, you will have to provide lids as well.
For hot drinks, they can help avoid spills that could burn the skin of your customers and make the drinking experience just much easier. Lids are a must for takeout and delivery to keep the product safely contained inside the cup and protect it from outside elements when enjoyed off the premises or delivered to the customer's home.
Paper Cones
Paper cones are used in conjunction with a small metal stand to display and serve freshly prepared food for safe and easy retrieval at the counter or the table.
They also make for a convenient container for dry snacks that customers will eat on the go like chips, popcorn, and even fries.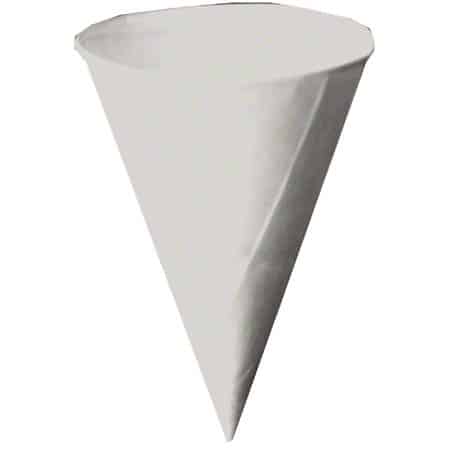 Disposable Bakery Packaging Supplies
Choose disposable baking supplies that simplify your baking, enhance the presentation, and ensure safe transport of your pastries.
Bakery Boxes
There is a wide variety of bakery boxes designed to fit different pastries and baked goods. You can find boxes built to hold and store cookies, donuts, cakes, cupcakes, pies, candy apples, candy, fudge, barks, and many more.
The most common bakery boxes are made of cardboard and plastic or a combination of both. Some designs have a built-in handle while others are tulip-style with interlocking sides.
Cardboard boxes allow customers to safely stow cakes and cupcakes inside a safe, light container and keep it intact until they are ready to eat the treats. You can go with the clean white cardboard for a plain and simple look, or the kraft beige color, which has a more rustic and environmentally friendly design.
Bakery boxes may or may not have a separate lid. There are boxes with a plastic window that gives patrons a glimpse of the confectionary to show off the delicious appearance and make it easy to identify the contents.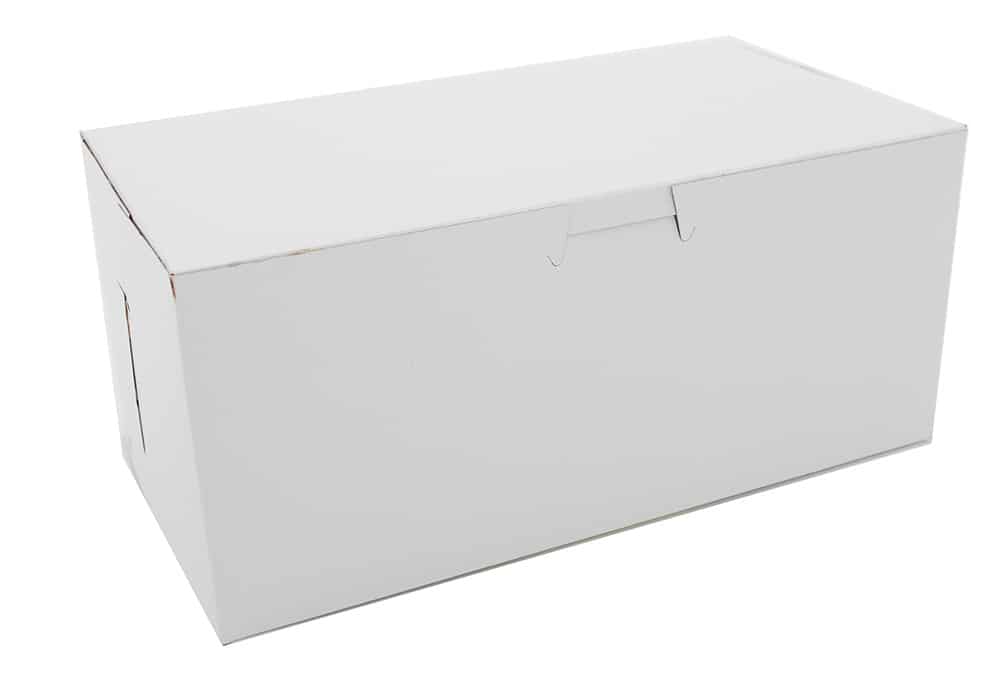 Small and Single-Serving Pastry Containers
For smaller cakes, cupcakes, and pies, there are plastic containers with dome lids that snap into place on a plastic base to protect the icing and decorations on the pastry.
There are also plastic containers for a single slice of pie while some are made to hold multiple cupcakes, complete with a dedicated slot to keep each one in place.
Loaf Pans
Loaf pans are usually made of corrugated kraft paper or foil. The latter is a better choice for takeaways since it can use a plastic lid for transport. The former, on the other hand, can be used for baking, but it can only handle a certain level of temperature.
Cake Boards
Cake boards are usually made of corrugated cardboard that is made grease-resistant, perfect for presenting and serving an entire cake. They are either round, square, or rectangular in shape with white and gold as the most common colors.
With a cake board, the cake is safe and secure, making it easier to transport and place on a display or stand.
Baking Cups or Cupcake Liners
Baking cups prevent the pastries from sticking to the pan when baking. Cupcake liners enhance the presentation while also allowing customers to prevent any mess when eating and enjoying the baked goods.
Different materials are used for cupcake liners. Paper is the most economical, but it has higher porosity, which means oil or liquids could easily penetrate it.
Grease-proof liners and glassine liners are great solutions for that. Both come in a variety of colors and designs with the latter steam-treated to give it a shiny look, hence the name.
If you want something sturdier, you can look into foil liners, which should be able to resist oils from the cake without suffering any discoloration.
Cupcake and Muffin Inserts
Cupcake and muffin inserts are made to keep the baked goods separated. This ensures that they don't move around inside the box, which could ruin the decorations and the toppings. Cupcake and muffin inserts can fit up to 12 cupcakes per box and are designed to fit in standard bakery boxes.
Pastry Bags
A pastry bag or a piping bag is used to house icing and decorate pastries like cakes and cupcakes. They are triangular in shape and can be made of cloth, paper, or plastic.
Foil Pan
Foil pans will help you keep your workspace mess-free when baking. While they are most useful in a bakery, foil pans have a lot to offer in many more kitchen applications including roasting. You can serve baked food without removing it from the foil, cutting your prep and cleaning time significantly.
Foil pans come in different shapes, sizes, and depths. There are those designed specifically for roasting chicken and some are molded to fit muffins, a loaf of bread, or even clams and pies. Some foil pans come with lids for easier transport of the food.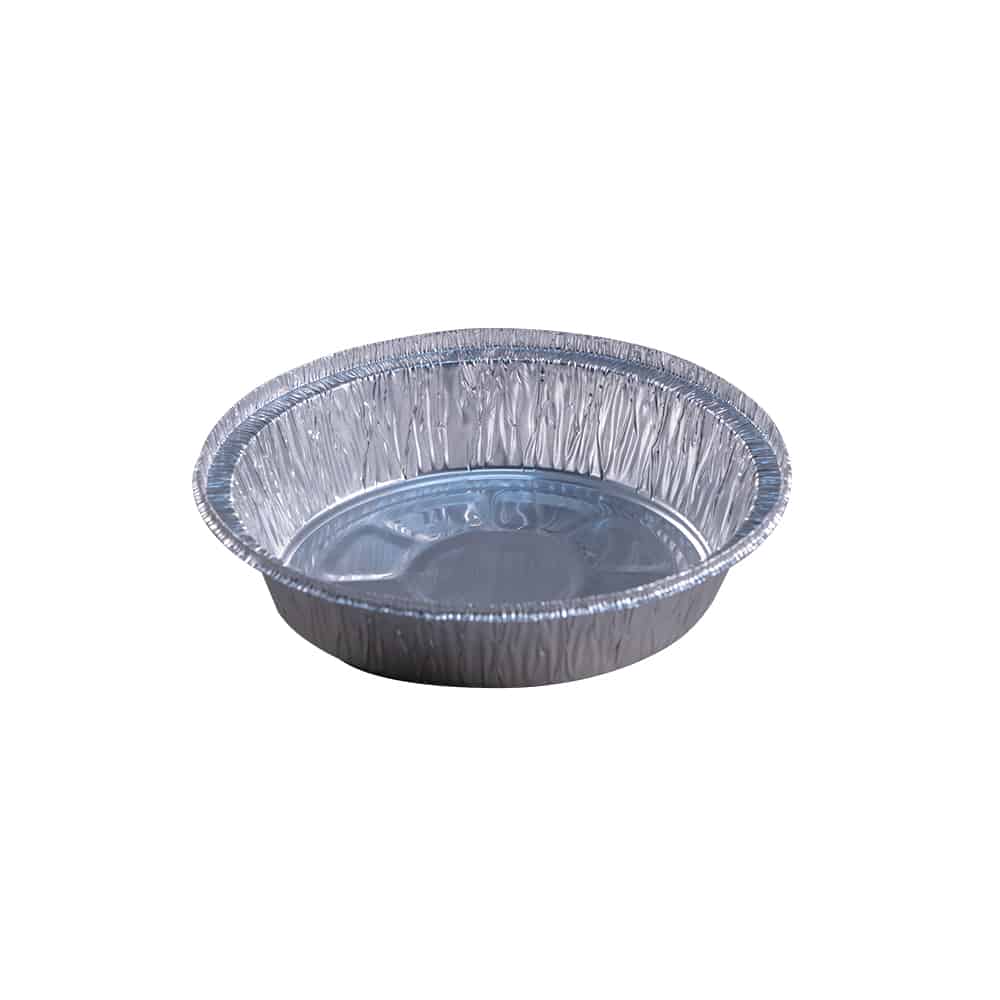 Disposable Food Packaging Supplies
Disposable food packaging supplies help you manage your waste and make it easy for customers to enjoy your gastronomic offerings mess-free.
Foil Wrap
Foil wraps are designed for both standard and heavy-duty use.
Standard foil wraps are great for covering food in table pans and for wrapping deli items like sandwiches. Non-stick aluminum foil is also available for melted cheese and grilled meat.
For heavy-duty use such as lining ovens or pans for baking or roasting, covering grills and grates, and protecting food on steam table pans during transport, you will need a foil wrap with enhanced durability.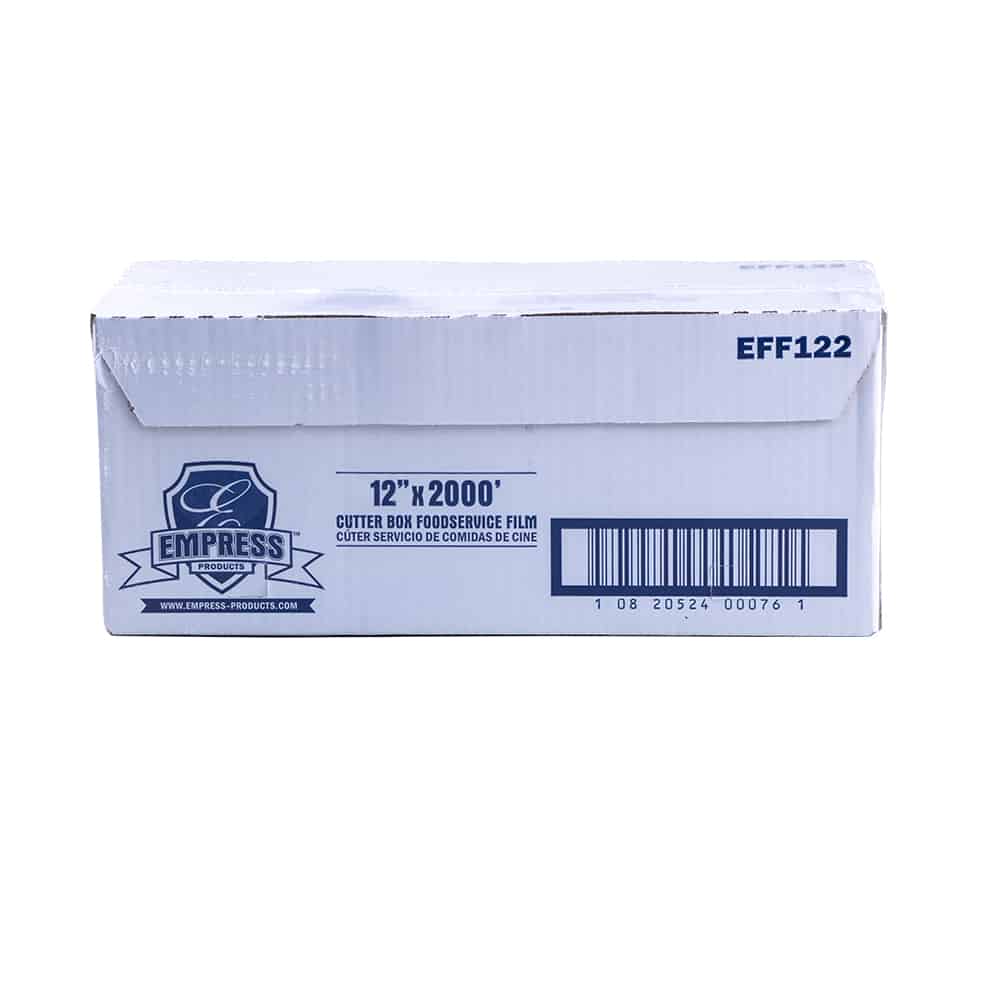 Plastic Film Wrap
Plastic film wrap has a lot of uses for a restaurant. For starters, it is the go-to for heat-sealing and packaging bread, frozen foods, and fresh produce. This disposable item is typically made of low-density polyethylene, which is highly resistant to bases and vegetable oils and is overall tough and flexible.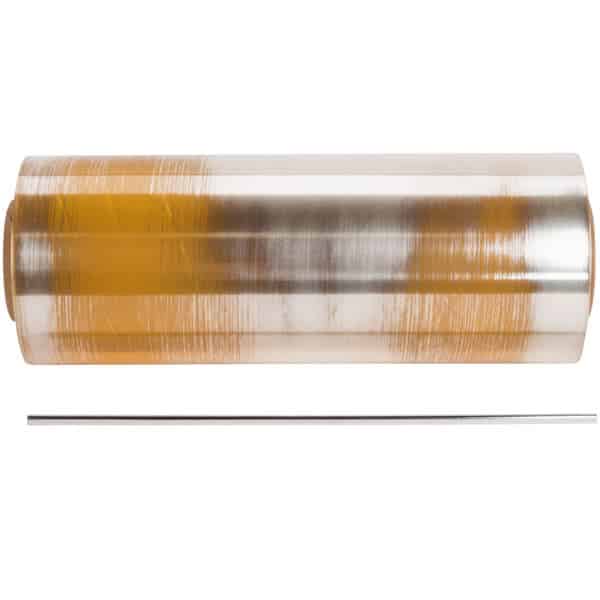 Vacuum Pack Bags
Vacuum pack bags are a great tool during food preparation and preservation in restaurants that buy ingredients in bulk.
Vacuum sealing preserves your inventory for longer than more conventional storage methods and ultimately saves you hundreds of dollars in the long run. Meats, for example, can be simply placed inside a vacuum pack bag. A vacuum sealer removes the air inside before sealing the bag completely. This reduces the growth of fungi and airborne bacteria that could otherwise shorten the shelf life of the food.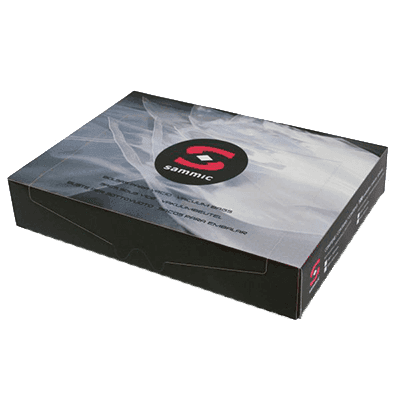 Sandwich and Bread Bags, Liners, and Wraps
Sandwich bags are typically made of kraft paper, foil, or plastic. They come in different sizes to accommodate deli items of different sizes with bread bags designed for hoagies and bread.
Wraps are great for serving burgers and sandwiches to be eaten on the premises or on the go. This way, patrons will be able to enjoy and eat the food comfortably while it is still hot.
A lot of sandwich bags come with a convenient window to add to the presentation and make it easier for customers to know what's inside. There is a litany of designs to choose from, but the checkered and newspaper designs are the most popular because they are very attractive.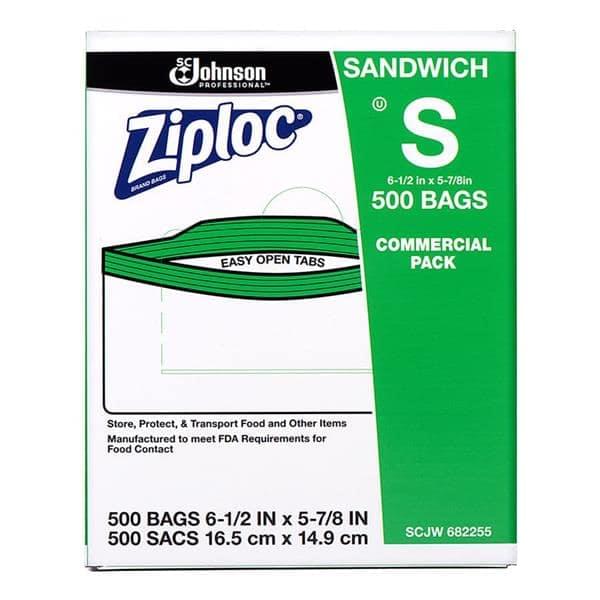 Disposable Take-Out Containers and Bags
Disposable containers are essential in any restaurant to pack leftovers or package take-out orders. This is to ensure that food is intact and endures the trip before the customers serve or consume it where they plan to.
The right disposable take-out container will keep the food in safe temperatures and prevent spills, maintaining the overall quality. Disposable containers are made of plastic, foam, and paper, which have their own advantages and disadvantages.
Hinged Food Containers
Hinged food containers can be safely sealed, but still, be opened and reopened very easily. You'll find the hinged design in such as plastic, sugarcane, and foam containers. The idea is to have one or two secure lips along the front edge of the top of the container that is slotted into small slits on the bottom.
Hinged food containers can have either a single compartment or several compartments so an entire meal or a variety of food contents can be separated neatly especially during transport.
Flaps and Tab Lock Containers
Take-out containers with flaps and tab locks are mainly made of paper. They usually have four flaps and a tab lock to keep the food items secure inside and prevent any leaks or spills. They are also microwavable, so customers can heat the food up in it when they reach home or choose to save it for later.
Instead of dividers molded into the container, separate pieces of paper are usually placed inside to be able to add compartments in the container.
Corrugated Take-Out Food Boxes
Corrugated boxes are associated with food safety and high-quality. They help prevent food spoilage and the spread of bacteria, ultimately increasing the shelf life of the food contents.
They are made with paperboard with rows of air columns that serve as a cushion to the contents, making them much stronger compared to regular paper containers.
Corrugated boxes are common in pizza places, but they can be used in most food establishments.
Food Buckets
If you offer large servings or family orders of food items like chicken, popcorn, cheese curds, or even ice, a food bucket will be a worthy addition to your establishment.
A lot of them are made of grease-resistant paper to maintain the rigidity of the container. There are also plastic designs that come with handles, which are easier to hold and can be used standalone. Small and stout buckets work great for french fries, nachos, or deep-fried veggies.
Many food buckets are printed with fun designs and labels for added brand promotion. Food buckets for concession stands typically come with lids that achieve an airtight seal for defense against contaminants but also seals in the freshness. They also allow customers to stow the food away safely and securely if they can't finish the food in one sitting.
Ice Cream and Frozen Yogurt Cups
Frozen yogurt and ice cream with fun toppings will usually be served in a paper cup. Ice cream is served in clear plastic containers that show off the colors and craftsmanship that went into creating the frozen dessert. Banana split boats are also made specifically to serve the namesake dessert in the best presentation possible and take advantage of its unique appearance.
Soup Cups and Bowls
Soup cups and bowls usually come with a vented paper or plastic lids to maintain the temperature of the soup and prevent spills during transport.
Cup Carriers
Cup carriers take away the cumbersomeness of transporting one or multiple beverages. Many are made of pulp fiber with slots that fit cups perfectly and are held from the bottom.
Sometimes, they include a compartment for food items like a sandwich or a burger. Kraft cup carriers, on the other hand, typically have a handle and are specifically designed for drinks only.
Asian-Style Take-Out Containers
Chinese takeout containers are typically made of kraft paper and come in different sizes measured in ounces. They feature a one-piece design with secure folded seals at the top and bottom plus a handle for easy carrying.
You can typically fit a pair of chopsticks, which will be sticking out but will otherwise be secured in place by the food that is tightly packed inside.
Asian-style take-out containers work great in preserving the freshness of the food and retaining heat. They are most of the time microwave-safe so customers can reheat the contents easily.
Deli Containers
Deli containers are usually plastic, but you have an eco-responsible option in PET plastic. These containers usually have a separate lid that makes an airtight seal to avoid spillage while making them easily stackable.
Thinner, lightweight deli containers are great for cold and refrigerated foods like salad, as well as candy, vegetables, and nuts. For storage or transport of heavier food or liquid contents like soup, pasta, and other creamy menu items, you will be better off with heavy-weight deli containers that are thicker and more rigid.
Aluminum foil containers are the most sturdy disposable container you can get. They can also be used on both hot and cold foods with better heat conservation to boot. Aluminum foil containers are recommended for baked meals and heavier dishes like pasta or lasagna since they do a better job of repelling oil and grease.
If displayed and accessible to customers who come and go, make sure to get deli containers that are tamper-evident to keep the food inside safe and secure from any form of tampering that may compromise the quality and the safety of the food. By using this design, a container that has been opened and resealed will be much easier to spot.
This is a great way to protect your food, your customers, and your business, and at the same time bring the packaging costs down without skimping on the quality.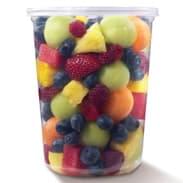 Pretzel and French Fry Bags
If you are serving food items like french fries or pretzels, you can find bags specifically designed to hold these types of foods. Some are plain white in color while others come with prints and different colors.
Food Trays
Disposable food trays are necessary to transport and deliver larger quantities of food to customers. Some trays are divided into multiple compartments to hold and organize different types of food neatly. The partitions also help patrons conveniently carry a complete meal without worrying about transferring flavor or one meal spilling over to another.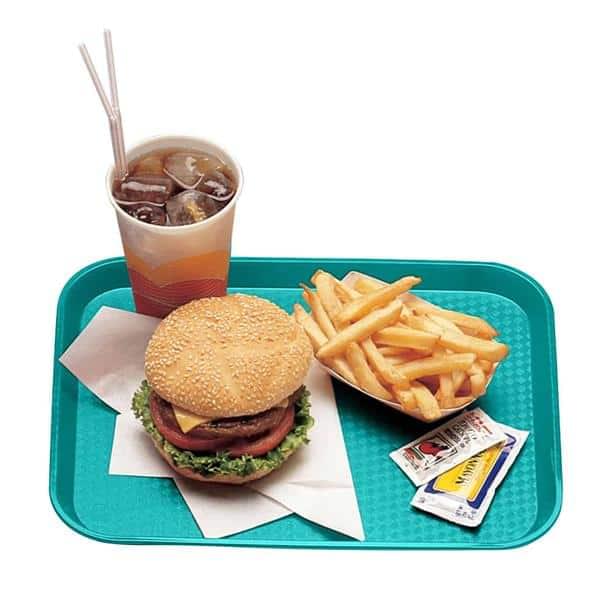 Portion Cups and Souffle Cups
Portion cups and souffle cups allow you to stock up and pack individual servings of condiments, sauces, dips, samples, and other food items.
Plastic will be ideal for holding oily or heavier items. Additionally, with transparent plastic, you can take advantage of the color and of the contents. Plus, it allows for easy viewing and identification when used at the front of the house.
You can find a lot of them that use Green PLA plastic for something more eco-friendly.
Paper Bags
Paper bags allow your customers to safely carry and haul their food orders from one place to another, no matter the volume. Restaurants can opt for S.O.S. bags or pinch bottom bags for their needs. There are styles that come with grease-resistant liner windows that provide a view of the contents from the outside.
S.O.S. Bags
S.O.S. bags are usually made of kraft paper. They come with a handle, which makes them very easy to lug around and effortlessly secured due to the natural seal at the top opening that it achieves when carried. They are great for holding food and drinks and are sturdy enough to stand on their own.
Pinch Bottom Bags
Pinch bottom bags are great for transporting baked goods. As the name suggests, they are held from the bottom, which has an envelope-like seal. Especially when it is full, it will be harder to keep the pinch-bottom bag sealed at the top.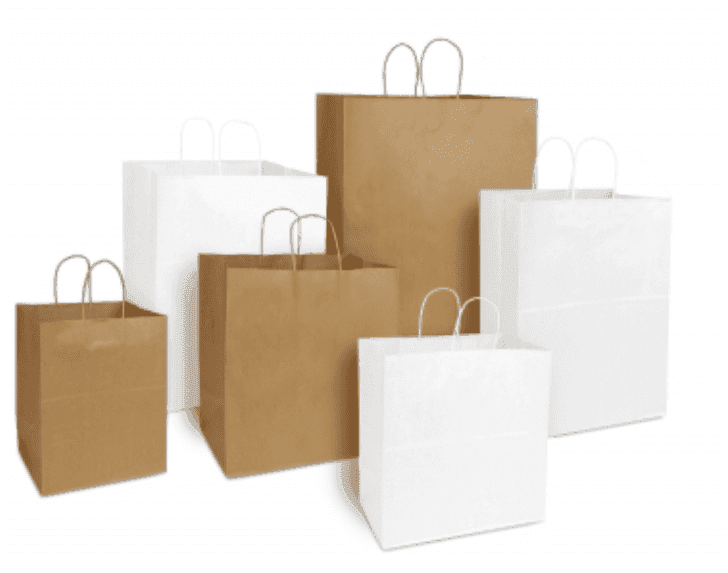 Food Safety Disposables
As important as the taste of your menu is, of course, ensuring that it is made and handled properly. Make you have disposable gloves and disposable glove dispensers in stock.
Your kitchen and janitorial staff will need them. For your employees in charge of preparing, cooking, and handling the food, disposable gloves will help avoid the spread of bacteria and foodborne diseases.
Your janitors, on the other hand, will need disposable gloves to protect their hands against chemicals and sensitive substances when cleaning up different parts of the restaurant.
Disposable polyethylene gloves should do well in food prep. For cooking and janitorial tasks, you might want to go with latex or vinyl and nitrile for those allergic to latex.
Chefs and servers will also have to wear hair nets when cooking and preparing food.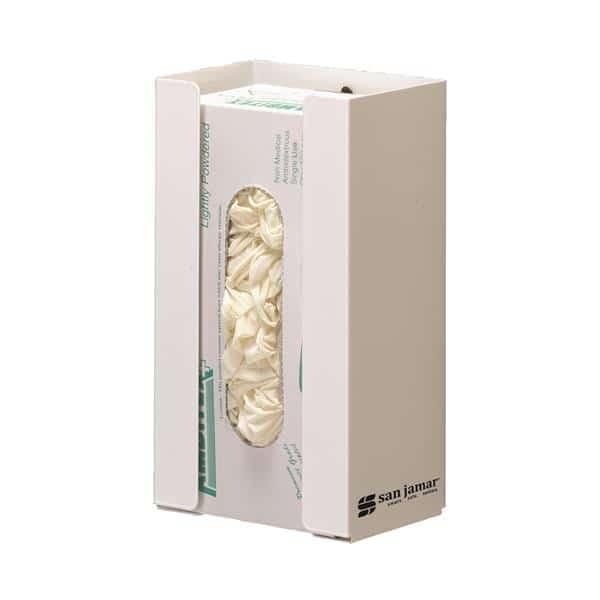 6. Refrigeration Equipment
You need an assortment of refrigeration equipment to run an effective delivery and takeout system.
Depending on your space and the size of your operation, you need walk-in or reach-in refrigerator and freezer as the main cold storage station for your perishables. If a walk-in is not a viable option, there are refrigerators and freezers with up to three sections where you can fit a large quantity of your supply at a time.
For preparing pizza, salad, or sandwich, you need prep tables, which have a refrigerated base and a top with slots for pans of ingredients plus a cutting board for prep. They can be set up in the kitchen or on the service line.
Chef bases and worktop refrigerators and freezers are also great to have to create multiple kitchen stations for your staff where they have access to the ingredients they need for the day and a comfortable and sanitary workspace for prepping food or for additional prep and cooking equipment.
At the front of the house, you need more refrigeration systems to put your products in front of your customers. For prepackaged meals and drinks, you can go with a merchandiser that has glass doors so the entire selection is visible at all times.
An open-air display case, which has no doors and instead has a curtain of air blowing downward to keep the contents cold but quick and easy to grab, is great for a wide array of products like meats, cheeses, desserts, and snacks.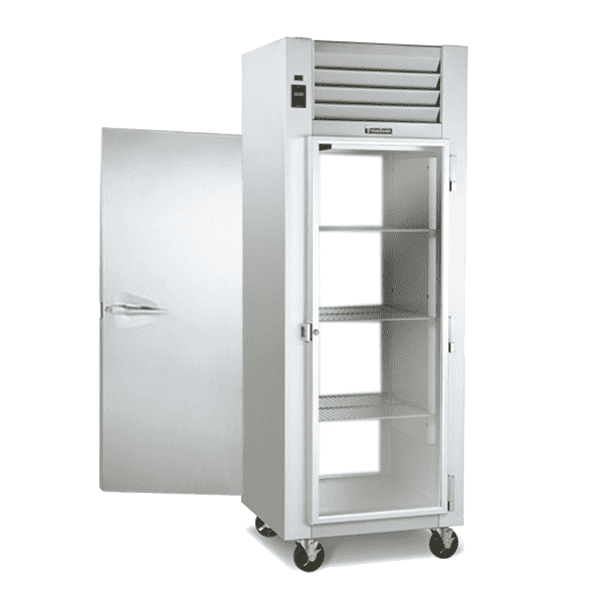 7. Beverage Equipment
Coffee Dispenser
For coffee on the go, you need to have an excellent coffee dispenser. You can go with dispensers that can serve multiple flavors, which you can make with a premade mixture. If you are making the coffee from scratch, you will need a coffee grinder and coffee brewer.
Iced coffee is a particular breakfast favorite for takeout and delivery customers. There are dedicated ice coffee dispensers that you can use. This means you will also need an ice machine to make all the clean, fresh ice you need to make it.
You can choose from undercounter units with built-in ice bins, countertop ice dispensers, or higher-capacity ice machine heads that require separate bins for larger needs.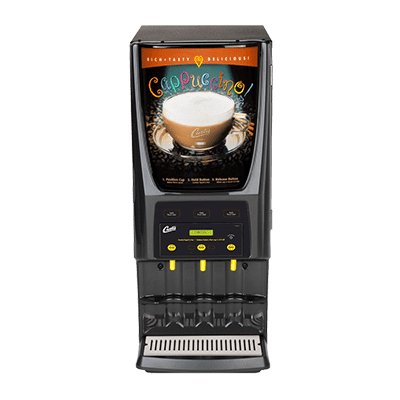 Iced Tea Brewer
Iced tea continues to be a popular drink for people that order out. So make sure you are equipped with an iced tea brewer that can produce gallons of it per hour to meet the demand.
Brewers can have one or two brewing tanks depending on your desired production capacity. You can also get tea and coffee brewers, which saves space while helping you expand your beverage menu.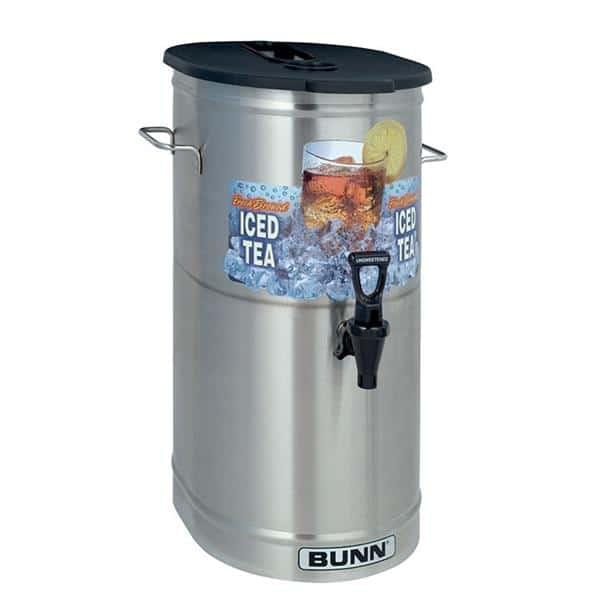 Frozen Drink Machine
Many takeout and delivery food items are enjoyed with frozen drinks like slushies. By adding a frozen drink machine to your operation, you are providing customers with more irresistible items that can boost your profits.
These beverage dispensers have large hoppers, which are usually transparent so that the colorful product can be seen from the outside and attract more customers as it mixes nonstop.
You can get frozen drink machines with multiple hoppers so you can offer an assortment of flavors. The constant churning of the product prevents it from hardening and maintains the texture and flavor. The machines have dispensing nozzles so you can pour the drink directly into the cup.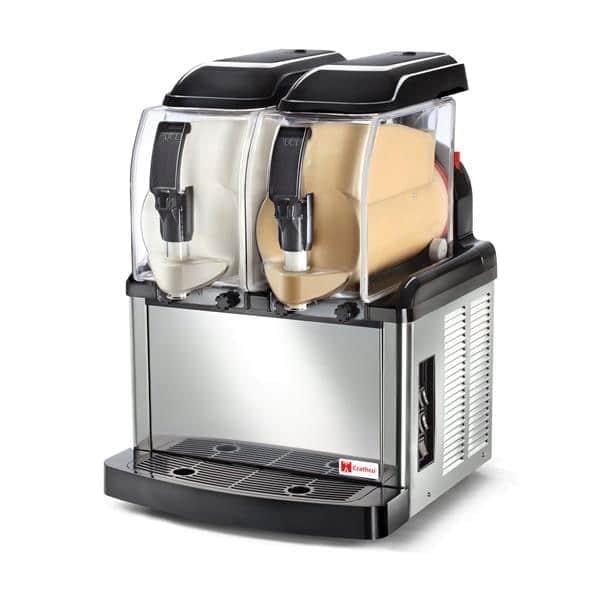 Drink Mixer
Drink mixers can easily expand your drink menu because there are countless combos and recipes you can come up with. Many drink mixers come with a spindle and beverage cups for making single servings. There are models with multiple spindles so you can make more than one glass of drink at a time.
Commercial Ice Cream Maker
For dessert, a lot of people still prefer ice cream. Soft serve ice machines and batch freezers are two of the best options you have for ice cream making. Batch freezers have more production power so you can make large batches at a time.
Usually, the product that comes from batch freezers has to be placed into tubs for dipping or hardening. Soft serve ice machines can be set up at the front of the house where they can mix, hold, and dispense the finished product.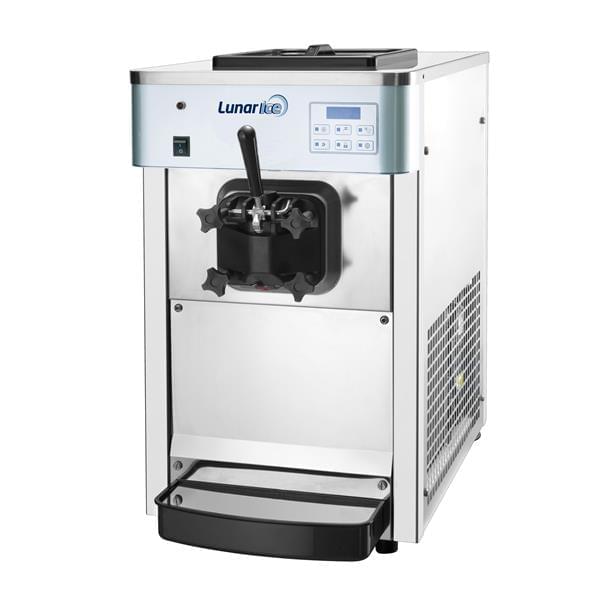 8. Sanitation Equipment
Hand Sinks
Food safety is the number one concern of customers. One way to keep the standards of safety high at your establishment is by encouraging hand hygiene.
Hand sinks make it easy for your staff to keep their hands clean to make sure that they are safely handling and preparing ingredients.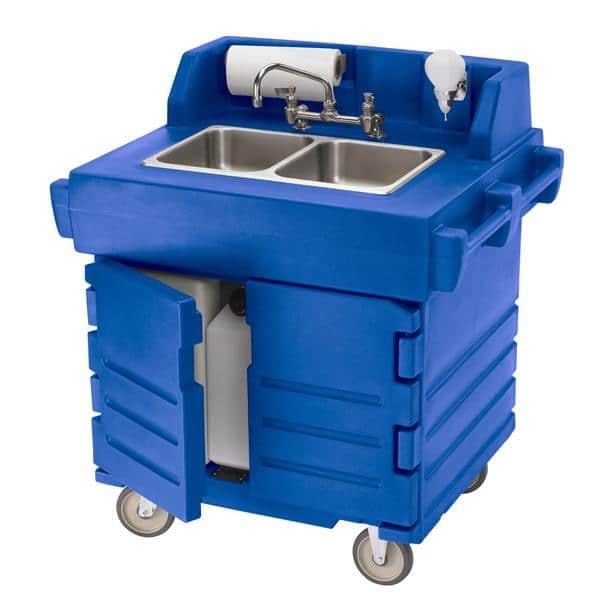 Compartment Sinks
Multiple-compartment sinks provide a sanitary way to clean ingredients or wash plates and other wares you use for the day. One-compartment sinks are compact and can be added in small spaces as a convenience wash station.
Compartment sinks with more than two, three, or four sink bowls allow you to perform different steps of the dishwashing process or food preparation. They are helpful in preventing cross-contamination so that your ingredients remain fresh and your wares are sparkling clean.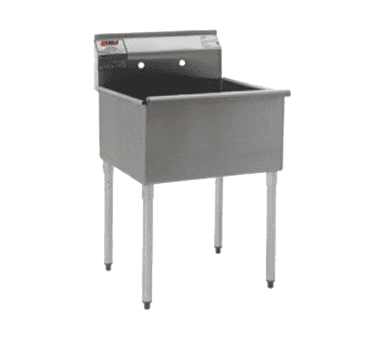 The perfect time to step up your take-out game! For every $2200 you spend on qualifying products, you get 2 Mightylites for FREE.