7 Tips for Managing a Restaurant with Ease During Thanksgiving Rush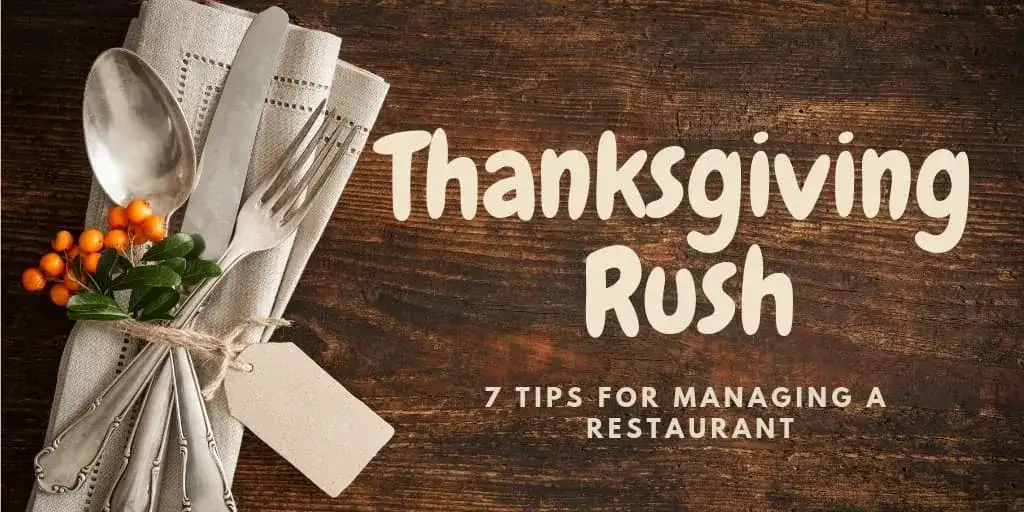 Thanksgiving is one of the busiest times of the year for foodservice establishments. Restaurants often say Thanksgiving is the most hectic Thursday of the calendar, with huge crowds of families and friends jostling in to celebrate the beginning of the holiday season.

While Thanksgiving is traditionally celebrated with the family over a classic roast turkey , mashed potatoes, and pumpkin pie at home, more people are opting to ditch all the cooking and cleaning and go to a restaurant instead. According to the National Restaurant Association, 1 out of 10 Americans prefer to dine out on Thanksgiving. Another 1 out of 5 order full takeout meals that they take home to serve for Thanksgiving dinner, allowing them to keep up with tradition without the hassle of preparing a dozen dishes for everyone and cleaning up after.
If you decide to open your doors to customers hoping to ease off the stresses of preparing a Thanksgiving dinner, here are some ways to make the holiday rush lighter and easier for you and your staff.
Stock up on inventory
Not all restaurants choose to open on holidays, which means there's a good chance you'll see a huge rise in foot traffic to your restaurant on Thanksgiving. The first thing you need to do is to ensure your pantries and refrigerators are well-stocked. You want to have enough inventory to satisfy all customer needs during the entire day. Customers who come in last certainly won't be happy if they find out you have run out of cranberry sauce for the turkey.
However, you also want to ensure you don't stock up too much on food items. The key is to find the sweet spot where you have just a little bit more than enough for everybody. If you're not sure, look at your historical data. How many customers have been coming to you for Thanksgiving dinner in the past? Do you expect the same number of people this year? Based on these numbers, how many of each ingredient do you need to stock up on for Thanksgiving day? It also helps to have a concrete plan on what to do with the leftovers so that you can minimize food spoilage and waste.
Manage staff schedule
Ideally, you should start creating a holiday staff schedule several months before the holidays. This will give your employees plenty of time to plan for their own schedules and give everyone the chance to choose when to work during the holiday season. It's best to have your workers choose the holidays they want to work on. It's okay to require them to schedule at least one holiday, such as Thanksgiving, Christmas Day, or New Year's Day, but having them volunteer to work on a day of their choice gets you happier employees.
Again, look at your past performances and assess how many pairs of hands you need on deck on Thanksgiving Day. Not having enough staff will undoubtedly drain workers' energy and lead to poor service, but too many workers standing around with not much to do can also stress them out thinking they should have just stayed at home with their families instead.
Offer Thanksgiving meals for takeout
Some families prefer to eat at home but would rather not prepare the entire Thanksgiving dinner themselves. Make it easy for them by offering full Thanksgiving meals to-go.
Start promoting your Thanksgiving takeout service ahead of time on your website and social media pages, where you can add a link to a catering form that lets customers put in their orders for to-go meals on Thanksgiving. Include all the pertinent information they need to know. For instance, are meals available prix fixe or ala carte? What time are their orders available for pickup?
The secret to making Thanksgiving memorable for takeout customers is for you to create the same memorable dining experience at home as they would have at your restaurant. Start by going the extra mile with a delivery service that eliminates all hassle of customers having to go to your location to pick up their order. All food items should be clearly labeled for easy unpacking and must come with easy-to-understand instructions for reheating. Throw in an extra dish or two, such as a box of freshly baked cookies for dessert, as your way of saying thank you to them for choosing your service.
Plan your menu
People want something extra special for the holidays, so don't be afraid to diverge from your existing menu and offer food items that are usually served on Thanksgiving. Many people will definitely look for classic dishes that play up the nostalgia, such as turkey and stuffing. These items are non-negotiable. People look forward to eating what they're used to on Thanksgiving.
However, don't forget to stay true to your identity as a restaurant. For instance, if you specialize in Japanese cuisine, even people who come to you for Thanksgiving will still be looking for sushi, sashimi, and tempura. Also, not everyone will want to have turkey on this day. Some people will crave for other food items, while others may simply not want to celebrate Thanksgiving at all. Keep your regular menu open for people who prefer something else.
Amp up on hospitality
There is no denying that Thanksgiving can get tumultuous for restaurants, but this doesn't mean it can be taken as an excuse for inadequate service. Excellent customer service begins at the very first point of contact with your customers. Start by requesting reservations so that you can fully prepare for all the customers who choose to dine at your restaurant. This is especially helpful if you have limited seating and can only accommodate a certain number of customers at any given time.
It also helps keep a lasting impression if you leave something special at the check, such as a small plate of petit fours or a glass of warm milk and cookies for the children. Offering an extra level of service without it being asked for makes your guests feel extra thankful on Thanksgiving day.
Host a Thanksgiving meal with staff.
Asking your employees to work during a holiday where they are supposed to be with the ones they love is asking for much. This is why it's important for you to show your gratefulness to the staff who choose to work with you on this extremely busy day. A great way to do this is to hold a Thanksgiving meal with your staff hours before you open your doors to the public. Even a simple feast can help them feel appreciated and excited to work for you. The act of eating together with your work team also builds a strong sense of community and togetherness, which is essential in meeting your business goals.
It's also important that you reward workers profusely for working on Thanksgiving. Extra compensations, such as double-pay or leftover turkey sandwiches to take home to their families, go a long way. Another option is to open only at certain hours, such as 4 p.m. to 8 p.m. so that employees can still spend Thanksgiving with their families.
Market your Thanksgiving services.
There are many ways to get the word out about your service. Start with your existing customers. Weeks before the holidays, let them know that you are open and accepting takeout orders for Thanksgiving via little notes left in the checks. And don't forget to use all your regular online channels. Post regularly on all your social media pages encouraging customers to visit you on Thanksgiving day. Put up a huge banner on your website to headline your services as well. If you have an email list of loyal customers, make sure to let them know that you're open on this special day.