Kicking the Discounts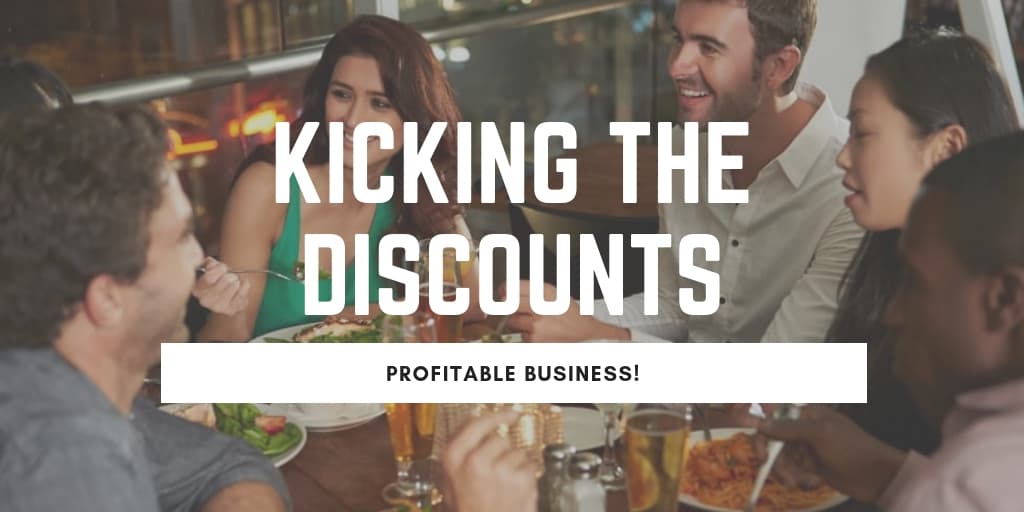 With the recession in our rearview mirror, many restaurants are finding it hard to kick the discount programs they needed to use to attract customers during the economic downturn. After six long, difficult years, restaurant owners are finally seeing a pickup in customer spending and attendance. Unfortunately, the discounts that attracted those patrons are what many now take for granted as just part of their dining experience. Kicking the discounts can hurt at first, but it's essential to getting your restaurant back on track to a normal, profitable business.
While still weak, traffic to restaurants has certainly picked up from their -6.2% low in the past few years. To attract more profitable traffic, many restaurant owners and managers are attempting to forego their discounting tactics in favor of gaining more loyal and profitable tractions at the risk of potentially alienating some of their customers.
"In my 47 years in the restaurant business, relying on a strategic discounting program has not proven to be a long-term, winning strategy," Famous Dave's of America Inc. CEO Ed Rensi said during an earnings call this week, explaining the chain's 5.7-percent same-store sales decline, which he attributed to the end of Famous Dave's discounting strategy.
Stoney River Steakhouse also showed less than stellar results when discontinuing their discount policies. The 10-unit subsidiary of J. Alexander's Holdings Inc., which filed documents last month to go public, recently ended its policy of discounts and coupons to lure traffic. The results have been tough: Guest counts this year have fallen 12.8 percent, even as average check rose 13.8 percent, according to SEC filings.
Because of the overuse of discounts in recent years, many customers now have the mindset that discounts or coupons are essential to everyday purchases. It's so ingrained in their minds that they may not consider purchasing from an establishment if there is no offer involved. National Restaurant News says, 'The problem for chains is that discounts and value customers pressure profits at a time when food costs are rising and labor costs are increasing, due to minimum wage hikes and overall industry pressure.'
If you plan to eliminate discounting programs or reduce them, then you'll have to restrategize your marketing plan. New menus and brand-specific menu enhancements help to lure those customers in who may be hesitant sans discount. John Gordon, a San Diego-based consultant, gives a final piece of advice: "You can't just go cold turkey. It has to be part of some other steps."
DAMON SHRAUNER
Sales Consultant
E Friedman Associates Inc
T: 516-882-1955
D: 712-389-6805
F: 605-782-9015
damon@ckitchen.com