What's in a Name: 10 Restaurants Sporting Punny Names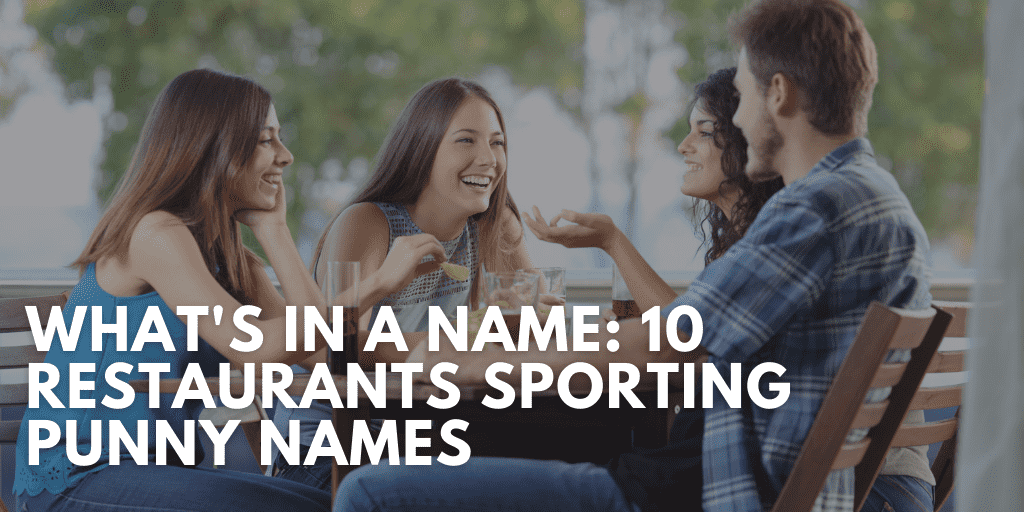 What's in a name, you ask? Well, quite a bit, actually. In the business world, there is nothing more important than making an impact right off the bat, and what better way to do this than with your name and a little bit of humor? Like with a pun! We've all seen shops and restaurants with cheesy puns as names, right? And you've got to admit… they're actually pretty catchy! Take a look at this list of ten various eateries sporting awfully punny names:
1. Bread Zeppelin: Salads Elevated - With two locations, one in Irving, TX and one in Carrollton, TX, Bread Zeppelin offers it's customers a unique product referred to as The Zeppelin, which is a customized chopped salad wrapped up inside a fresh baked artisan baguette.

2. Thai Tanic - Located on 14th Street NW in Washington DC, Thai Tanic Restaurant is a small establishment that opened for business in March 2001, serving delicious Thai food to many people within the community.
3. Lord of the Wings - Lord of the Wings has sprouted establishments in numerous locations all across the globe, including Lebanon, Egypt, Kuwait, Qatar, Ghana, Australia, and the United States. In the United States, Lord of the Wings is located in Sandusky, OH and serves it's customers juicy burgers, flavor-filled wings, and delicious beer.
4. Wok This Way - Referred to as "the best Chinese delivery in San Antonio," Wok This Way cooks everything as it is ordered to ensure the freshest and best meal possible, rather than ahead of time in bulk just to save time like other specialty restaurants do. The menu options include chicken, steak, shrimp, pork, tofu, and vegetable combined with any assortment of rice, noodles, vegetables, herbs, and seasonings.

5. Grillenium Falcon - Run by Hammontree Take Home Gourmet, the Grillenium Falcon is a famous food truck from Fayetteville, Arkansas. The food truck offers a selection of sandwiches from the cafe, many of which have punny movie-themed names, such as "Jack to the Future" and "Cheebacca." Both the cafe and the truck alike also serve soups and salads.
6. The Codfather - As it turns out, there are various Codfathers all over the world! One in particular is located in London, England, and of course, it's hit dish is fish and chips! This isn't all the restaurant serves, though, as it specializes in all sorts of various seafood dishes.
7. Frying Nemo - Here is yet another seafood hot-spot in the UK! Frying Nemo is a friendly family-run fish and chip establishment serving its surrounding villages fresh, quality fish and chips, along with a variety of additional homemade specials.
8. Lord of the Fries - Unlike those thin, frozen, chemical-ridden fries offered at tons of other locations around the world, Lord of the Fries offers fries made only from fresh potatoes, consisting of the perfect amount of thickness and crunchiness, and served with a variety of delicious homemade sauces. The menu also includes burgers, onion rings, chicken nuggets, and hot dogs, and contains vegetarian, vegan, kosher, and gluten free options.
9. Pho Shizzle: Vietnamese Cuisine - Pho Shizzle offers great authentic Vietnamese food, varying from Pho Beef Noodle to Teriyaki dishes, to Banh Mi Sandwiches. You can find Pho Shizzle located at 1314 Union Ave NE, Renton, Washington.
10. Just Falafs - Located in Covent Garden in London, England, Just Falafs bases its menu around falafels, just as the name suggests. Just Falafs allows you to feel good about what you're eating, as you devour its pita bread or wrap packed with tons of superfoods. With innovative and exciting flavors such as roast halloumi, chopped dates beetroot, and chutney on khobez bread, Just Falafs is a vegetarian's dream!