Dog Days of Summer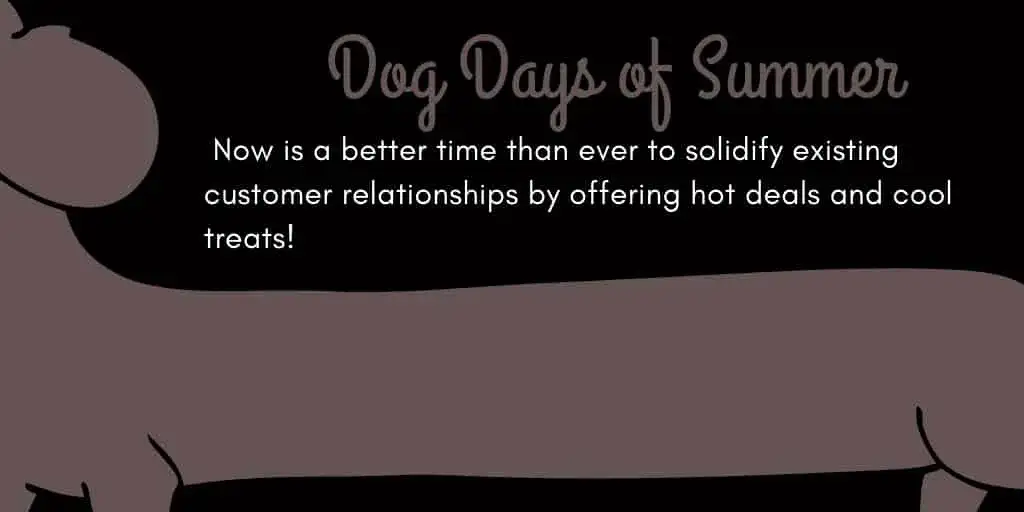 Temperatures are at their yearly high, and your restaurant should also be turning up the heat on your summer marketing promotions! Many families take advantage of these seasonally warm months to take off on a well-deserved vacation, leaving your restaurant in a tight pinch. While many may simply try to 'make it through' the slower summer months, you should take this time to engage your patrons and drum up business with sizzling deals. Now is a better time than ever to solidify existing customer relationships by offering hot deals and cool treats!
They don't call it the 'dog days of summer' for no reason - harking back to one of its original meanings that derives from Grecian times meaning hottest days of summer that are so unbearably hot that it can drive dogs mad. True, the months of July and August can be sweltering. Capitalize on the heat by offering sizzling deals and cold treats.
Incentives, Discounts, and Giveaways
Offering small tokens of appreciation through discounts and incentives can show customers that you're restaurant is still worth stopping at, generating additional marketing through word-of-mouth. Give people something to talk about by offering special giveaways or promoting an aspect of your restaurant that sets you apart. For instance, summer is the time for families to get out and treat themselves - offer something family-friendly (like a stroller valet!). Consider adding incentives on meals like a free child's meal with any adult meal purchase. Whatever you choose, keep in in line with your customer base to reap the most reward.
Cool Summer Treats
While incentives can strum up marketing, your customers will only keep returning if you're offering items they want. The hottest months of the year demand that you offer something summer-related! Ice cream is well-liked by most Americans and is generally a great dessert choice for most restaurants, regardless of your restaurant's theme. Also use seasonal items such as berries in your summer menu! With many folks purchasing cold summer treats on a consistent basis throughout the months of July and August, consider having a loyalty punch card that earns guests a free cone after so many purchases. This ensures that those customers consider returning to your restaurant when they decide to treat themselves to a cold snack!
Take Advantage of Your Location
If you're anywhere near a tourist area, this could actually be the busiest month! Capitalize on the increase in traffic by partnering with local hotels and running ads in the local papers. Seasonal foot traffic calls for quick, festive meals and to-go items, so spice up your quickserve menus to cater to this change in customer base. Sponsor local festivals or set up a booth at local fairs to get yourself in the midst of heavy traffic!