3 of the Most Famous Pubs in New York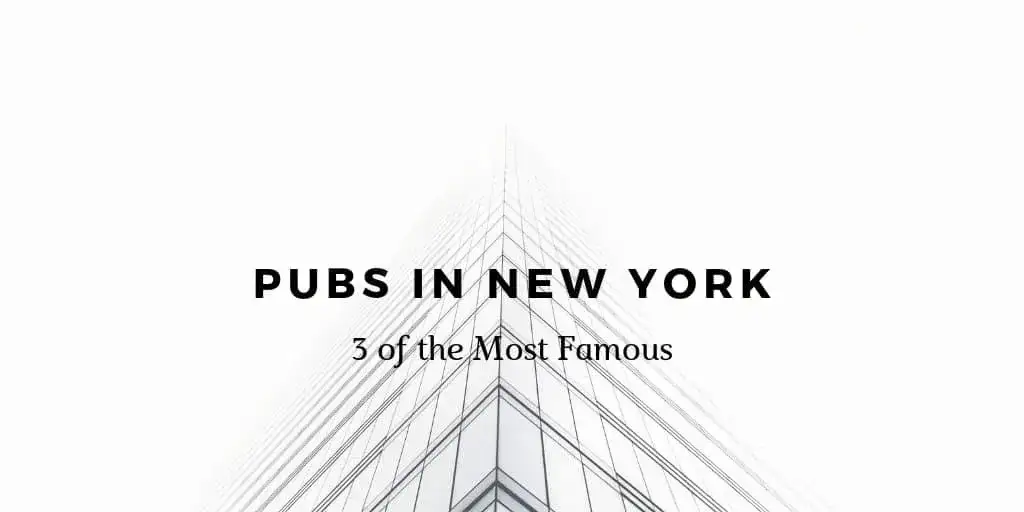 Pubs have become quite popular across the world these days due to their laidback, warm, and welcoming atmosphere. Some of the best pubs can be found in New York City, NY. Listed below are just three of the most famous pubs in New York City today.
McSorley's Old Ale House

Often referred to as McSorley's, this pub was established in 1854 and is New York City's oldest continuously operated bar. It is tagged the oldest "continuously operated" bar, as there are older existing bars, but they have been closed for periods of time for one reason or another. McSorley's, though, has been open and running for over 150 straight years now.
This pub offers an authentic pub experience, as it looks like it has been unaltered by time. It offers a great deal of history, as it still has sawdust covering the floors and still contains the original backroom where the ale flowed though during the Prohibition. One of the most well-known details about McSorley's is that it has only allowed the admission of women since 1970 after a very controversial Supreme Court case.
McSorley's only offers two kinds of beer- McSorley's Light and McSorley's Dark- and they are offered two at a time for $5. In addition, there are no barstools at McSorley's, so you must stand at the bar to order and drink your beverage. This pub has been visited by Abraham Lincoln, Teddy Roosevelt, Boss Tweed, Babe Ruth, Lou Gherig, Woody Guthrie, Mickey Mantle, John Lennon, and JFK. Although the pub looks it has been untouched by time, McSorley's population has altered with time. Rather than its previous regular customers of old Irishmen sitting and drinking by themselves, the pub now serves a loud population of all ages and all types.
Molly's Pub & Restaurant, Shebeen

Molly's is a warm and welcoming traditional Irish pub and is referred to by many as the most authentic Irish pub in New York City. Like McSorley's, Molly's also still has old sawdust on the floor. It contains a log-burning fireplace, as well. Also similar to McSorley's, Molly's has been a bar since the 1800's. In 1964, the bar was purchased by some native Irishmen and renamed "Molly Malone's." Then in 1991, its name was changed again to Molly's Pub & Restaurant, Shebeen, which represents an "illegal drinking establishment." Molly's Pub is most famous for its Shepherd's Pie and Guinness beers, offered for very reasonable rates.
Old Town Bar

Created in 1892, Old Town Bar is another establishment that has remained unchanged by time. It is famous for its original ceramic tile floors, ornate pressed tin ceilings, glass cabinets and light diffusers, wood bar, booths with hidden compartments to store alcohol during the Prohibition, and a dumbwaiter to raise and lower food between the downstairs and upstairs. Old Town Bar has a long history of being used by television shows such as The Devil's Own, State of Grace, The Last Days of Disco, Q&A, Bullets Over Broadway, Sex and the City, Mad About You, Law and Order, and CSI.
Each of these pubs is different in its own way but they also have much in common. Each one has been around for quite some time and still possess many authentic qualities. They are all well-known and well-liked for various reasons, and they are all places that you do not want to miss if you are ever in the New York area!